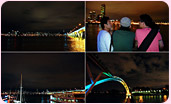 Without question, Seoul's skyline at night is best viewed from cruising on the Hangang (Han River). With voyages beginning at Yeouido, excursions on the river show visitors a closer look of the numerous famous bridges, including the Wonhyo Bridge, which was the main setting of the recent blockbuster film The Host and a few other landmarks.
Pick a clear night after sunset, because in bad weather you can't see anything at all.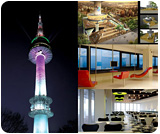 Two other spots that offer great night views of Seoul are the N Seoul Tower on top of Namsan (Mt. Namsan) and the 63 Building in Yeouido. They are perfect places to see panoramic views of the city.
Standing beside the Hangang (Han River), the 63 Building has become one of Seoul's more popular tourist destinations and it is one of the tallest buildings in Asia. On the 63rd floor, you can sit grab one the comfortable chairs and tables near the windows which offer a breathtaking panoramic view of downtown Seoul.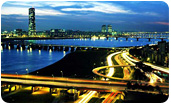 Across the river, N Seoul Tower rising up from the summit of Namsan is visible from almost anywhere one travels in the capital city. The tower offers breathtaking views of the city. Visit the observation tower or the revolving restaurant.
[Source: Korea.net]