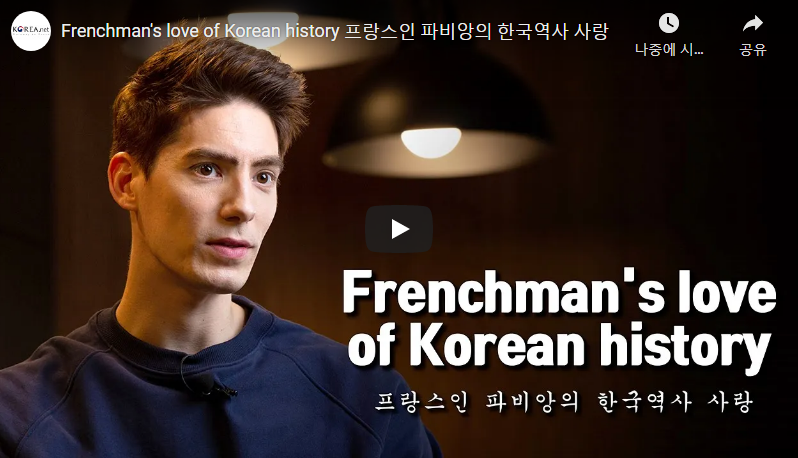 Passing the Korean History Proficiency Test can give applicants an edge in getting hired by public or private companies. The test is considered difficult even for Koreans, as it evaluates critical thinking of Korean history and requires much study.

An expat this year passed the highest level (1) of this test in scoring 96 out of 100 points, something even Koreans find hard to achieve. He is Fabien Yoon, a TV personality from France who was born Fabien Yves Jerome Corbineau.

Yoon's relationship with Korea began at age 5, when he began learning taekwondo at his mother's recommendation. Now in his 12th year of residing in Korea, he is familiar to Koreans after appearing on Korean dramas including "Jejungwon" and "Mr. Sunshine."

In a Nov. 2 interview with Korea.net in Seoul, Yoon said, "Passing Level 1 of the Korean History Proficiency Test was one of my goals for this year, so I felt a great sense of accomplishment. I plan to continue studying Korean history."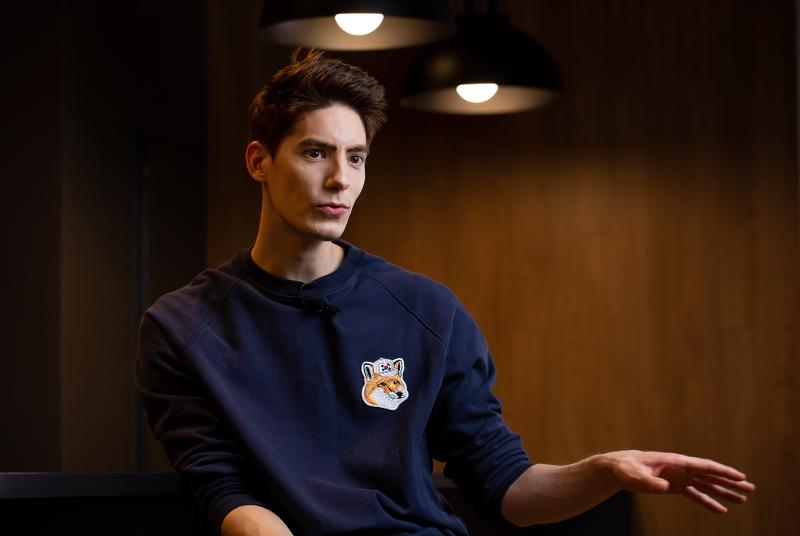 Fabien Yoon, a French expat who is a TV personality in Korea, told Korea.net in a Nov. 2 interview what led him to take Level 1 of the Korean History Proficiency Test.
- You passed Level 1 of the history test in July with an impressive score of 96 out of 100 points. How did you prepare for the exam?

I got two of the 50 multiple choice questions wrong. I studied for two months. The exam being in Korean makes it extremely difficult even for expats fluent in Korean. Non-Koreans account for under 1% of the test takers.

- Why did you take the highest level of the test?

I liked Korean history. My friend urged me to take the test, so I looked at related books at a bookstore and was greatly shocked. Level 6 is the easiest but I couldn't answer any questions for that level. So I thought I must take the exam. I love not only exams but challenges in life. My high interest in Korean history made me think it'd be fun to study it. So I set Level 1 as my goal.

- Any tips for other foreign nationals who want to pass the test?

Most test takers want to get jobs or enter good universities. They tend to cram and memorize things in a short period of time. In my case, I wasn't trying to get a job or attend school, so I leisurely studied and had more fun doing so.

The study method I used the most was connecting history and reality. I directly went to sites where historical incidents occurred. I live in Seoul, specifically in the history-rich Jongno-gu District. So I went directly to palaces and Tapgol Park and recalled their history. I recommend those studying for the exam to visit museums or historical sites.

History is also easier to memorize by relating it to your favorite songs, singers or actors. For instance, I connected Silla Dynasty King Jinheung to Jin of BTS. I imagined the king as Jin while memorizing the former's accomplishments. It might sound weird but I found it extremely effective.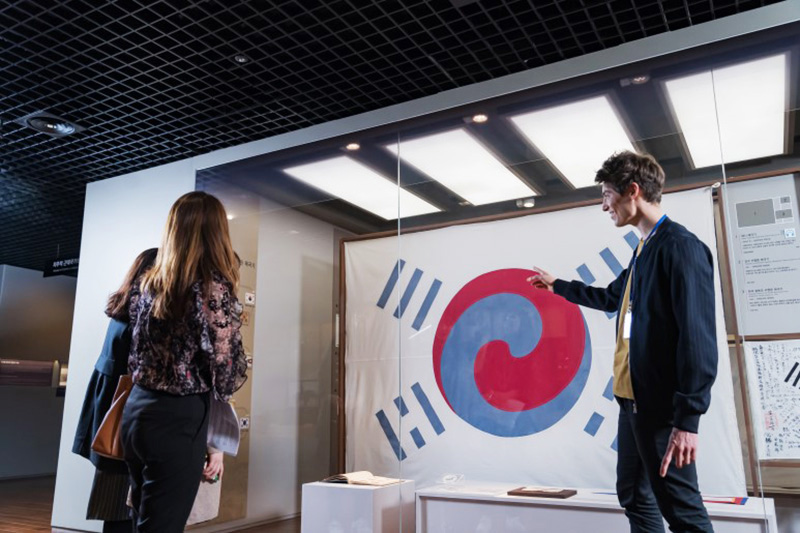 Fabien Yoon since last year has given guided tours in English and French at the National Museum of Korean Contemporary History in Seoul.
- How did you become a tour guide at the National Museum of Contemporary Korean History?

I saw a museum job ad for foreign guides. I often visit the museum so I applied. I was luckily accepted and underwent training before starting work last year. I am giving guided tours in English and French.

- What have you felt while guiding tours?

Modern Korean history has seen various events and huge changes. While working, I did a lot of relevant studies. I've received a wide variety of responses from foreign visitors. I feel proudest when they say they didn't know of Korea's painful history and were moved by it after listening to my explanations. I feel a sense of reward when my explanations make people rethink their perceptions of Korean history.

- What interests you most when guiding tours?

It's hard to choose one, but most are interested in Hallyu as part of modern Korean history. They want to learn about the history and flow of Korean dramas and K-pop. Aside from that, I'm greatly interested in the era shortly before and after liberation such as the 1919 independence movement and the Korean War.

- Has studying Korean history changed your perception of Korea and Koreans?

Through studying Korean history, I realize how little I know about my host country. If you've lived in a country for more than ten years and know its food and culture but not its history, you don't know that country. Learning history made me understand why Koreans act and live in certain ways. For instance, I initially didn't understand as a French person why Koreans asked "Did you eat?" when greeting people and were always in a hurry. But I now understand after studying Korean history.

- You've also read many books on Korean history.

I've always liked history and reading. I've read many books on Korea and after becoming fluent in Korean to an extent, I read books in Hangeul, especially many on history. Recently, I read one on Kim Won-bong, who formed a pro-independence group during the Japanese occupation of Korea.
Korea.net