Dongdaemun Market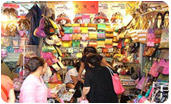 It is located to the east of central Seoul. From clothing and sporting goods to bedding and accessories, Dongdaemun Market is the perfect place for one-stop shopping. You can find anything you can name. It is an especially good location for clothing and sporting goods. In addition to the old Pyeonghwa Market, large recently opened shopping malls such as Doosan Tower (or Doota), Migliore and Hello apM attract customers in their 20s and 30s to this shopping haven. Since most shopping malls are open throughout the night, shopping in the evening and enjoying snacks on the street is great fun. Before venturing there, it is a good idea to stop by the Dongdaemun Market Information Center located on the west side of the site of the former Dongdaemun Stadium and get a free map.
Namdaemun Market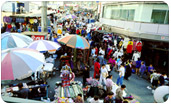 This market is located in central Seoul. This large traditional market has been in operation for over 600 years. While Dongdaemun is a mecca for fashion, Namdaemun offers a wider range of goods, including clothing, ceramics, household goods, accessories, jewelry, and bedding and much more. Namdaemun is also an excellent place to find ginseng, medicinal mushrooms, seaweed, beans and local herbs and spices. There's also a large imported food market, as well as a small fish market and produce vendors. There are a number of entrances to the market. If you get lost, there are several information booths staffed with people who can help you find your way.
Gwangjang Market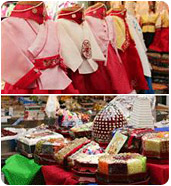 It is located east of Dongdaemun market and is a delightful old market. If you are interested in traditional Korean items, Gwangjang Market is the place for you. You will find a wide range of products, including Hanbok (traditional Korean clothing), linen, and lacquerware with mother-of-pearl inlay. The first floor has shops selling modern-style Hanbok for grown-ups and children.
For traditional Hanbok, go to the second floor. Traditional Hanbok are custom-tailored. You can choose a color scheme, a fabric, and a design of your choice. Then, a week later, you will get your one-of-a-kind Hanbok tailored just for you. Most shops have both wholesale and retail sales, so prices are relatively lower than regular retail shops. Also while visiting the market, do not forget to look at the paebaek (traditional food presented to in-laws by a bride after a wedding ceremony) shops on the first floor. Just browsing them is an interesting experience for foreigners.
Gyeongdong Market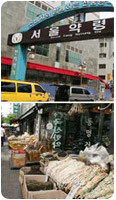 This is an agricultural produce market established in 1960. After the Korean War, agricultural products from the northern part of Gyeonggi-do and Gangwon-do began to gather around Cheongnyangni Station, and a market spontaneously came into being. In the 1980s, various Oriental medicines began to be traded back and forth. Today, there is a separate section within the market specializing in Oriental medicine. To many people nowadays, Oriental medicine automatically brings to mind Gyeongdong Medicine Market. Along with Daegu Oriental Medicine market, it is now considered one of Korea's major markets for Oriental medicine. Just looking around at the various Oriental medicinal herbs, such as ginseng, danggwi (Angelicae Gigantis Radix), and hwanggwi (Astragalus membranaceus), is a unique and interesting experience. Recently, modern shopping malls specializing in Oriental medicine have been built within the market district.