Major department stores in Korea include Lotte, Shinsegae, Hyundai and Galleria. Korean department stores usually have sales in each of the four seasons. Generally, each department store has a two-week long sale period in January, April, July and October. It is a good idea to check out the advertisements and details of these sales on the Internet. You can also contact the Korea Tourism Office (KTO) Korea Travel Phone (02) 1330 to learn the exact date for the sale periods. However, be prepared to battle the crowds in the department stores during these sale seasons.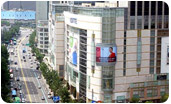 The main branch of the Lotte Department Store stands in the fashion hotspot, Myeong-dong, the biggest shopping area in Korea, with a daytime population of two million. It has all the well known name brands, so it is a popular department store for both Koreans and foreigners. During sales the area around the department store is packed with cars, and there are often traffic jams. There are now six Lotte Department Stores in Seoul, located in Jamsil, Yeongdeungpo, Cheongnyangni, Gwanak, Gangnam and Nowon, and a total of 19 stores nationwide.
The main branch of Shinsegae Department Store is located in central Seoul. It is the country's first department store, and is more upmarket and calm compared to the nearby Lotte.

Hyundai Department Store also has several branches in Seoul, but the one located in Apgujeong-dong, an affluent neighborhood with a sprawling luxury shopping district, is probably the most well-known. Not too far from Hyundai Department Store in Apgujeong-dong is another department store with only the most affluent brands of the world, Galleria Department Store. Near Galleria there is Rodeo Street, where you can see new youth fashion trends on the street. This street has many classy date spots such as cafes and restaurants.