In many Korean families, a rice cooker is one of the must-have items, as rice is the principle staple food across the nation. In the past, people used to cook rice in a large cast iron pot, but those pots have now been replaced with electric rice cookers.
A few decades ago, many Koreans bought so-called "elephant rice cookers" made by a Japanese company whenever they had a chance to go overseas. For them, it was an object of envy. Nowadays, however, such phenomena no longer exist, as a rising domestic star has been able to carve out a niche for itself in the global rice-making market.
This is the Cuckoo rice cooker, designed, fabricated and sold by Cuckoo Electronics of Korea.
The higher-end models can speak to their users and can cook rice specifically to meet the chef's needs. Differentiating between brown rice and white rice, all Cuckoo rice cookers feature a special technology that can maintain perfect heat and humidity levels to help preserve the cooked rice. Cuckoos can also be used to make rice porridge, rice cake and even rice bread. Thanks to the rice cooker, people can also make bread and cakes with flour, as well as some tougher dishes, such as
samgyetang
, a chicken soup with ginseng, or
galbijjim
, steamed beef ribs, simply by pressing a button.
Cuckoo Electronics' market share in the Korean rice cooker market reached 70 percent in 2013, with its sales recording KRW 508.7 billion that year. Since 2001, when Cuckoo first entered the U.S. market, Cuckoo rice cookers have been exported to nearly 30 countries, including the U.S., China, Vietnam and Russia. The firm has 800 shops in China alone and runs direct warranty service centers and sales networks across Southeast Asia, including in Vietnam and Myanmar, hoping to expand its customer base.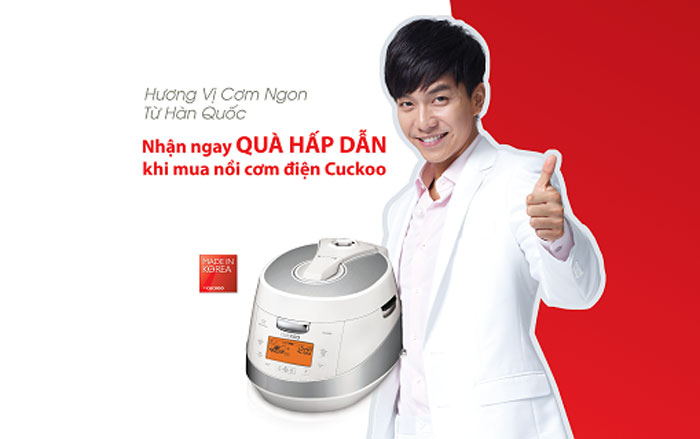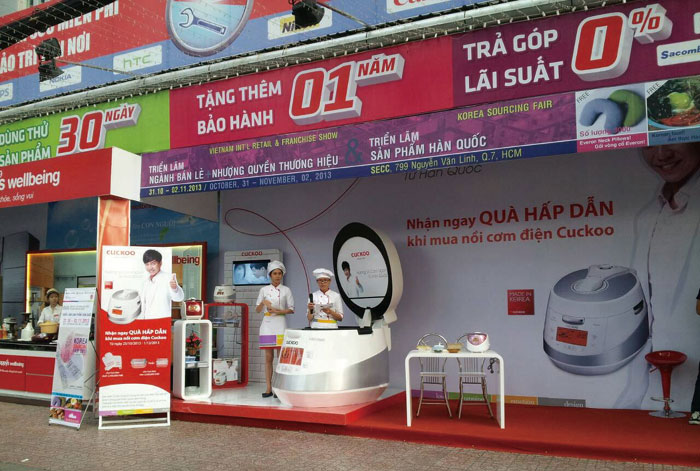 It is easy to spot Asian tourists looking for Cuckoo rice cookers in the duty free shops and department stores of Korea. Equipped with liquid crystal display screens, some Cuckoo rice cookers also offer voice and language services in their export destination's native language, where the rice cooker makes announcements when the rice is done. They can also be specialized for the local cuisine or varieties of rice found in that country.
To meet its customers' tastes, ahead of the January 2014 lunar new year "Golden Week," one of the largest national holidays in China, Cuckoo introduced its CRP-HT1085F model, only available in red, one of the preferred colors of Chinese consumers. In fact, during the seven day-long National Day "Golden Week," which began October 1, 2013, Chinese tourists who visited Korea showed a strong interest in Korean rice cookers. During the holiday, sales of Korean rice cookers and other related white goods recorded about a 140 percent increase over the same time period from the year before.
The popularity of Cuckoo rice cookers is attributed to the firm's efforts at localizing its technology to meet its customers' needs. The company doesn't only have its rice cookers talk, but it also provides recipes and automated cooking features for that country's cuisine.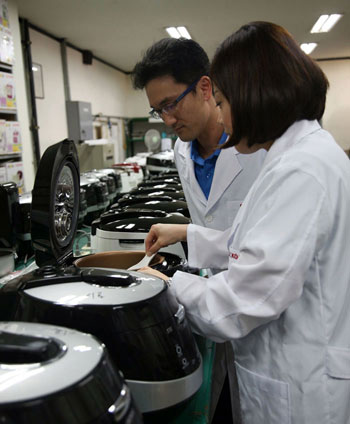 For example, when Chinese or Russian chefs place the necessary ingredients in their rice cooker, select the menu option and press the button, the rice cooker sets the appropriate time and pressure at which to start cooking. With automated menu functions, it lets users make Chinese style rice porridge, or
congee
, which has more water than Korean-style porridges, or any one of many Russian dishes.
In the case of the Cuckoo rice cooker export model for Vietnam, Vietnamese users can make many kinds of steamed dishes, as the rice cooker has various functions for steamed local recipes. For families that consume Annam rice, especially in Indonesia or Vietnam, Cuckoo rice cookers are now equipped with technology that can reduce the stickiness of the rice when cooked. It can also control the temperature of cooked rice by considering the average temperature and humidity of the ambient air, as well as other environmental aspects.
Recently, Cuckoo Electronics introduced multi cookers in European markets where people do not necessarily eat rice as a staple. The Europe-bound rice cookers allow people to make many steamed items, deep fried items, and even roasted dishes, as this machine is equipped with extra cooking functions. In light of these features, Cuckoo multi cookers are under the spotlight in Russia, Spain and other European countries.
Cuckoo's efforts to meet the tastes of the world continue to evolve.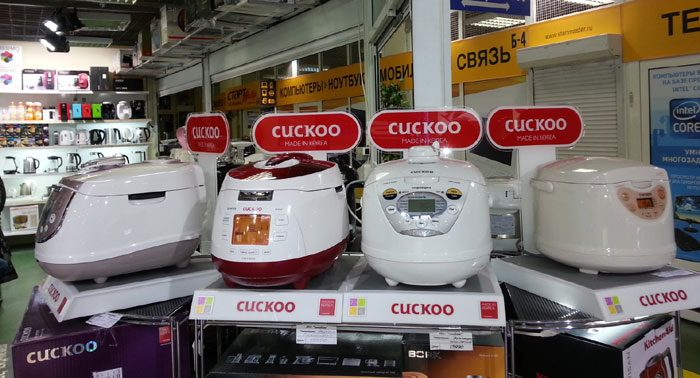 By Yoon Sojung
Korea.net Staff Writer
arete@korea.kr