Insa-dong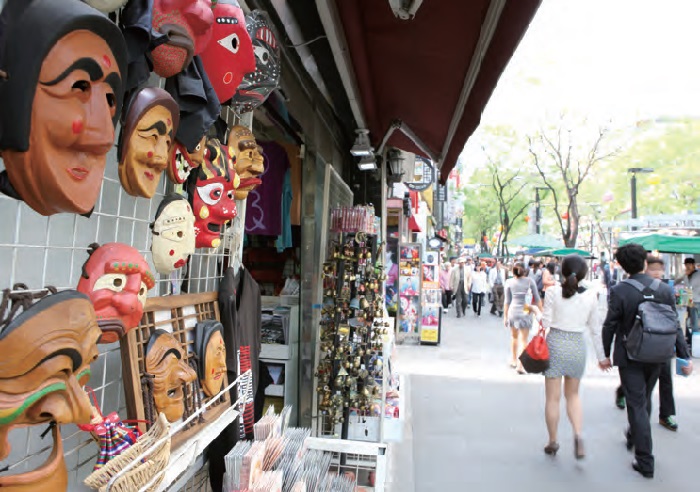 Insa-dong. One of the most popular destinations among foreign tourists in Seoul, the district is packed with antique shops, art galleries, craft workshops, traditional teahouses, restaurants and bars.
Insa-dong is a district in downtown Seoul that is packed with antique shops, antiquarian booksellers, art galleries, scroll mounters, craft workshops, brush shops, traditional teahouses, restaurants and bars that provide tourists with ample opportunities for an exciting cultural experience. The district had many places frequented by Korea artists, writers and journalists which have now begun to attract tourists from around the country and beyond. The Seoul Metropolitan Government designated Insa-dong as a District of Traditional Culture in 1988 and turns it into a car-free zone every weekend to create a more comfortable environment for visitors.
Myeong-dong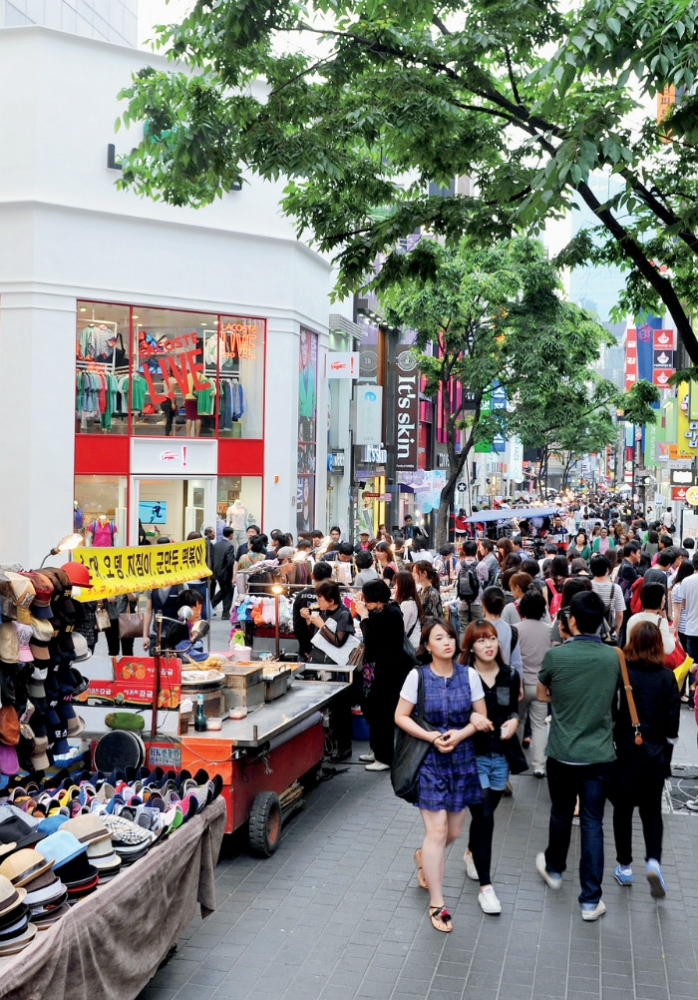 Myeong-dong. Korea's busiest fashion district and the number one attraction among international shoppers visiting Seoul
Myeong-dong has long been the busiest and most thriving shopping district in Korea where high-end shops and luxurious boutiques attract shoppers from all across Korea and tourists from different countries in Asia with luxury goods, brand garments, cosmetics, shoes, fashion accessories and souvenirs. The district has also been the national hub of finance and culture as well as commerce since the Korean War (1950-1953) and, in the 1970s and 1980s, was frequented by Korea's most energetic, fashion-conscious, outgoing people.

The position of Myeong-dong in the Korean fashion industry has dwindled somewhat in recent times, but its influence on the Korean fashion market remains significant. Many of the world's top fashion brands maintain or have opened new stores in the district, winning back fashionminded shoppers from the newly emerging fashion streets in the Gangnam area as well tourists from overseas. The district also contains Myeongdong Cathedral, established in 1898 and a central figure to all Korean Catholics, and the historic Chinese Embassy.
Hongdae Street (Hongik University Street)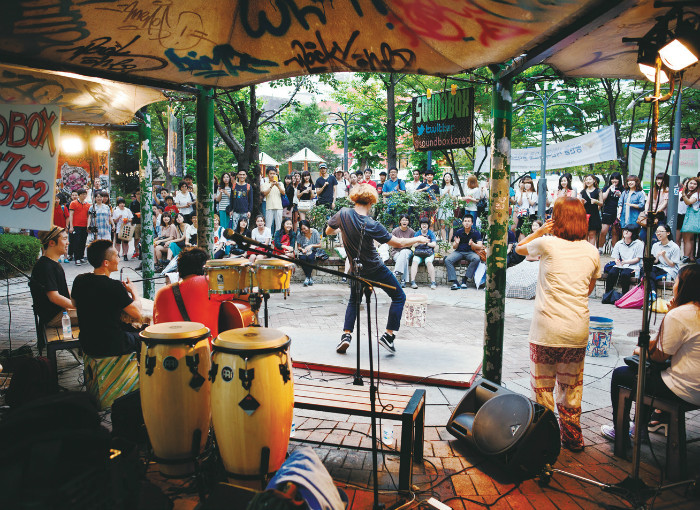 Hongdae District. Streets crowded with young and ambitious artists and spectators
It was during the early 1990s that Hongdae, or the area around Hongik University, saw an explosion of cafes and live music clubs drawing young music lovers from all across Seoul, gradually turning it into one of Seoul's most dynamic cultural areas packed with fun-seeking youngsters. What differentiate the streets of Hongdae from other similar districts are the live performances of indie bands held at the clubs scattered around the district. The bands cover a variety of popular music genres, including rock, funk and techno music, for the young audiences that gather there every evening.

The Hongdae district also contains numerous art galleries committed to displaying original works by emerging young artists. Some of these artists join with others devoted to other forms of art such as music and dance, to put on collaboration performances in the streets.
Garosu-gil Street of Sinsa-dong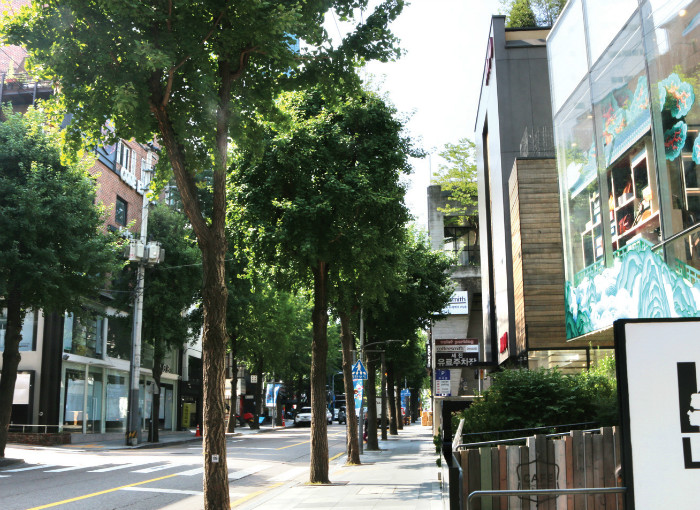 Garosu-gil of Sinsa-dong. A street busy with fashion-minded young shoppers
Literally "the tree-lined street of Sinsa-dong", Sinsa-dong Garosu-gil is a street in Sinsa-dong in Gangnam-gu that is lined with gingko trees on both sides. The street and nearby alleys have recently grown into one of Seoul's main attractions, attracting tens of thousands of fashion-minded people to its array of high-end coffee houses, art galleries, luxury boutiques and other fashion stores every day.

In the 1990s Garosu-gil began to attract ambitious young fashion designers, who opened shops along the road, eventually transforming it into a "fashion street." The success of their shops was followed by the opening of other shops vending exquisite interior objects, furniture and personal fashion items.
Itaewon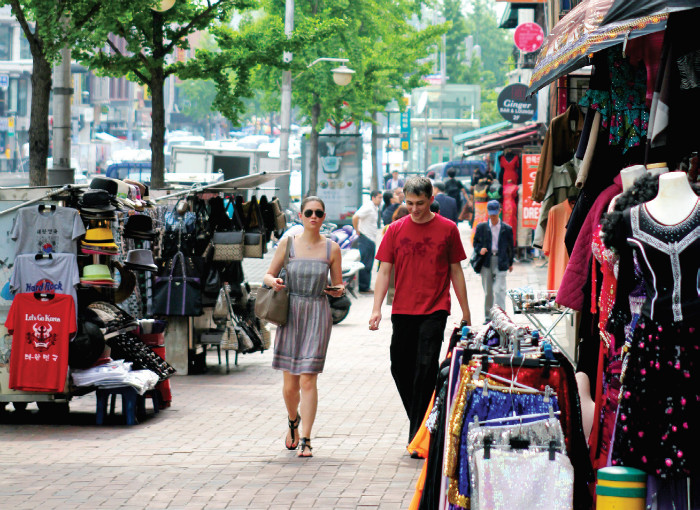 Itaewon. The Korean hub of international cultures
Itaewon, located south of Namsan Mountain in the heart of Seoul, is one of the most popular tourist destinations in the city, particularly among foreign tourists seeking shopping, fun and thrills in more comfortable surroundings.

The development of the district and the growth of its reputation among international travelers visiting Korea are largely related with the presence, since the Korean War (1950-1953), of the Eighth United States Army Base in nearby Yongsan, which relocated its headquarters to Pyeongtaek, Gyeonggido Province in July 2017. Today, the district contains a number of foreign embassies including those of Denmark, Belgium, Argentina, Romania, Lebanon, Hungary, Qatar, and the Philippines, as well as the Seoul Central Mosque and diverse foreign communities.
Itaewon's streets are packed with shops selling fashionable clothes and fashion items, nightclubs, bars and restaurants, many of them providing exotic, at least to Korean visitors, foods from Mexico, India, Vietnam and Turkey among other countries, and a distinctly cosmopolitan atmosphere. The district was designated by the Korean government as a Special Tourist Zone in 1997, and has since then held the Global Village Festival every October. Furthermore, street performances are held for foreign tourists on a daily basis.
Korea.net