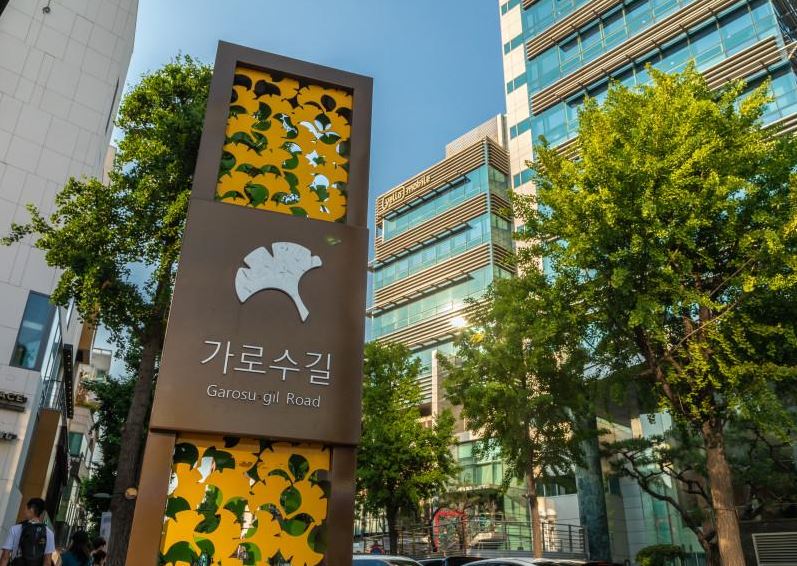 Garosugil, that quaint street in Sinsa-dong, is the "place to be" and the "place to be seen" for Seoul's trendsetters and fashion gurus. Now, it's gaining global recognition as international fashion brands are competing to secure spaces along the trendiest promenade in Seoul.
Just as fashion changes through the years, the most popular and trendiest area in Seoul shifts to different parts of the city. During the 1960s and 1970s, young people flocked to Jongno and Myeongdong in Gangbuk (north of Hangang (Han River). Those areas were then the center of guitar music, retro fashion, and free literary minds. In the 1990s, Apgujeong in Gangnam (south of Hangang) reigned as the "place to be" for night life, high-end shopping, and trendy restaurants. But, in today's Seoul, there can be no denying that the location that is in vogue for youth culture is Garosugil in Sinsa, a neighborhood in Gangnam District.

Garosugil means "tree-lined street" and stretches between Sinsa Station and Apgujeong Station. The official street address is Dosan-daero buk 5-gil, but it is more popularly known as Garosugil for the ginkgo trees that neatly adorn the 700-meter street, one of the most salient features of the most fashionable promenade in Seoul.

The ginkgo trees were planted in the early 1980s as part of Saemaeul Undong, a redevelopment movement back when the area was still underdeveloped. Art galleries and antique shops started to open in this quiet neighborhood, giving it an artistic edge. By the late 1990s, many art galleries had moved to the now famous Insadong in Gangbuk, and design agencies and studios came in to take their place. Pretty soon, many young artists opened their own studios, and fashion designers launched their brands. In time, the neighborhood became known as "Designers' Street."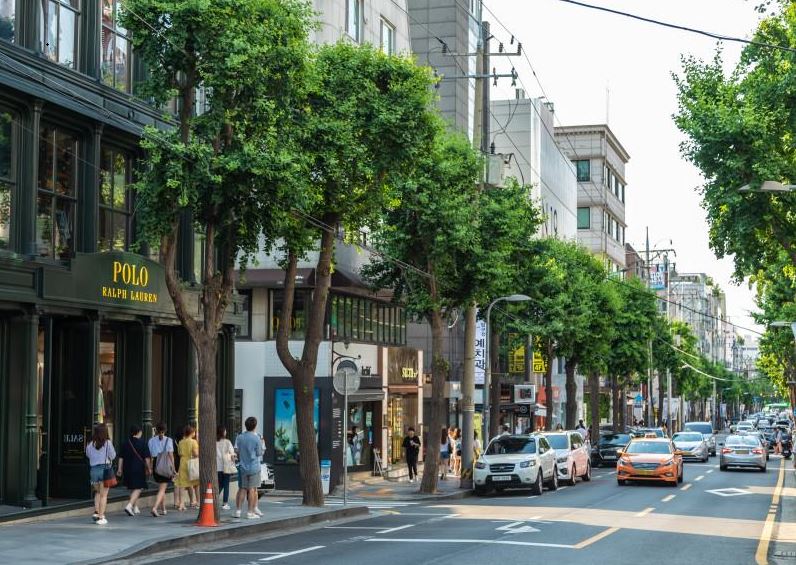 These days, Garosugil is home to an array of open cafes, restaurants, bars, and fashion shops blended together to create a chic venue for young people. While other areas in Gangnam are said to be fancy and modern, Garosugil presents a bohemian charm with its alfresco eateries and boutiques. Building exteriors here are unlike those of other shopping districts in Seoul. Many of the closely knit shops have an uncommon architectural flare—stylish boutiques with bright red doors and French-style shop windows line the street along with open-air brunch cafes, rendering a feeling of Paris or New York's SoHo.

Shops purvey clothes and bags that are of the latest trends, and for more fashion savvy shoppers there are designer boutiques that boast a range of one-of-a-kind dresses and shoes that can be custom-made. Street vendors set up their tables along the sidewalks to display items of vintage clothes or handmade accessories.

Together with shopping, many visitors come to Garosugil for the unique cafés, incomparable anywhere else in Seoul. Popular desserts in Garosugil are delicate pastel colored cupcakes, fruity tarts, and a dessert of Korean red beans on ice shavings called patbingsu. The interiors are equally quaint and unique, in keeping with the area's reputation, but customers prefer the small tables on the pavement outside, where they can see and be seen. Even in chilly weather, young men and women sit outdoors with warm blankets amid the gas heaters.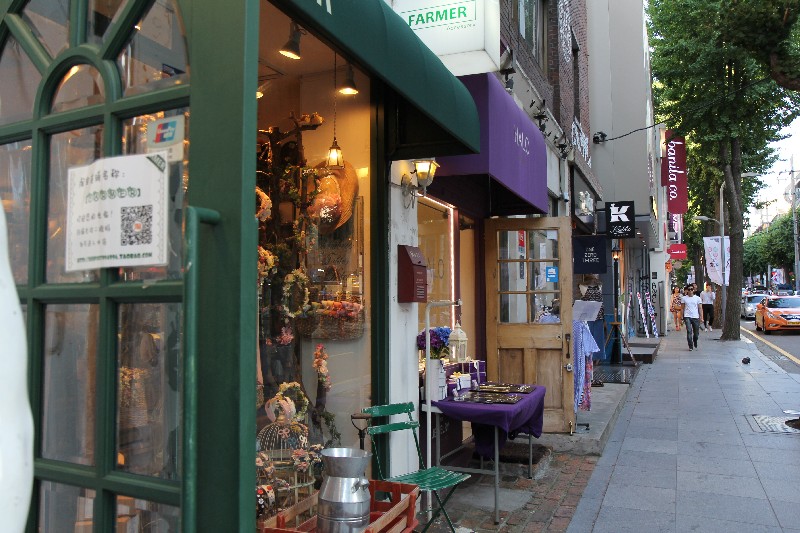 Garosugil is a relatively young part of Seoul. It has only become popular in recent years among Seoul's trendsetters, but it has quickly developed as the trendiest locale in all of Seoul. The fashion industry, both domestic and international, has begun to acknowledge this. For global fashion brands, domestic fashion conglomerates, and cosmetic brands, Garosugil is synonymous with "antenna street," a street where consumer trends can be tested. Last December, American fashion and watch brand Fossil opened its first Asian street shop in Garosugil.

"Korea is popularly promoted as the trend-setting country in Asia, and Garosugil is the place where all fashion-conscious consumers come," says Lee Soyeong, the brand manager of Fossil Korea, saying, "A shop on this street has tremendous symbolic value in the industry."

Global brands like Massimo Dutti and Forever21 opened stores on the main street last year, and Zara and Lacoste are getting ready to add Garosugil to their lines of shops.

How to get there
Subway: 800m from Exit 8 Sinsa Station on Subway Line 3
Korea.net