Vintage-style Korean blankets usually favored by senior citizens are growing popular in North America and sold through Amazon under the name "Korean mink velvet blankets." (Screen capture from Amazon's website)
Vintage-style Korean items typically used by the elderly are seeing growing demand from consumers in North America and Japan.

The so-called Korean mink velvet blankets are selling out in North America despite their relatively high prices. In Korea, the items are commonly called "granny blankets" because of the vivid prints of tiger or roses on them, a style that runs counter to the more recent trend in Korea of using simple bedding like those in hotel rooms.

"The pattern and colors are perfect for matching any style," an Amazon user in the U.S. nicknamed "ruizluna4" said, adding, "The softness is like sleeping on a cloud."

Another consumer said, "This blanket is awesome. Be warned if you work early like I do (because) you might be late at least one day during the first week of owning it."

These Korean-style blankets have around 300 reviews on average, most of them praising their softness and warmth and others asking for a wider variety of sizes.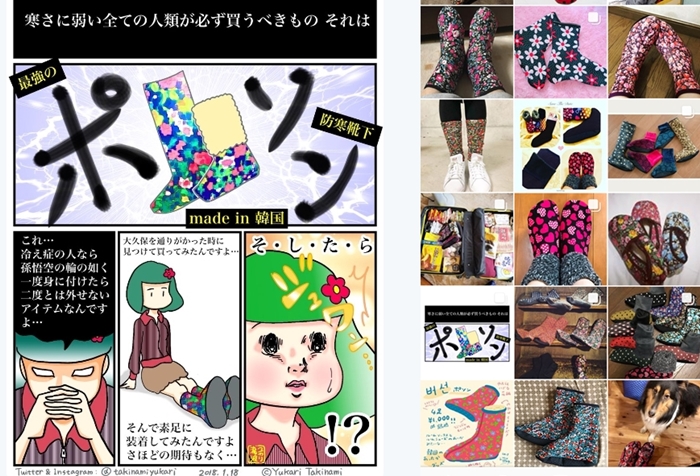 From left: Japanese cartoonist Yukari Takinami's illustrated review of beoseon, traditional Korean socks with winter lining, and photo reviews on Instagram by Japanese consumers who bought the socks.
In Japan, beoseon, or traditional Korean socks typically worn by the elderly featuring furry winter lining and flamboyant flower prints, have become a must-have item.

Japanese cartoonist Yukari Takinami posted an illustrated review of her first encounter with the thermal socks on her Twitter account. Buying the socks from a Koreatown in Japan, she lauded their warmth by saying, "The plush lining tightly surrounds the legs, making them ridiculously warm."

"(The socks') designs go well with vintage-style clothes. These wonderfully come in many different shapes and designs."

Japanese consumers through Instagram are also sharing information about the online shopping mall that sells the socks or posting photo reviews.

On the popularity of these vintage-style Korean items overseas, Jeon Mi-young of the Research Institute of Human Ecology at Seoul National University said "Retro styles, now back in fashion around the world, have played a role but these Korean vintage items appeal to consumers worldwide thanks to their warmth and quality design."
Korea.net