President Park Geun-hye has lauded the smash hit TV show "Descendants of the Sun" as being "a good example for the administration's top priorities: creative industries and cultural enrichment."

During the fifth meeting of the Presidential Committee for Cultural Enrichment on April 11, President Park stressed that, "This soap opera by itself not only has had its broadcasting rights sold in more than 30 countries around the world, but has as well caused a surge in demand for cosmetics, clothing and food items made in Korea across overseas markets. Now is the time to take advantage of our cultural content as a new engine to drive the economy."

"We need to cultivate our cultural assets as well as human resources across the cultural industry as a way to revitalize the nation's industries as a whole. We also need to establish a virtuous circle that incorporates cultural content into industries, giving a boost across the economy," President Park urged.

The president then called for more efforts to switch the focus of the current policy paradigm from manufacturing to cultural content and services, saying that, "We should stretch out the two wings of cultural enrichment and the creative industries."

The president also emphasized that cultural content must be based on information technology, and that the government should develop official development assistance (ODA) programs that make use of the nation's cultural items. She then asked that policies aimed at giving the public more opportunities to engage in cultural activities be put in place.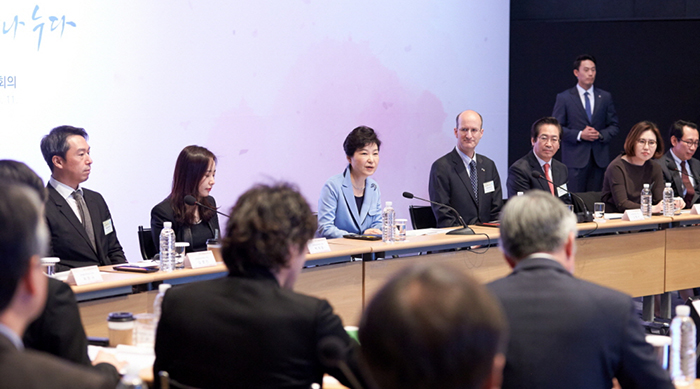 Mentioning a performance that she attended on April 4 during her official visit to Mexico, President Park said, "I saw Mexicans there going wild about taekwondo, K-pop and the song 'Arirang,' and I realized once again the potential of our pop culture. I really felt that culture could unite us all, just like that."

Finally, the president said that, "More efforts need to be made to further develop our potential beyond the Korean Peninsula, reaching out to more parts of the world. To this end, it's imperative to identify our roots in the first place. As we live in a world where the boundaries between different societies get blurred globally and people from around the world share their own culture with each other, what we must prioritize now is the proper set up of a framework for our culture so that we get it into shape."