Our history begins in 2008 with the first visit to Korea by the Colombian journalist and writer Andres Felipe Solano. He met Yi Soojeong, who later became his wife and with whom he would return to Korean in 2012 to live there.

Solano not only had to adapt to a new society and language, but also to labor challenges, to his role as a husband, and to his relationship with the loneliness that only a place so far from home can offer. From all these experiences came what we know today as "Corea: apuntesdesde la cuerdafloja," or, "Korea: Notes From the Tightrope." The Spanish-language book won the Colombian Narrative Library Award 2016, a decoration that seeks to recognize works of high artistic quality. In addition to this work, an extract of the book was published in the magazine put out by the Institute of Korean studies at Harvard. The success of his novel led to the decision by the literary magazine Granta to include it in its 2010 list of the 22-best young Spanish-language novelists.

"Korea: Notes From the Tightrope" is a hybrid between an intimate diary and a series of chronicles. It allows its readers to learn about Korea, gives some historical and social data, and allows readers to live with the writer through the different moods that come along with the winter, spring, summer and autumn, the four chapters into which the work is divided.

This non-Korean is dedicated to observing and understanding a society that is so foreign to many, and to translate its daily lives in an attractive manner, dedicating his days in Korea to taking on the challenges of a multicultural marriage, reading the news in Spanish for KBS World Radio, writing articles for international journals, dictating workshops and translating texts.

Solano is currently promoting his fiction novel "Cementerio de Neón," or, "Neon Cemeteries," which tells the story of a Colombian veteran from the Korean War and a taekwondo teacher who emigrated to Colombia in the 1960s.

Korea.net Honorary Reporter Kevelyn Ravelo Sarabia talked with the Colombian author about his books, life in Korea and his rapprochement with the literature of this country.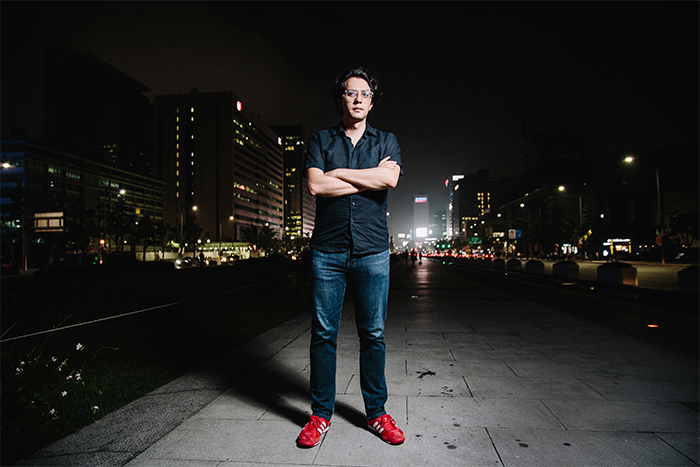 - How did you arrive in Korea and decide to stay?
In 2008, I was invited as a writer for six months by the Ministry of Culture through the Cultural Partnership Initiative program (CPI). Then I came back on my own with my wife in 2012.

- What do you miss most since moving to Korea?
I miss going to bookstores a lot. Maybe it's the only thing I really miss. In Seoul, the offerings are very limited for non-Koreans.

- What has been your approach to Korean literature?
Through my work at the Literature Translation Institute of Korea (LTI Korea), I have the privilege of learning about books and authors, especially contemporaries. For those who don't live in Korea and who speak English, I recommend the quarterly magazine published by the institute. It's very complete. It brings in interviews, excerpts, reviews and articles about Korean literature. Here's a link: http://koreanliteraturenow.com/.

- Why did you decide to write a book about your life in Korea?
I understood that it was a way to begin to inhabit a country from words, thus to understand why I was here.

- In "Korea: Notes From the Tightrope," it's evident that differences exist between Colombia and Korea. Could you highlight some similarities, please?
Perhaps a certain obsession with personal appearance, something that has a lot to do with both countries' inferiority complex. There's a reason why the two countries are plagued by plastic surgery clinics.

- What has changed in you since publishing "Korea: Notes From the Tightrope?"
I think that I will only know once I leave Korea for good.

- In "Korea: Notes From the Tightrope" you talk about the idea of writing what today we know as the book "Neon Cemeteries." What would be the main difference between the two books?
The first is a diary and the second is a work of fiction. However, the two intersect at certain points. In addition, the diary is background of the writing process of the novel.

- You've written two books related to Korea. Is this country a good source of inspiration?
The two books respond to two very specific things in my life, and not so much to the country itself, as such. First, there's my arrival in Seoul and what all that implies. Then, second, there's the need to tell a story related to the Colombian veterans of the Korean War, an idea that had been around since I interviewed the first veteran about 15 years ago. For now, I don't think I'll write another book related to Korea.

- Concerning your books and the worldwide success of Korean pop songs and TV shows, what does Korea have that makes it so interesting?
It's a society that has expanded and generated interest around the world without being a society that has any imperial pretensions. By that measure, it connects with countries in Southeast Asia, Latin America and Africa.

- Do you see yourself living more years in Korea?
For now, my life is in Korea. I don't think I'll move soon.