The Korea Grand Sale, a nation-wide series of discounts and sales combined with a tourism promotional campaign, will be held from Jan. 20 to Feb.28 across all of Korea. Tourists in the country during the event will be offered discounts and other benefits at shops, hotels and other tourist attractions.

As the dates overlap with the Chinese Spring Festival, Seoul's department stores are running events to appeal to Chinese tourists.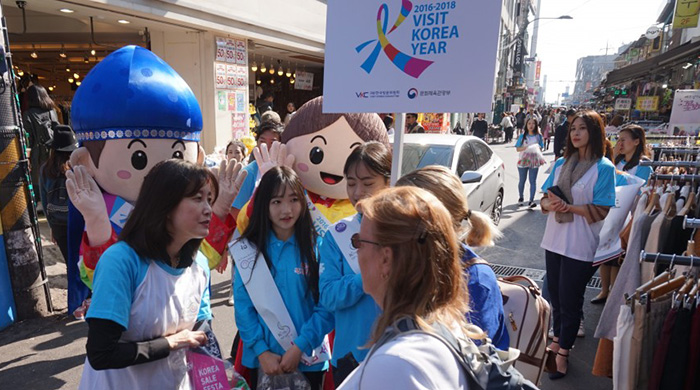 The Korea Grand Sale, a nation-wide series of discounts combined with a tourism promotional campaign, takes place from Jan. 20 to Feb. 28. Tourists are offered discounts and prizes at shopping malls, transportation hubs, hotels, makeup stores, restaurants, cafes and other tourist sites.
The Lotte Department Store invited three famous bloggers from China to introduce new releases and to give makeup demonstrations at the cosmetics counters in the main store in Sogong-dong, central Seoul, on Jan. 23 and 24. The store also offers "hands free" services. It will deliver purchased goods to hotels or airports at no charge, and provides a shuttle bus that runs between the airport and Myeong-dong, one of the primary shopping districts in Seoul.

Another department store, Shinsegae, will install claw game machines and give decorative golden eggs to the customers at its main store in Myeong-dong starting Jan. 23. Boxes that contain two decorative golden eggs will be inside the claw cranes. Because the number eight is considered by many people to be lucky, the store prepared 888 eggs to be given out. Moreover, customers who buy more than KRW 10 million before Feb. 22 will be granted a limousine service from the hotel to the airport on their way out of the country.

Hyundai Department Store has opened an official WeChat account, a popular mainland Chinese chat program and social media platform. It is giving away pollution filter masks, vouchers for drinks and coupons to some of its followers. A list of 180 brands that are popular among Chinese shoppers will be offering discounts of between 10 and 30 percent on items at Hyundai stores. Also, delivery to addresses in China is also available.

Transportation companies are also part of the upcoming holidays. Korean Air is offering a special deal that combines plane tickets and hotel rooms, and Asiana Airlines will cut up to 60 percent off plane fares to and from mainland China and Europe. Jeju Air has also introduced discounts of up to 91 percent on certain flights into Korea.

A new type of Korea Tour Card, a transportation card that offers discounts or prizes at certain shops and tourist sites, has been released, too, in the run-up to the Lunar New Year's holiday. The cards can be purchased at train stations, airports, some in-flight sales outlets, and at some 7-Elevens.

To mark next year's PyeongChang 2018 Olympic and Paralympic Winter Games, various events related to winter sports and to Gangwon-do Province, the Olympic host, will be provided, too. Ski resorts in Gangwon-do will cut entrance and rental fees by up to 50 percent. A kiosk promoting the Korea Grand Sale will be set up in Dongdaemun, and it will allow visitors to experience winter sports through a set of VR goggles. Also, the official Visit Korea Committee will promote winter festivals in Gangwon-do Province that are scheduled at the same time, such as the Hwacheon Sancheoneo Ice Festival.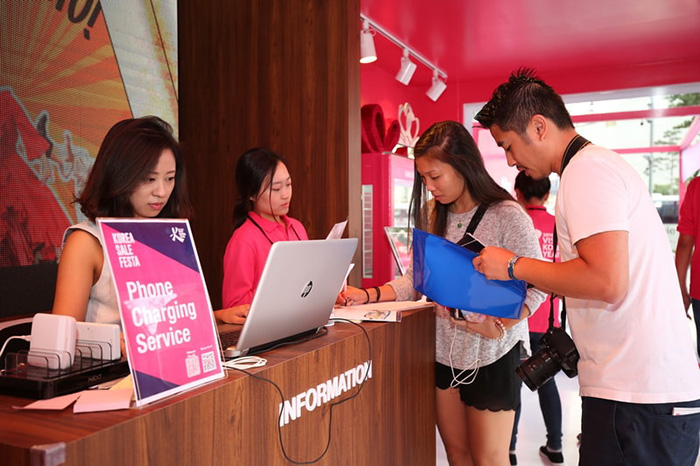 During the Korea Grand Sale, the official information kiosk in Dongdaemun will be open every day from 1 p.m. to 9 p.m. It provides interpretation services, has a wide range of information about the great events going on across the country, and, most importantly, offers free Wi-Fi hotspots.
The opening ceremony of the Korea Grand Sale will be held on Jan. 20 at the Doota Mall in Dongdaemun. There will be raffles for tourists, and performances by the pop group Boys 24.

Incheon International Airport will also celebrate the grand shopping spree. From 11 a.m. to 5 p.m. on Jan. 20, staff wearing Hanbok will welcome tourists in the arrivals hall and give out pamphlets about the Korea Grand Sale in English, simplified and traditional Chinese, and Japanese.

The information kiosk in Dongdaemun will be open throughout the shopping sale, from 1 p.m. to 9 p.m. every day. It provides interpretation services for English, Japanese and Mandarin, information about various events going on across the country, free internet and outlets to charge your phone.

Finally, special weekly activities based on four themes -- must-buy, must-see, must-do and must-eat -- will be held at the kiosk.

Please visit the links below for more information

- Korean : http://www.koreagrandsale.co.kr/ko/
- Simplified Chinese : http://www.koreagrandsale.co.kr/cn/
- Traditional Chinese : http://www.koreagrandsale.co.kr/tw/
- English : http://www.koreagrandsale.co.kr/en/
- Japanese : http://www.koreagrandsale.co.kr/jp/