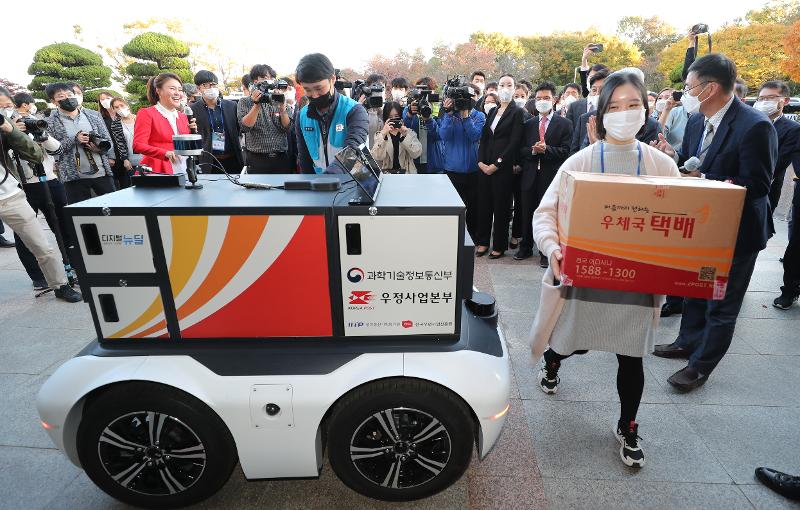 The Korea Post on Oct. 28 holds an event at Korea University's campus in Sejong to demonstrate a high-tech self-driving vehicle and robot that delivers and receives mail and parcels.
A self-driving robotic vehicle departs while carrying loads of parcels and mail, turning left and right in heading toward its destination.
A recipient receives a verification number and the estimated delivery time via mobile messenger and text. When the vehicle arrives, he or she pushes the "Open" button and inputs the verification number, after which the box opens. After the recipient takes out his or her stuff, the box closes and the vehicle heads to its next destination.

The Ministry of Science and ICT and the Korea Post on Oct. 28 held an event at the Sejong campus of Korea University demonstrating a self-driving robotic vehicle that delivers and receives mail and parcels.

To send postal items, a reservation is needed through the Korea Post app and the bar code at a kiosk in the vehicle must be scanned. The names and addresses of the sender and the recipient are input and the delivery paid for, so the only task left is putting the items to be delivered in the vehicle's storage box.
An unmanned post office, a robot shadowing a postal worker and a mail delivery robot were also tested at the event.

The robot shadowing a deliverer recognizes the latter's clothing and follows him or her, reducing the worker's need to carry heavy items over a long distance. The robot then delivers items to the customer who placed the delivery order.

Trial service will run through late next month at the Sejong campus and be expanded from next year to around the post office in Sejong, a smart and national demonstration city. The high-tech gizmo will later be used at colleges and large-scale industrial complexes nationwide.

The Korea Post said, "We hope to boost the convenience of the postal service, reduce the incidence of accidents for deliverers and improve their working conditions."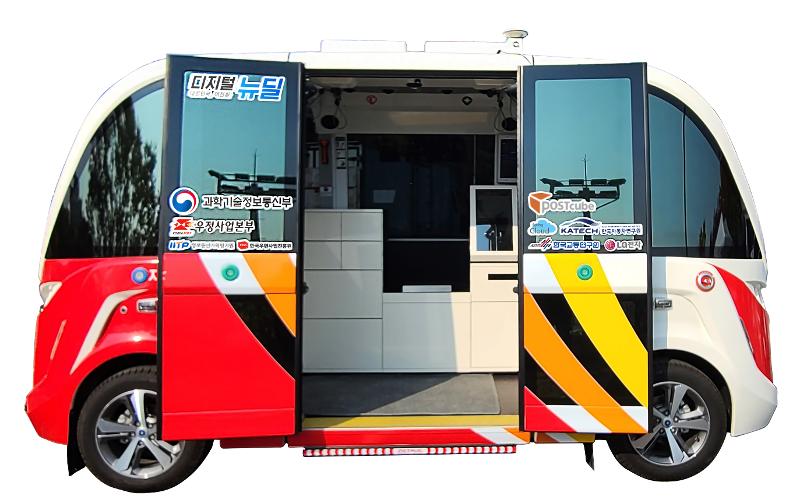 This self-driving and unmanned postal delivery vehicle could be part of the future of the Korea Post.
Korea.net