"Left South Korea after an interesting trip. Always impressed with their resolve when faced with adversity. Great people," tweeted Richard Engel, NBC News chief foreign correspondent on April 19.
Korea is just as calm as its citizens are, and its airport has seen a continuous inflow of visitors. According to the Incheon Airport Immigration Office, the number of visitors who arrived at the airport from late March to April was 31,151, slightly up from last year's figure which stood at 30,408.

"There is nothing much different related to the effect of threats from North Korea," said Kim Jeong-wook from the Incheon Airport Immigration Office. "The number of Japanese tourists dropped but we consider it is possibly due to a fall of the yen's value and also because it is off-season."
Not only tourists but foreign investors and businessmen seem unworried by threats from North Korea. The Global Business Plaza 2013 that took place on April 16 in KINTEX with an aim to match up global buyers with Korean suppliers was attended by more than 500 overseas companies representing 60 countries.
"Korea is in control to manage the economy by working closely with the international community and being fully prepared to respond to North Korea's threats," said Minister Yoon Sang-jick of Trade, Industry and Energy during a congratulatory message at the event.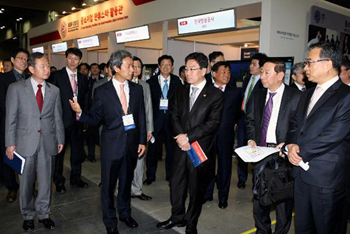 Though North Korea has been dominating international headlines in recent weeks, some voices are making it clear that there is no reason for alarm.

Earlier this month, the April 9 edition of the New York Times, in an article entitled "Stay Cool. Call North Korea's Bluff," reported on the lack of concern among South Korean people. The newspaper said foreign journalists dispatched to Seoul to report on the tensions on the Korea Peninsula had trouble finding people who were panic-stricken. The article also added that "the farther one is from the Korean Peninsula, the more one will find people worried about the recent developments here."

On April 12, Thailand's public television station Thai PBS invited Director General Damrong Kraikruan of the Thai Foreign Ministry's East Asia Department and a professor of the Institute of East Asia Studies at Thammasat University, named Nopaddon, to the talk show Tob Jot where the two experts discussed the situation of the Korean Peninsula, shrugging off the likelihood of a war.

"The chance of war on the Korea Peninsula is quite unlikely," said Noppadon. "North Korea has been in critical condition in terms of military force and economic power compared to those of neighboring nations. In addition, you cannot be sure whether the nuclear tests were successful or not." Director-General Damrong expressed his agreement with the opinion.

After discussing the motives that seem to encourage North Koreans to increase tensions as well as the views of the international community including at the UN, the two experts turned to safety issues for Thai people in Korea.

"It seems like just normal times," said Nopaddon, and Damrong, in response, said that Thailand's Foreign Ministry and the Thai Embassy to Korea are fully prepared to respond to emergencies and evacuate their citizens, but there is no reason to issue a warning.

Also in the Philippines, the April 18 edition of the Philippine Daily Inquirer newspaper reported that "tension between Pyongyang and Seoul is starting to subside," quoting South Korean Consul-General Min Kyung-ho in Manila. The newspaper said that "the Philippine government has been reiterating assurances that the situation in South Korea remains 'normal and calm.'"
[Source: Korea.net]