The Korean government will offer USD 5 million in relief aid to the Philippines after the recent devastation caused by super typhoon Haiyan. The Ministry of Foreign Affairs (MOFA) also said it would send a Korea Disaster Relief Team (KDRT) to help with the recovery.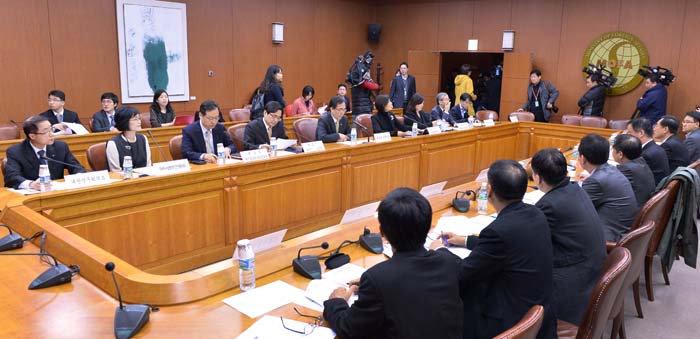 During a November 12 meeting, Second Vice Minister of Foreign Affairs Cho Tae-yul (second from right, bottom) and participants discuss ways to offer relief aid to the typhoon-ravaged Philippines. (photos courtesy of the MOFA)
The decision was made on November 12 during a joint government-private meeting to discuss ways to help the typhoon-torn country, the ministry said. A group of 40 KDRT workers will be dispatched to the typhoon-ravaged country, including 20 medical professionals, 14 emergency rescue workers, four representatives from the Korea International Cooperation Agency (KOICA) and two people from the foreign ministry.

They will be dispatched to the disaster zone by military transport as soon as the relief team's registration is confirmed by the Philippine government.

The Korean Ministry of National Defense said that two Lockheed C-130 Hercules aircrafts will be put on standby at Seoul Air Base in Seongnam, Gyeonggi-do (Gyeonggi Province), for the impending mission. It takes about six to seven hours from the air base to Cebu, central Philippines, the nearest big city to the affected areas.

In addition, 100 emergency tents worth some KRW 200 million will be provided upon further request, the defense ministry said.

The foreign ministry will dispatch a separate group of 19 rapid response workers and emergency rescue workers on a U.S. Marines transport plane to the most severely devastated region near the city of Tacloban. The team will ensure the safety of identified Koreans and search for those still unaccounted for.
[Source: Korea.net]