When a petite Asian woman with no makeup stood up in front of the judges, she didn't receive much attention at first.

When asked by judges, "What can we expect from you?" she answered, "Awesome singing," with a big, shy smile. She was right.

The mood changed when she started singing Mariah Carey's "Hero." She soon took over the stage with her powerful yet beautiful voice. The audience became enthusiastic, yelling with excitement even before she finished the song.

Her name is Dami Im. The 25-year-old Korean woman studied music at Griffith University and at the University of Queensland after migrating to Australia at the age of nine.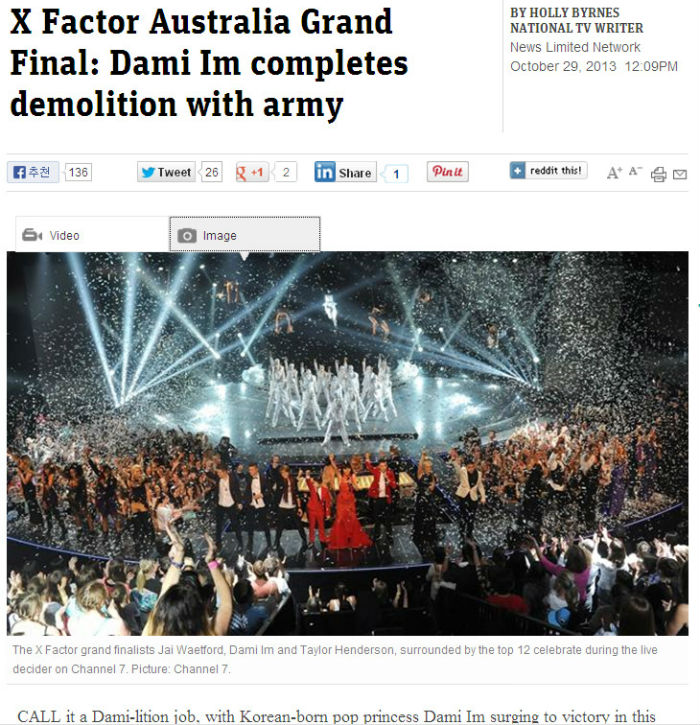 A captured image of The Herald Sun report on Dami Im's "The X Factor" victory on October 29.
After her stunning audition on "The X Factor," a reality TV audition show aired by Australia's largest private broadcaster, Channel 7, Im soon captured both the judges' and Australian viewers' attention by showing consistent, remarkable progress with her explosive singing and flawless performances. The Australian media paid close attention to her.

In the show, which eliminates one competitor every episode, she flawlessly performed some great yet not-too-easy-to-sing songs such as "Purple Rain" by Prince and "One" by U2. Her YouTube video clips have also won popularity. Among the clips, her first audition for "Hero" has seen more than one million hits as of October 29. Another popular clip of her singing "One," which Im sang at the semi-final, has registered more than 750,000 hits.

She finally won the crown in the final round on October 28 where she defeated her rival, Taylor Henderson, with a version of Jennifer Hudson's "And I Am Telling You" and by introducing her own debut single, "Alive."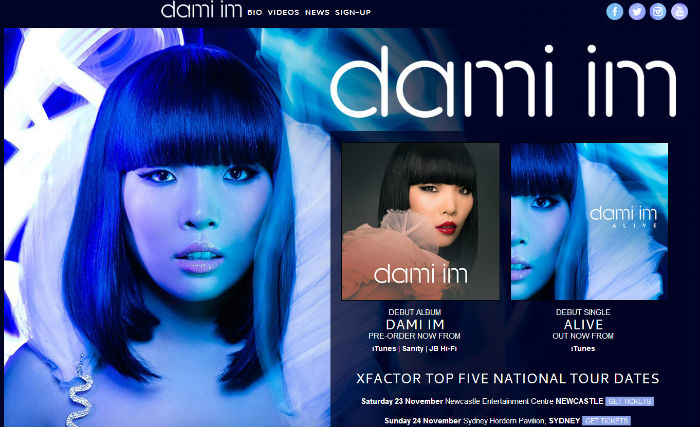 A captured image from the Dami Im official homepage http://www.damiim.com
Dannii Minogue, one of the judges of the show and younger sister to Australian singer and actress Kylie Minogue, praised Im by saying, "When she starts singing, her voice cuts through straight to your heart."

"I can't believe it," said Im right after the winner was announced. She sent her love and appreciation to her Australian viewers, to her fan club, the "Damy Army," for supporting her and to the X Factor team, expressing her hope that she can encourage people like her, "who are not so cool," by telling them that, "they can do it, too."

The Sydney Morning Herald, one of Australia's leading dailies, reported the birth of a new diva in its article, "Dami Im races to number one in the charts after X Factor win," on October 29. In the article, the newspaper said that Im quickly rose to the top of the iTunes chart with her debut single, "Alive," after winning on "The X Factor." The Herald Sun, another Australian daily, called her, "Korean-born pop princess," in its article, "Dami Im completes demolition with army," on October 29.

As the winner's prize, Im will release her debut album with Sony Music Entertainment and she plans to meet her fans again at many large-scale concerts in the near future.

[Source: Korea.net]