Korea topped the Information and Communications Technology (ICT) Development Index (IDI), as compiled by the International Telecommunication Union (ITU), for the third year running. The ITU ranks global ICT development and progress. Korea ranked second in 2009 when the IDI began and has ranked first in the index since 2010, according to Korea's Ministry of Science, ICT & Future Planning.

Korea achieved a score of 8.57, according to the ITU, which announced the index in its "Measuring the Information Society (MIS)" report on October 7 in Geneva, Switzerland. Sweden and Iceland ranked second and third, with scores of 8.45 and 8.36, respectively. The index compares, analyzes and assesses ICT development across 157 countries.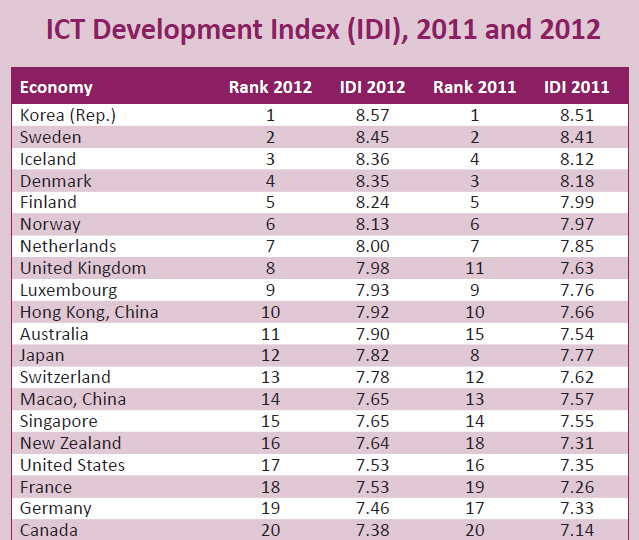 Captured image of the ICT Development Index 2012, announced by the ITU on October 7, 2013.
"Korea continues to lead the world in ICT development," said the ITU in the report. The IDI is composed of three subindices: ICT access, use and skills. In the IDI subindices, Korea topped the ICT skills category and ranked second in ICT use.

Korea also came tops in other ITU categories: percentage of households with Internet access, fixed telephone subscriptions and enrolment in higher education.

[Source: Korea.net]