A new model of electric bus made its maiden voyage on the road in Gumi, Gyeongsangbuk-do (North Gyeongsang Province) on August 6. Powered through wireless recharging, this new electric bus operates without a highly expensive system or long waiting time for recharging.

The so-called OLEV (On-Line Electric Vehicle) is powered by a shaped magnetic field in resonance (SMFIR) technology developed by the Korea Advanced Institute of Science and Technology (KAIST) and is recharged wirelessly.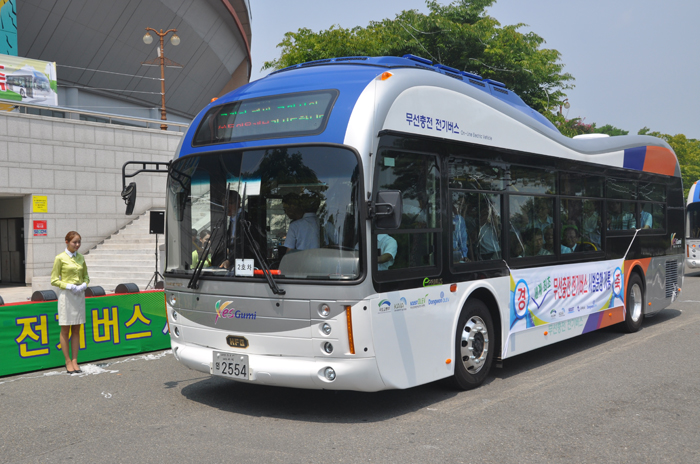 The main characteristic of the bus is that the vehicle uses electricity converted from magnetic force supplied by rechargers embedded in the roads at bus stops and parking lots. Using a smaller battery due to its real-time recharging, the vehicle is comparably light. It can also operate on regular roads.

"The OLEV can be recharged while it is resting in a parking lot or at a bus stop," said Cho Dong-ho, a chief researcher of wireless electricity transmission. "It can run at 50 to 60 kilometers per hour in the city or as fast as 90 kilometers per hour."

It was chosen as one of "The 50 BEST Inventions of 2010" by Time Magazine. It was also identified as one of the top 10 most promising technological trends that can help foster sustainable growth by the World Economic Forum's Global Agenda Council on Emerging Technologies in Davos, Switzerland.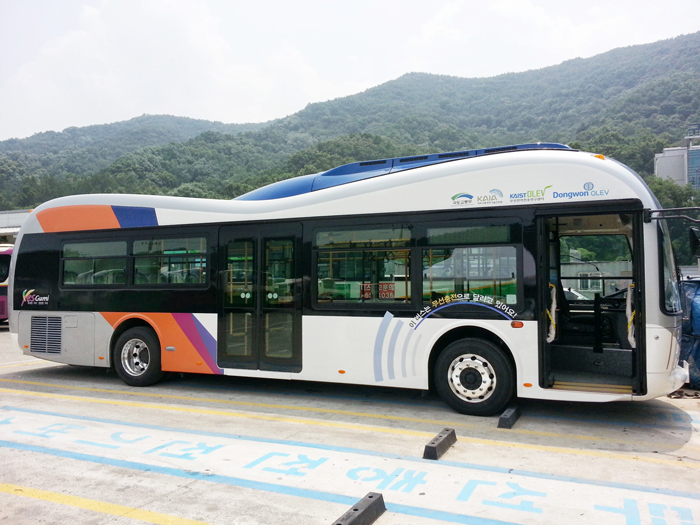 According to the Ministry of Land, Infrastructure and Transportation (MOLIT), the vehicle is safe and convenient because it is recharged wirelessly, thus eliminating the danger of electric shock.

Gumi, which was selected for test runs, will operate two electric buses on a 24-kilometer roundtrip route between Gumi Station and Indong, until December. The buses will start regular operation in the city beginning next year.