A high-level North Korean delegation, including Hwang Pyong-so, director of the North Korean military's General Political Bureau, Choe Ryong-hae, secretary of the ruling Workers' Party, and Kim Yang-gon, director of the party's North Korean United Front Department, arrived in Incheon to attend the closing ceremony of the 17th Asian Games held on October 4. The officials departed Pyongyang at 9:00 a.m. that day and arrived at Incheon International Airport at 10:10 a.m. via a direct flight over the Yellow Sea.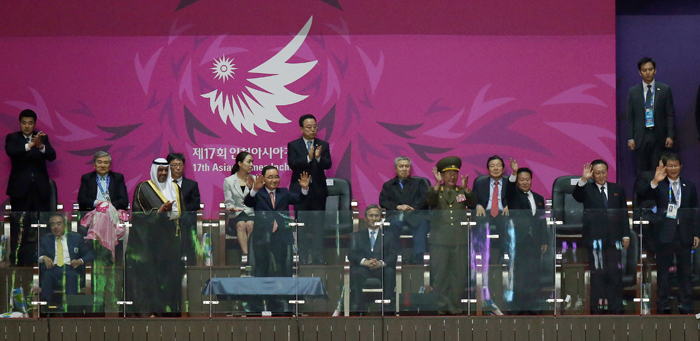 The North notified the South Korean government of their planned visit on the morning of October 3. Seoul agreed to the trip later that afternoon. After arriving in Incheon, the delegation gave words of encouragement to the North Korean athletes competing in the games. The group then had lunch with their South Korean counterparts, including Kim Kwan-jin, chief of national security at Cheong Wa Dae, Ryoo Kihl-jae, the unification minister, and Han Ki-bum, the first deputy director at the National Intelligence Service. Finally, the group of North Korean officials attended the Asian Games closing ceremony at 7:00 p.m. that evening.
Hwang expressed his willingness to attend a second series of high-level inter-Korea talks. He also delivered North Korean leader and First Secretary of the North's Workers' Party Kim Jong-un's "warm greetings" to South Korean President Park Geun-hye, sending the message via Cheong Wa Dae's Kim. This is the first time for North Korean leader Kim Jong-un to send a personal message to President Park.
In a meeting with South Korean Prime Minister Chung Hong-won, Hwang said, "There have been many fruitful results, though we are going to leave in the evening after arriving in the morning. We paved a narrow path this time, but we can communicate with each other better and can pave a wider road."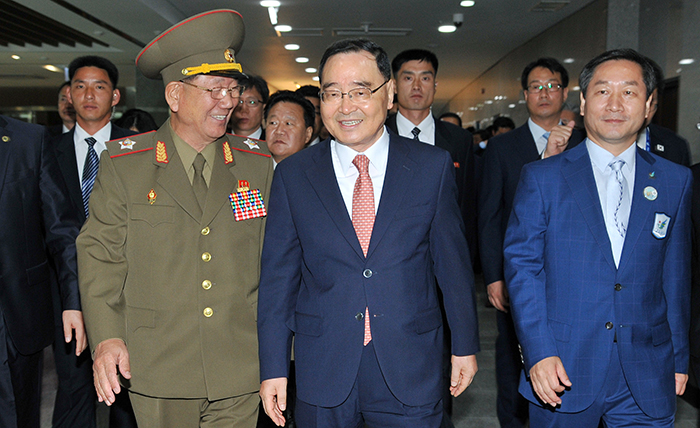 Regarding the North Korean delegation's visit, Lim Byeong-cheol, the Unification Ministry's spokesman, said, "President Park Geun-hye was willing to meet with the delegation, but they came here to attend the Asian Games closing ceremony and were unable to visit Cheong Wa Dae due to time constraints."
After attending the closing ceremony, the delegation departed Incheon International Airport at 10:25 p.m. and flew back to Pyongyang.