President Park Geun-hye discussed her creative economy vision and ways to support venture startups with Mark Zuckerberg, founder and CEO of Facebook, the world's top social network website.
At a meeting on June 18 at Cheong Wa Dae, President Park said to Zuckerberg that she is aware of "the well-known challenging spirit of Facebook which does not dare to fail." She introduced the Korean government's plan to create a venture business-friendly environment where youths can start businesses and succeed with good ideas and overcome failures.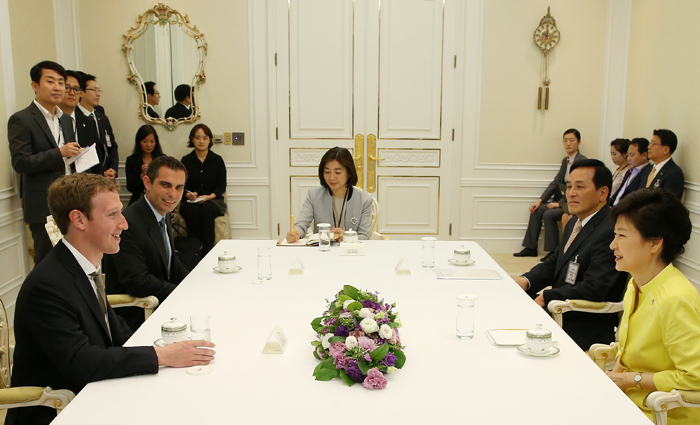 President Park introduced Korea's creative economy administrative priority as the country's new economic development strategy. The president said that the core of her creative economy initiative lies in generating more jobs by creating a new market, new demands, and new industries by mixing information, communication, and technology (ICT) and science technology based on human creativity and good ideas.
Zuckerberg said that he will "continue to invest in Korea as the country is one of the important markets for Facebook" by offering training opportunities for Korean small and medium-sized enterprises (SME) and enhancing cooperation with them. He also expressed his hope that Korean venture businesses and SMEs can enter into the global market through Facebook's social platform, while adding that he "will find ways to cooperate with Korea for the creative economy initiative."
This is the third meeting President Park had with world leaders in the IT sector in order to realize her creative economy vision. President Park previously had meetings with Microsoft co-founder Bill Gates and Google CEO Larry Page in April 2013.
By Yoon Sojung
Korea.net Staff Writer
arete@korea.kr