- In time for the annual tints of autumn foliage colors, two royal palaces in Seoul are encouraging visitors to slow down their pace and take a culturally-rich self-reflective journey. Starting on October 18, Changdeokgung Palace transforms its backyard garden into a cozy outdoor reading room, bringing out a selection of books for the general public. The same day, the Deoksugung Palace Museum unveiled its new exhibition entitled "Art of Communication."

"Art of Communication" at the Deoksugung Palace Annex of National Museum of Contemporary Art, Korea

The exhibit "Art of Communication: Anri Sala, Yang Ah Ham, Philippe Parreno, Jorge Pardo" is a group exhibition of four contemporary artists who keenly attempt to capture moments of communication in everyday life.

Centered around the theme of communication, the four internationally renowned artists narrate their stories replete with creativity and conscious perspectives to depict society as they see it. The media represented in the exhibit are as varied as the backgrounds of the four artists, crossing over multiple media ranging from film to installation art and design. In this sense, the exhibition only has eleven large-scale works of art installed in the whole two-storey space of the museum, allowing viewers to concentrate more on each individual piece.

Anri Sala, a Berlin-based Albanian artist who primarily works with the medium of video, casts light on the poetic allegory of daily routines. In "Dammi I colori (Give me the colors)" (2003), the artist illustrates how he changed the monochrome and dismal cityscape of the Albanian capital into a vibrant and colorful one. This socially-engaging project has created jobs and fostered a sense of hope among the citizens, exemplifying how contemporary art dissolves the boundary between art and life, and going beyond simple exercises in knowledge of art or appreciation of aesthetic beauty.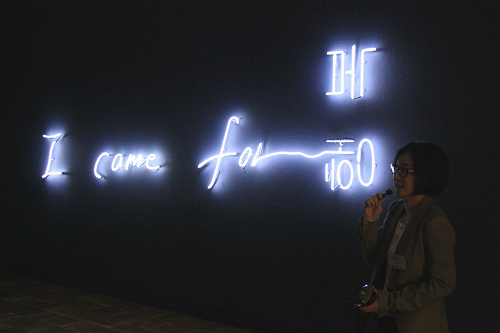 Yang Ah Ham (Ham Yang Ah) explains her works of art during a preview on October 18 (photographed by Hwang Dana).

Netherlands-based Korean artist Yang Ah Ham turns her focus on recording quotidian scenes from an outsider's view. In "Bird's Eye View" (2008), Ham projects an unusual perspective on the old Seoul Station before its restoration through the eyes of pigeons, offering an authentic view. For the current exhibition, she has produced a video installation called "Perpetual Euphoria" (2011), cross-capturing landscapes of the Korean capital with scenes of wasps and bees fighting and killing one another while confined in a tight space.

Cuban-American artist Jorge Pardo, whose work bridges art, design, and architecture, presents "Bulgogi" (2010), a mixed media installation named after the Korean dish of marinated and barbecued beef, which Pardo uses here as a "metaphor for Korean immigration and cultural assimilation in Los Angeles," where the artist lives and works.

"Speech Bubbles" by Algeria-born media artist Philippe Parreno whimsically embodies people's unspoken thoughts roving through the air, filling out the ceiling with golden speech-bubble-shaped balloons.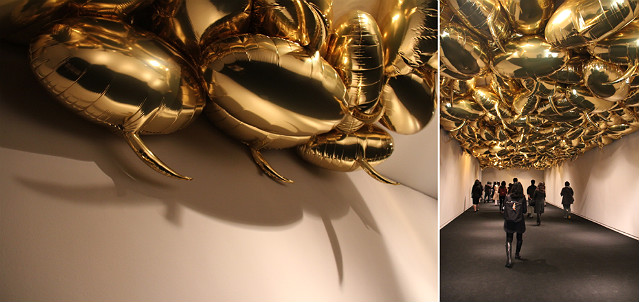 Philippe Parreno, Speech Bubbles (gold), 2009, unique, variable dimensions (photographed by Hwang Dana)

"Now as ever, communication is a proposition fraught with pitfalls. There is no end to art revolving around the myriad aspects of communication, because of the infinite possibilities of this impossible quest," said Lee Soo Youn, curator of the museum. "I hope that the audience who lives in today's world would find an overlapping point with one's daily life while appreciating the works of art rather than trying to 'understand' them."

The exhibition, which seeks to imbue spectators with empathy and inspiration, runs through December 4. For more information, please visit the official website at: www.moca.go.kr (Korean and English).

Read books in the backyard garden of Changdeokgung Palace

If you are looking for a quieter moment for self-reflection, go to Changdeokgung Palace. Running until October 30, the royal palace offers open-air reading spaces at six spots around its courtyards, brightened alongside the view of autumn among seasonally colored trees.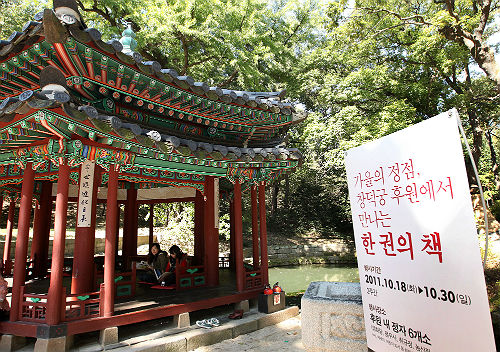 Changdeokgung Palace (Photo: Yonhap News)

For a set period, the Cultural Heritage Administration will open the rear garden of Changdeokgung Palace to a wider audience, increasing the maximum number of daily visitors from 100 to 200 people, to make the royal palace more accessible. Visitors can catch a glimpse of fall hues inside the garden, known as a resting place for royal families, and read while enjoying the scents of an Indian summer. Guided tours are provided for those who wish to get in-depth knowledge of the palace.

For more information, please visit the official website at: www.cdg.go.kr (Korean and English)

By Hwang Dana
Korea.net Staff Writer

[Source: Korea.net]