The striking combination of black and white, the sensuality of see-through fabrics, and the artistic mix of black and blue denim dominated the runaway on the third day of the Fall/Winter Seoul Fashion Week. Camera flashes were ubiquitous, with the eyes of fashionistas from all around the world on the fashion models elegantly walking the catwalk.
Seoul Fashion Week kicked off at two venues, the IFC Mall in Yeouido and Blue Square in Hannam-dong, Seoul on March 25, running until March 30. Attended by up-and-coming fashion designers armed with creative ideas and the existing top-class trend-setters of Korea, this six-day fashion festival has taken a deep look at the future of Korean fashion, or K-fashion, for the fall and winter seasons of 2013.
With many overseas celebrities, such as Director Nicola Formichetti of famous French brand Thierry Mugler, also well-known as the stylist of Lady Gaga as well as several K-pop idol groups and Korean actors and actresses, the fashion show enjoyed the spotlight both domestically and internationally.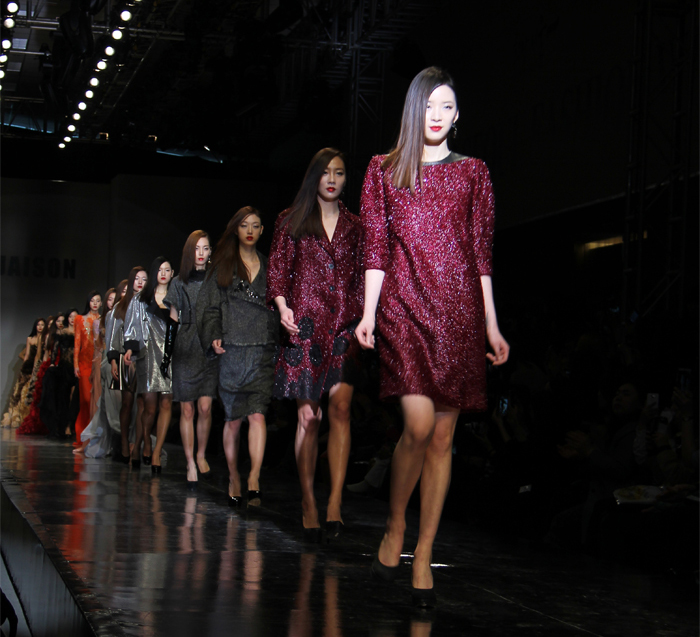 The March 27 fashion show held at the IFC Mall was the highlight, with the biggest number of celebrities pouring in to see the creations of their favorite fashion designers.
Creations by designer Jaison, who has been active in the French fashion scene, were shown off on the runway early that day. His designs featured see-through chiffon, silk decorations with bold colors, and elegant lace trimming, leaving the audience's jaws agape.
Inspired by glittering stars in the night sky and flowers at midnight, the silk dresses he created were reminiscent of delicate flowers in the night.
"I am very impressed by how Korean fashion designers use the colors," said buyer Ingrid from Australia after the Jaison show. "Unlike other fashion shows which love black color, they really use the color pallet well. Young Korean designers put together the old-fashioned European styles to create something new. They have the potential for taking on their own design and using it. What I have seen here is the conservative approach to using what they think is in fashion somewhere else."
What followed was the artistic and fascinating collection designed by Korea's acclaimed fashion designer Moon Young-hee, which clearly showed how chic and stylish works of fashion can be with only two colors, black and white.
Dressed in black or white, or a beautiful combination of the two, fashion models wowed the audience.
"I intended to express my designs in a generous and free manner as if you feel like being in the open plain when you see them," Moon explained about her designs. "Although they are a bit long in length, I tried to make them look natural and mysterious, not restrictive of movement."
According to her official profile, her brand MOONYOUNGHEE is the only Korean fashion brand which has been presenting at fashion shows in Paris twice a year for the past 16 years. Its headquarters is based in Paris and all of her products are designed and manufactured there.
The next show was staged by married couple designers Steve J and Yoni P, featuring delicately balanced high-end casual wear with the beautiful ensemble of black-and-blue-colored denim. Creative patterns using a mix of black and white, black jackets made from fabric variations including leather, polyester, and nylon with mesh stockings, and sensual and see-through designs exposed the duo designers' sense of youth and novelty. They created new classics with punk elements absorbed into a classic theme.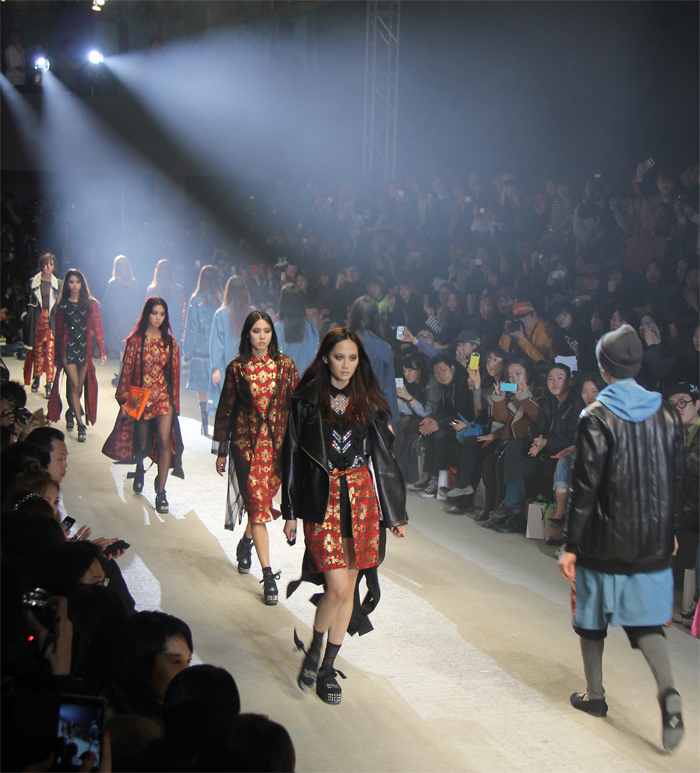 Since the 2006 launch of their own brand name SY Studio in London, the couple have positioned themselves among the most sought-after designers of Korea, as evidenced by quite a number of Korea's top-class celebrities, including Lee Hyori, coming to see their fashion show.
"As an owner of a fashion brand shop based in London who knows quite well about European fashion styles, I think Korean fashion is more dynamic when compared with the fashion trends of European nations such as London and Paris," said Sean Lee, Steve J's close friend and director of OUTLAB which also runs a Garosu-gil shop selling both domestic and overseas high-end brands.
The F/W 2013 Seoul Fashion Week is being held at two venues, the IFC Mall in Yeouido and Blue Square in Hannam-dong, Seoul until March 30.