A dozen Cambodian visitors including journalists, travel agents, and a public health official recently came to Korea to look around major hospitals in southern Seoul. They paid a four-day visit on the invitation of Gangnam District Office.
This is the first time for the district office to invite people from overseas to tour the medical establishments of Seoul. Until last year, the district sent delegations to countries such as Vietnam, China, Russia, and Kazakhstan for an explanatory session on medical tourism in Korea.
The invitation is only a small part of the country's effort to attract medical tourists. Not only the central government but also regional governments as small as districts are making an all-out effort to promote medical services in Korea, and the effort is reaching every corner of the world.
The reason for the invitations from Gangnam District is to tap the growing demand in Southeast Asia for medical services. The region has surfaced as a new emerging market for medical tourism, according to Kim Jong-sam, a Gangnam health center official, who guided the Cambodians on the tour.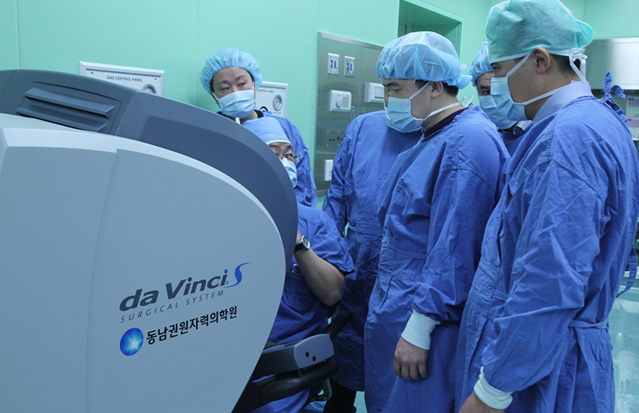 Sinh Lee, head of Sinh Travel & Tours Co. in Cambodia who participated in the tour, said although Cambodians do not know much about Korea's relatively high medical standards, they are aware of the country's advanced plastic surgery technology.
"Plastic surgery is relatively new in Cambodia, and there are few clinics," Lee said.
However, he said most Cambodians go to Singapore or Thailand for medical treatments because of proximity and easier entry to these countries. "They can go to Thailand or Singapore at any time without a visa," he said.
Southeast Asia is also the most popular destination for medical tourism, attracting patients from all over the world.
According to the Korea Tourism Organization (KTO), Asia, led by Singapore, Thailand, and India, draws 45 percent of outbound patients from North America, 39 percent of those from Europe, and 95 percent coming from Africa.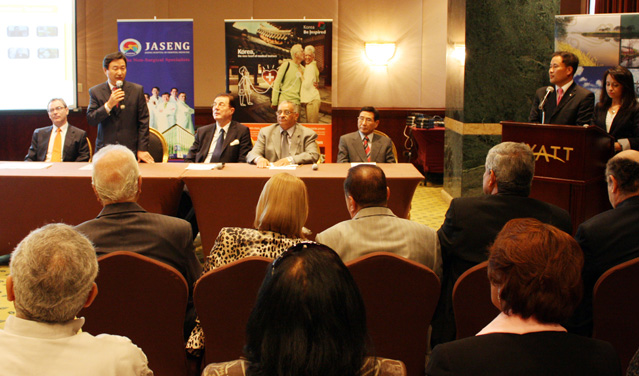 Korea has struggled to catch up with Thailand, Singapore, and India on medical tourism but still lags far behind. Various cities and provinces in the country have been making individual efforts to lure more medical tourists on their own.
Last December, Busan, Korea's second largest city, invited medical professionals, travel agents, and journalists based in Almaty, Kazakhstan. Other cities and provinces such as Daegu, Daejeon, and Jeju have been promoting themselves as medical tourism destinations.
The KTO has also been aggressively promoting Korea as a leading destination for medical tourism. It has held explanatory sessions in Ho Chi Minh, Vietnam; Phnom Penh, Cambodia; Kiev, Ukraine; Yuzhno-Sakhalinsk and Vladivostok, Russia; Yangon, Myanmar; and Abu Dhabi in the United Arab Emirates.
The number of overseas patients seeking medical treatment in Korea has been rising steadily from 60,201 in 2009, to 81,789 in 2010, 122,297 in 2011, and an estimated 150,000 in 2012 as the continued efforts are paying off, according to the Korea Health Industry Development Institute (KHIDI).
The U.S., Japan, China, Russia, and Mongolia are the top five nations sending patients to Korea, but according to the KHIDI patients are coming from all over from more than 100 countries around the world including even remote places like Uganda, American Samoa, Oman, Serbia, Nepal, and Paraguay.
With the most developed medical infrastructure in the country, Seoul is by far the main destination for foreign medical tourists. The capital city took in 77,858 patients in 2011 and Gyeonggi-do (Gyeonggi Province) attracted 17,092. Next is Busan (6,704), followed by Daegu (5,494), Incheon (4,004) and Jeollabuk-do (North Jeolla Province, 2,104).
Busan, in particular, saw the number of foreign patients visiting the port city rise drastically, a 40.8-percent increase in 2012 from the previous year, with a total number of 14,125 medical tourists. By nation, Russian patients made up 37.7 percent with 5,333, followed by Chinese (1,670) and Japanese (1,542).
The fields of medicine sought by overseas visitors in 2011 are internal medicine (15.3 percent), dermatology and plastic surgery (12.7 percent), family medicine (8.7 percent), physical examinations (8.3 percent), gynecology (7.7 percent), and Oriental medicine (5.9 percent). The proportion of physical examinations, dermatology, and plastic surgery is on the decline while internal medicine and oriental medicine have been increasing.
Different countries and regions are seeking different types of medical services. Americans and Southeast Asians sought internal medicine most while Oriental medicine was most popular among the Japanese. The Chinese sought plastic surgery more than any other fields while Russians came for medical examinations most.