Korean pitcher Ryu Hyun-jin of the Los Angeles Dodgers earned his first complete game shutout in his Major League Baseball career by putting on a flawless performance in both pitching and batting.
Ryu defeated the LA Angels 3-0 at the Freeway Series match on May 28 (L.A local time) at the LA Dodgers Stadium where he gave up only two hits but did not walk a batter.
Since his MLB debut earlier this year, the left-handed Dodgers rookie won his sixth victory after taking the mound eleven times.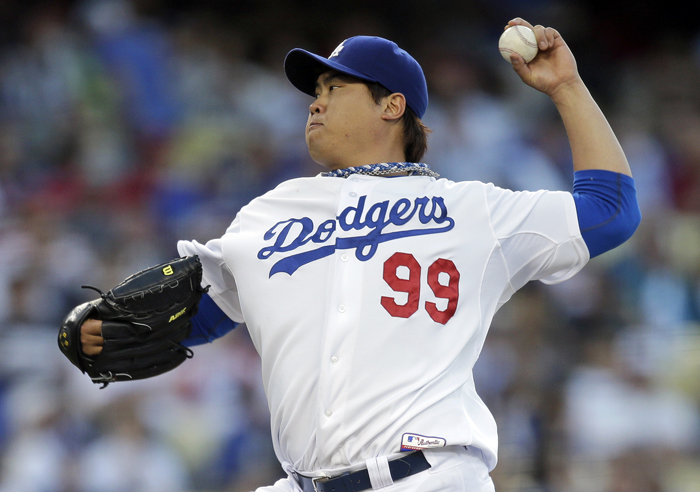 The American media which questioned Ryu's potential at Spring Training this year is now praising the professional Korean pitcher who sets up a new rule of Dodgers' victories.
"Ryu didn't just dominate on the mound. He showed off some skills in the field and at the plate," said ESPN, a leading American sports channel, in an article titled "Dodgers' Hyun-Jin Ryu shuts out Angels in first complete game" on May 28. "The rookie outsprinted Alberto Callaspo in a foot race to first base to record the second out of the second inning. Ryu slugged a one-hop double to deep right field in the third for the Dodgers' first hit."
Steve Dilbeck of the LA Times dubbed Ryu the "discovery of the year." "Left-hander Hyun-Jin Ryu, who last year was pitching professionally in South Korea, continued to look like the discovery of the year, throwing a two-hit shutout," said Dilbeck in an article titled "Hyun-Jin Ryu throws two-hitter in Dodgers 3-0 victory over Angels" on May 28.
"I am truly happy and very excited about it," said Ryu at an interview right after the game. "More important thing is that our team did very well." Ryu also said that he is very happy to win such a precious victory at the Dodgers' home stadium.
Dodgers manager Don Mattingly highly praised Ryu's performance. "It's more of an artist for me, being able to throw both sides of the plate and changing speeds," he said. "It's the art of pitching."
Dodgers star slugger Matt Kemp also joined Mattingly. "He's a superstar. He kept some great hitters off-balance."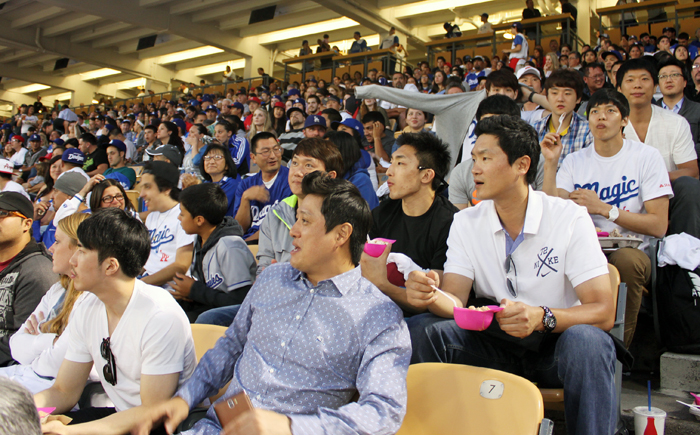 Many Koreans visited the stadium to see the game. Not only Korean residents in LA but also Korea's SK Knights basketball team players and its head coach Moon Kyung-eun cheered Ryu on at the stadium.

[Source: Korea.net]