Korea and four African nations have joined forces to ensure the future of safe drinking water. Water resource policymakers from Korea and the African nations, as well as Korean companies involved in water development, gathered in Seoul for the Korea-Africa Water Cooperation Forum at the Lotte Hotel on November 6.

High-ranking officials from Libya, Senegal, Mozambique and Ethiopia, including Libyan Under Secretary of Water Resources Abobaker Akhaty Alamin, discussed ways to expand cooperation between Korea and African governments in developing water resources. The forum was jointly organized by the Korean Ministry of Foreign Affairs and the Ministry of Environment.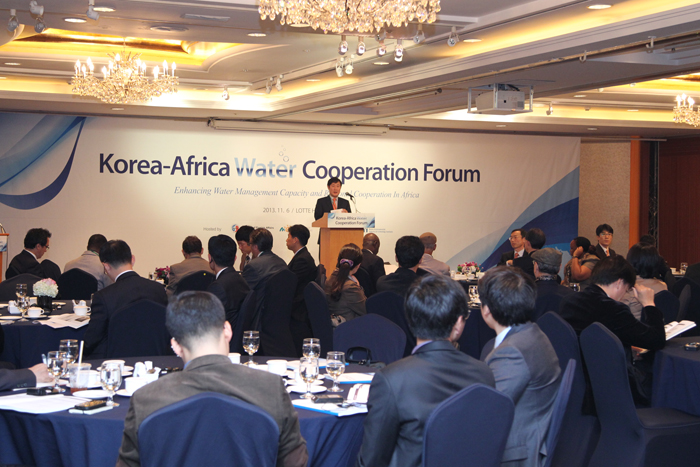 The Korea-Africa Water Cooperation Forum is held at the Lotte Hotel in Seoul on November 6. (photo courtesy of the Korea Environmental Industry and Technology Institute)
Korean and African water policymakers introduced their water resource policies and the current state of their water resources. Construction companies including Doosan Heavy Industries and Construction, Daewoo Engineering and Construction and Samsung C&T Corp. spoke about their experience developing water resources across the African continent, including in Algeria, Tanzania and Ghana.

"While water stress is experienced by nations throughout the world, no region has been more afflicted than the African continent," said Deputy Minister for Economic Affairs Ahn Chong-ghee, from the Ministry of Foreign Affairs. "A large portion of cropland in Africa is located in arid regions where irrigation cannot be sustained."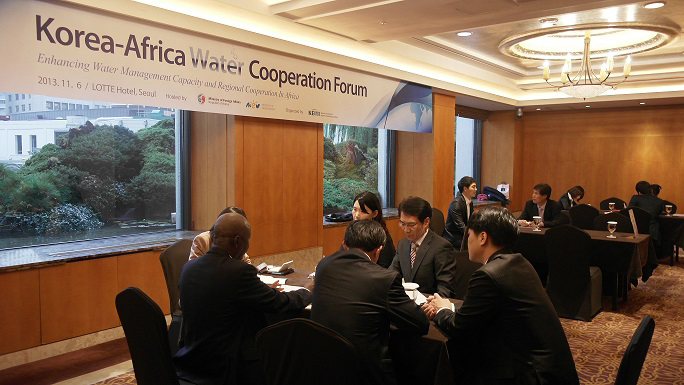 Sub-conferences on water resource development are held during the Korea-Africa Water Cooperation Forum. (photo courtesy of the Korea Environmental Industry and Technology Institute)

"The Korean government has been cooperating with the government of Senegal to establish a drinking water supply since 2010," Ahn said. "As access to clean water is a long-term goal, Korea will continue to provide its full support to our African counterparts."

"According to the OECD Global Environmental Outlook to 2050, 40 percent of the world's population will suffer from a severe shortage of water by 2050," said Director-General for Environmental Policy Baek Gyu-seok, from the Ministry of Environment. "Korea will share its experience and technology in water resource management with its African colleagues and make an effort to help everyone have access to clean water."

Korea and Libya talked about signing a memorandum of understanding in water supply and sewage system management. At high-level meetings they also discussed holding a regular bilateral cooperation meeting to carry out actual cooperation projects. The foreign and environmental ministries intend to share Korea's experience and know-how, including Korea's water resource management policies, with their African counterparts and both ministries will continue to make an effort to solve water problems in the future.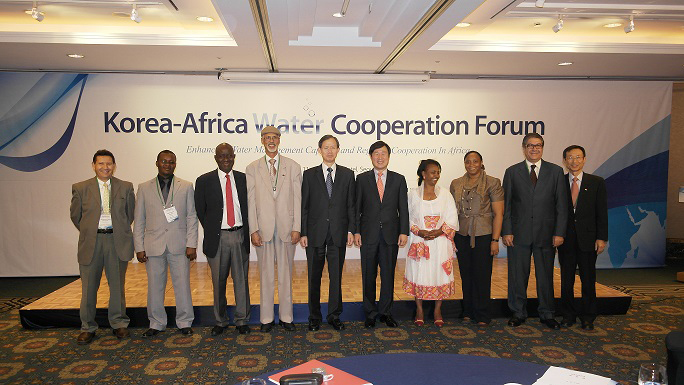 Participants in the Korea-Africa Water Cooperation Forum pose for a group photo. (photo courtesy of the Korea Environmental Industry and Technology Institute)
[Source: Korea.net]