Korea has finalized currency swap arrangements with both Indonesia and the United Arab Emirates.

Finance ministers and central bank governors from Korea and Indonesia reached agreement on a won-rupiah swap worth USD 10 billion, in Washington D.C. on October 12. The next day, the Bank of Korea and the Central Bank of the UAE signed a won-dirham currency swap agreement valued at USD 5.4 billion.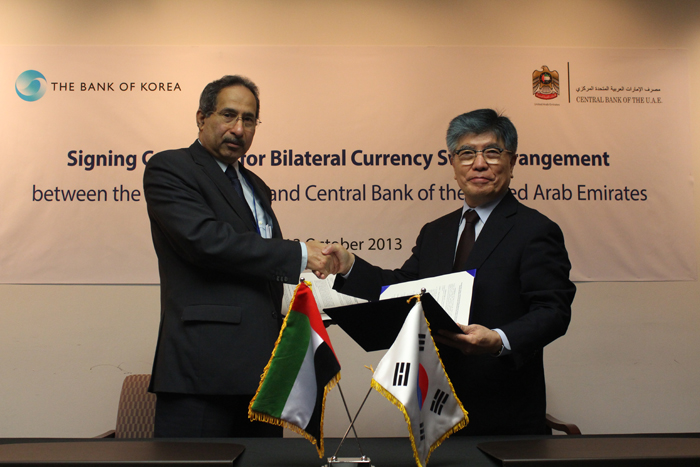 Bank of Korea Governor Kim Choong-soo (right) and his UAE counterpart Sultan Bin Nasser Al Suwaidi pose for a photo after signing a currency swap agreement worth USD 5.4 billion, in Washington D.C. on October 13. (photo courtesy of the Bank of Korea)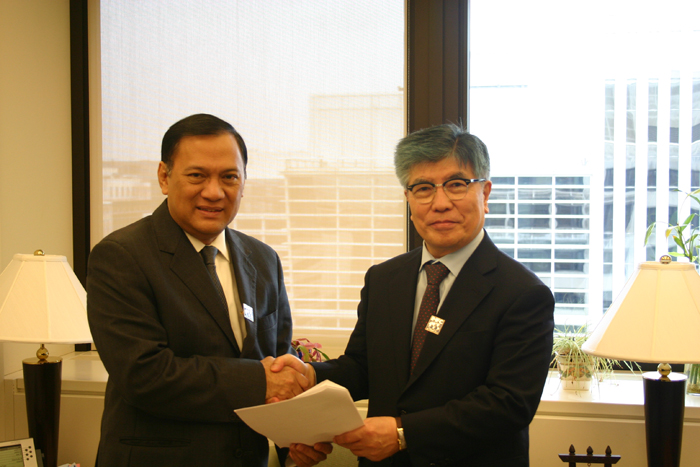 The won-rupiah swap between Korea and Indonesia is worth KRW 10.7 trillion or IDR 115 trillion (IDR 109 at today's exchange rate) while the won-dirham swap is valued at KRW 5.8 trillion or AED 20 billion. The swaps will expire in three years but can be extended.

Korea has agreed to use the swaps to settle bilateral trade accounts between it and its trading partners. These agreements will allow importers from each nation to pay with their own currency when settling trade accounts, lowering their dependence on U.S. dollars and their exposure to currency risk.
[Source: Korea.net]