2013 marks a very important year for relations between the Republic of Korea and Canada. This year marks the 50th anniversary of the establishment of diplomatic relations between the two countries, as well as the 60th anniversary of the Korean War Armistice.

"We are staunch allies," said Korean Ambassador to Canada Cho Hee-yong in a speech given at the University of Alberta in Edmonton, Canada on June 10. "The Korean-Canadian special partnership is rooted in our shared history."

Ambassador Cho lectured for over an hour on the unique relationship shared by the two middle-power countries.

He began with some observations about Canada and its society, made since accepting his post as ambassador to Canada last July. "Canadians come from all over the world, including Korea," he began. "Canadian people respect multiculturalism and appreciate diversity, and they're a little different from Americans. I thought Canadians may be the twins of Americans, but since I came here, I have seen I was wrong."

He contrasted Canada's geography and history with his own country's, pointing to the North American nation's relatively young history. "Canadians only have one direct neighbour while we have so many," he explained. "You have your own issues with the U.S. while we have so many with our giant neighbours."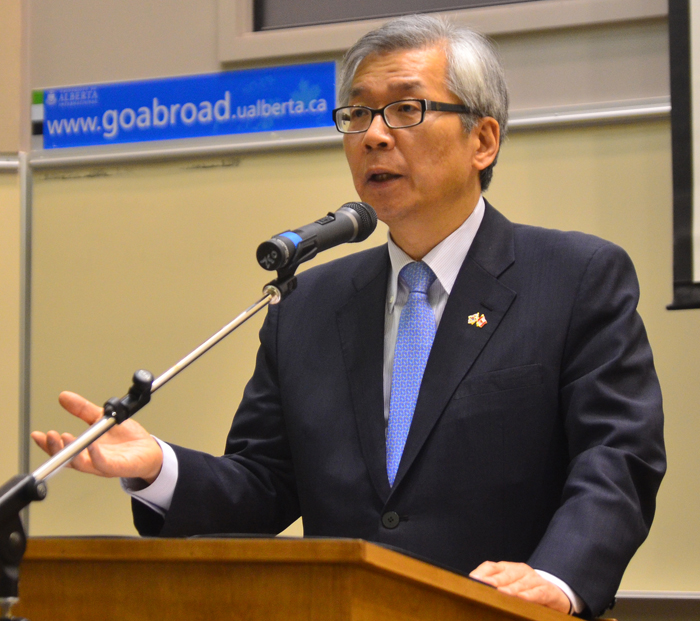 Ambassador Cho also spoke of the historical bond between Korea and Canada, which stretches back much farther than 50 years. According to the ambassador, Canadian activities on the Korean Peninsula date back to 1888. Between then and the mid-1940s, nearly 200 missionaries visited Korea. He mentioned Presbyterian missionary James Scarth Gale, who worked on the world's first Korean-English dictionary, and Frank Schofield, the only foreigner to be buried in the patriots' section of the Korean National Cemetery for his participation in the 1919 March 1st Independence Movement. "Canadians helped modernize Korea in culture, medicine, and development," said the ambassador.

He also mentioned Canada's participation in the Korean War, exceeded only by that of the U.S. and Great Britain. Canada contributed 26,791 personnel to the Korean War, a much higher proportion of its population than most other UN participants. "They defended a country they never knew -- they defended a people they hadn't met," Ambassador Cho said. "We Koreans have never forgotten their sacrifice and contributions."

The Korean War was the third deadliest conflict in Canadian history, following the two World Wars, with 1,558 Canadian casualties, 378 of whom are buried at the UN Memorial in Busan. Canada still plays a role in the UN Armistice Commission.

"Canada has always stood behind South Korea in dealing with North Korea for peace and over time peaceful reunification through a trust-building process," said Ambassador Cho. "Canada takes a principled stance against North Korea and remains concerned for North Korea's disregard for human rights."

Answering a question from the audience about North Korea's recent provocations, Ambassador Cho assured everyone, "Despite the continued provocations of North Korea, our society has been stable, our frontier has been secure," he said. "They are our brothers and sisters on one hand, and they are a military threat on the other, so sometimes our policy toward dealing with them may be hard to understand."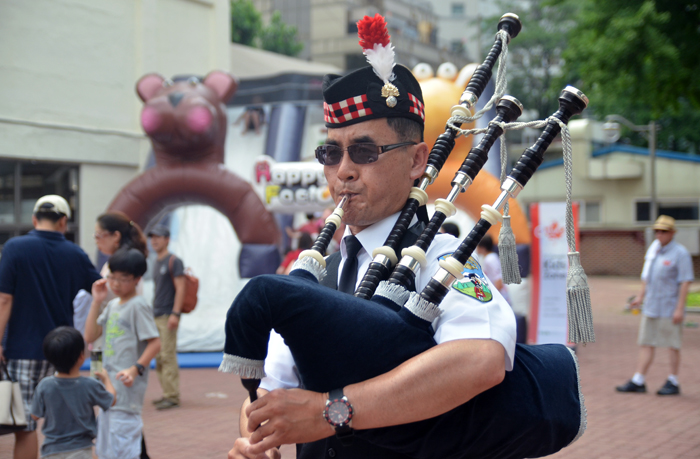 Ambassador Cho also spoke on the present-day relationship between Korea and Canada. The ambassador mentioned the close diplomatic relationship between the two countries, which includes joint ventures such as the G20, the Nuclear Security Summit, and the Arctic Council, on which Korea was recently granted permanent observer status. But most important to the ambassador were the record-high people exchanges between the two countries.

"Most Canadians I have met have told me they have friends or relatives who participated in the Korean War or have experience teaching English in Korea," he said.

He estimated that there are 100,000 Canadians who have visited Korea to teach English, and currently 23,000 Canadians living in Korea, including over 5,000 English teachers.

The ambassador also mentioned that Canada is always one of the top four or five travel destinations for Koreans, and has emerged as the first or second destination of choice for potential immigrants. He mentioned the over 230,000 Korean-Canadians living in Canada, as well as the 25,000 Korean exchange students who comprise the third largest international student population in Canada, behind China and India.

Monthly, 10,000 Canadians come to Korea, and 13,000 Koreans come to Canada. In total, over a quarter of a million people travel between Korea and Canada each year.

Both countries also have deep trade and investment connections, which the ambassador attributed to their complementary trade and economic structure, resulting in an ideal trade partnership. "Canada has resources and advanced value-added industries," he explained. "Korea has high-end electronics and advanced engineering and construction."

Canada's accumulated investments in Korea -- its seventh-largest trading partner -- over the past 40 years amount to CAD 5.5 billion, while Korea's accumulated investments in Canada reached CAD 10.1 billion last year, mainly in energy and natural resources. "This shows Korea has confidence in Alberta to supply oil," said the ambassador. "Korea's ever-growing thirst for energy will diversify our supply lines. Canada's resources will bring Korea energy security."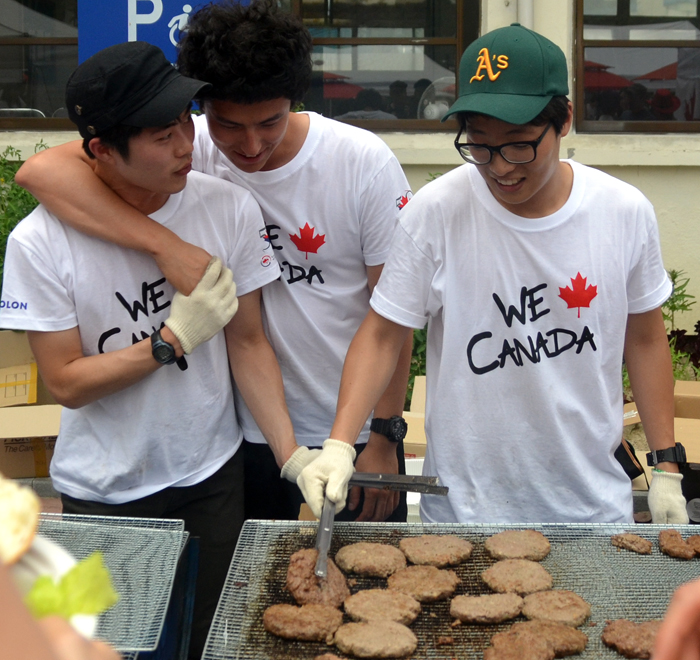 Ambassador Cho brought up the Korea-Canada free trade agreement, which has been in negotiations for over seven years.

"The FTA is a very very important instrument of momentum for both countries," said Ambassador Cho. "I really hope negotiations will be concluded without delay."

According to the ambassador, negotiations have been dragged out due to each country's domestic issues, dealing with sensitive industries such as agricultural products including pork and beef, as well as automotives. "I think we have reached the final stage of negotiation," the ambassador assured the assembled audience. "Each country has limited diplomatic resources to spread around. I don't ask Canadians to think of Korea first. I want to make sure we fulfill our historical obligations to ensure the sacrifices of Canadians who served in the Korean War were not made in vain."

Ambassador Cho also voiced his optimism for future relations between Korea and Canada, naming four fundamental assets that have formed a solid foundation for the relationship. His four points were the smart record of cooperation and exchange stretching back more than six decades, the shared positive perceptions toward each other, the increasing trend of mobility and trade, and the values shared by both countries, such as human rights, freedom, rule of law, the free market, and nuclear non-proliferation.

"We still have so much untapped potential for expanding our partnership," said Ambassador Cho.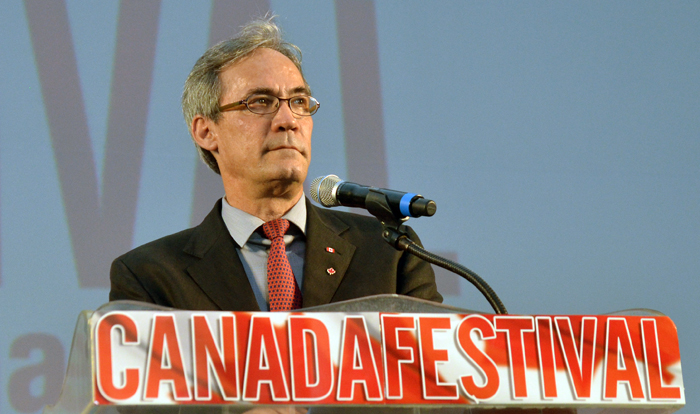 Last December, Canadian Prime Minister Stephen Harper proclaimed 2013 as the Year of Korea in Canada, followed next month by Minister of Veterans Affairs Steven Blaney declaring 2013 the Year of the Korean War Veteran. Numerous cultural and artistic events have been planned in both countries throughout the year to mark the occasion and advance relations between the two countries.

Canada celebrates its 146th birthday this year, with Canada Day festivities in Korea mainly taking place on the weekend before July 1. On Saturday, June 29, the Canadian Chamber of Commerce offered a barbecue complete with Canadian beef and beer from Canadian-run Craftworks Taphouse, and the Canadian Embassy held an event in Cheonggyecheon Plaza featuring musical performances, a preview screening from the Banff Film Festival, and free beer from Big Rock Brewery, a Canadian microbrewery based in Alberta, Canada.

[Source: Korea.net]