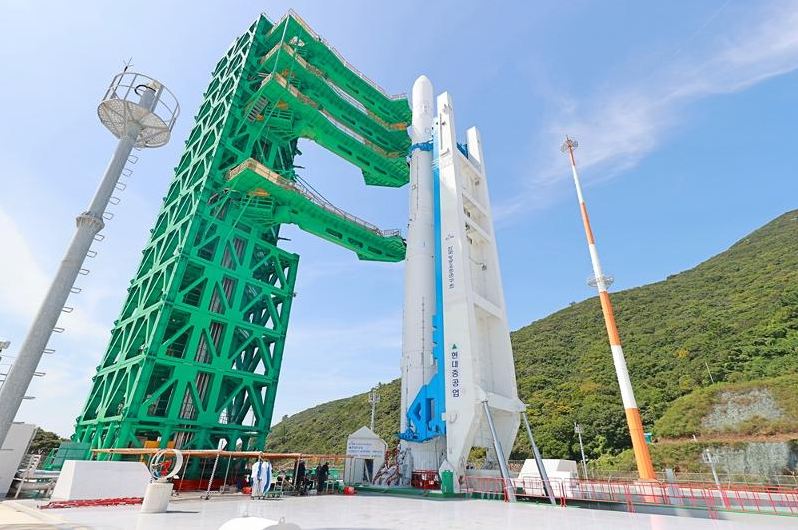 The nation's first homegrown space rocket Nuri on Aug. 26 is set on a launch pad before undergoing final inspection. (Korea Aerospace Research Institute)
Access to the area surrounding the launch site for the nation's first domestically developed space rocket Nuri in Goheung-gun County, Jeollanam-do Province, was prohibited three days before the Oct. 21 liftoff.
The Ministry of Science and ICT on Oct. 17 asked the public not to go near the center, saying, "Around the time of launch, access to Naro Space Center within a 3-km radius will be completely prohibited to secure the safety of staff, equipment and facilities, ."


Not only on land, but the ban was also applied to sea (direction: 24 km wide x 78 km long) and air routes (direction: 44 km x 78 km).


Developed since March 2010, the rocket can enter a low orbit 600-800 km above Earth while carrying a 1.5-ton satellite. With an investment of KRW 1.95 trillion, Nuri is the nation's first rocket to be designed, manufactured, tested and certified with domestic technology.
If the Oct. 21 launch is successful, Korea will become just the seventh country to launch a mid- to large-size projectile into orbit using its own technology, following Russia, the U.S., China, Japan, India and France.


The time of launch will depend on the preparation process and weather conditions. The event will also be livestreamed on online platforms including Naver TV and the YouTube channels of the ministry (https://www.youtube.com/user/withmsip) and Korea Aerospace Research Institute (https://www.youtube.com/c/KARItelevision).
Korea.net