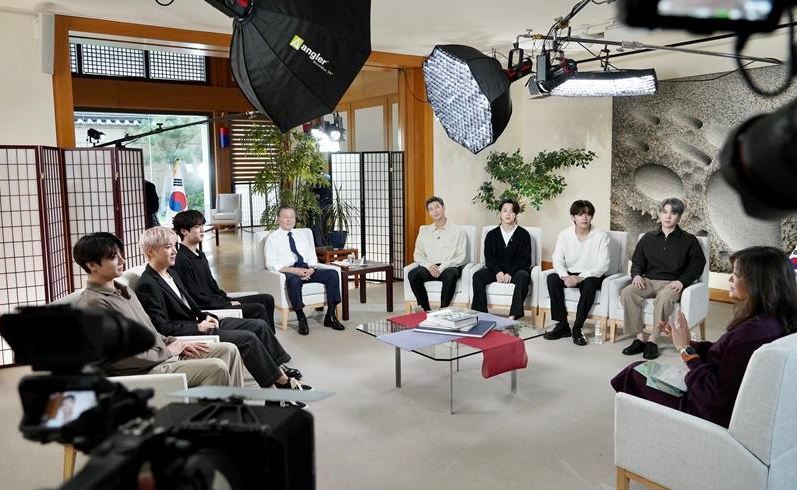 President Moon Jae-in and K-pop phenom BTS on Sept. 21 hold an interview with ABC of the U.S. at United Nations headquarters in New York.
President Moon Jae-in and K-pop sensation BTS have discussed with ABC of the U.S. climate change and vaccination against COVID-19.

The interview was broadcast from Sept. 24-25 on the U.S. broadcast network's program "Good Morning America." It was filmed on Sept. 21 when the president and BTS were in New York to attend the 76th United Nations General Assembly.

President Moon called the BTS hit "Permission to Dance" "beautiful" and said it "delivers a message of unity to people around the world that overcomes our differences."

He asked BTS, "Is this how you do it?" as he raised his thumb and bent his other fingers a little, and shook his hands up and down. The president was doing an international sign language representing "joy" that BTS showed in its performance of "Permission to Dance."

Appointed "special presidential envoy for future generations and culture," BTS on Sept. 20 attended the Sustainable Development Goals (SDG) Moment at U.N. headquarters along with President Moon. The group gave a speech there.

"Since BTS represents the younger generation and many young people relate to them, I believe they can spread awareness and empathy about SDG," the president said. "It is much more effective than the U.N. Secretary General or myself delivering hundreds of speeches."

BTS leader RM said, "Most importantly, we've recently realized that this is a climate crisis and not just a (climate) change. People need to recognize that."

On vaccination against COVID-19, group member Jin added, "We empathize with people who fear vaccines because it's a change. It's understandable to be wary of something that did not exist before. But I believe if we are afraid of the past, we won't be able to make progress."
Korea.net