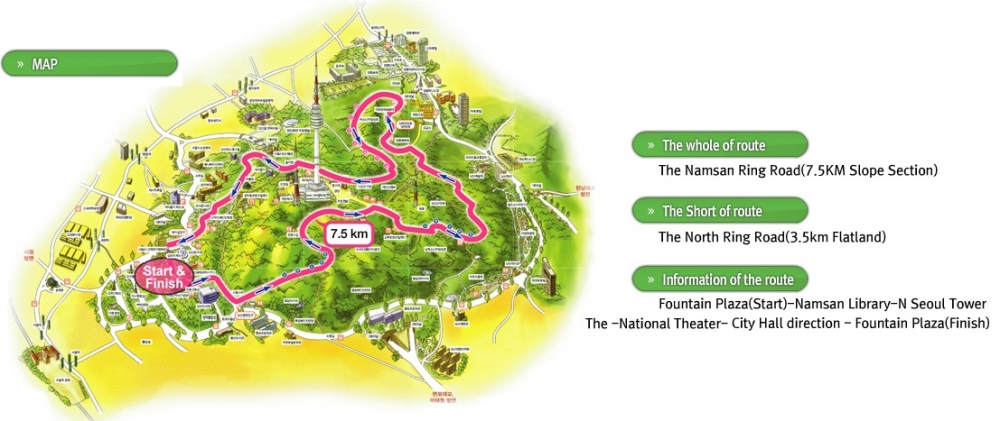 The Seoul Metropolitan Government will hold the Namsan Million-Person Walking Festival at Namsan Fountain Plaza at 10 am on May 14. The event is open to anyone, including Seoul citizens, foreigners, and members of multicultural families, walking clubs, and companies and organizations.
The Namsan Million-Person Walking Festival, Seoul's representative walking competition, has been held successfully since 2009, with the participation of Seoul citizens. More than 7,000 people took part in the April event, where they were able to enjoy the beautiful spirit of spring.

The event consists of a 7.7-km-long full course, in which the participants will depart from Namsan Fountain Plaza, pass by Palgak Parking Lot, the National Theater of Korea, and the Seoul City Hall Namsan Annex and then return to Fountain Plaza; and a short 3.0-km course for the disabled, young and elderly, in which participants depart from the Fountain Plaza and head for the Seoul City Hall Namsan Annex before coming back to the plaza (northern path). Anyone can take part in the event. The full 7.5-km course takes about two hours to finish when walking at an ordinary pace, while the short course takes about 40 minutes.

The participants will be joined by marathoner Hwang Young-cho, the gold medalist in the 1992 Olympic Games in Barcelona and goodwill ambassador of the Walking Festival, along with the winners of the 2010 Miss Korea beauty contest. The participants will be able to take commemorative photos with the celebrities.