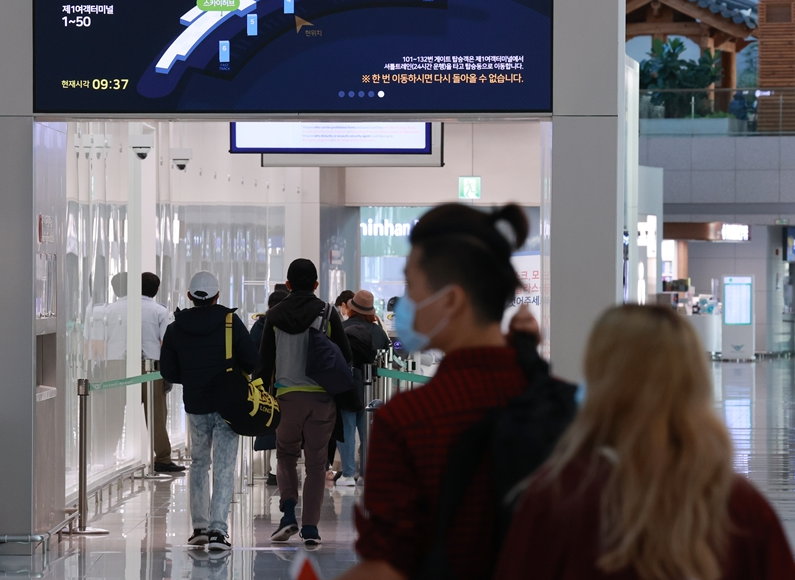 Foreign workers in Korea whose visas will expire early next year will get a one-year extension as the government seeks to resolve their entry and departure difficulties and a domestic labor shortage. The photo shows airport users on Dec. 6 passing the security test before their departures at Terminal 1 of Incheon International Airport.
The spread of the COVID-19 variant omicron has caused the government to extend by one year stays of foreign workers whose visas were slated to expire early next year.

The Ministry of Employment and Labor and the Ministry of Justice on Dec. 17 announced the extension as the spread of omicron has made it difficult for foreign workers to leave or enter the country, adding that the measure was also in response to labor shortages in manufacturing and at farming and fishing villages.

Those eligible for the extension are "non-professional" employees (E-9 visa) and those with the "work and visit" visa (H-2) whose sojourns expire between Jan. 1 and April 12.

Once details are finalized, E-9 holders will have their extensions approved. Those with the H-2 can have their stays extended with the reissuance of their certificates of employment under the Employment Permit System and reporting commencement of work.

An estimated 40,000 foreign nationals -- 26,000 on the E-9 and 13,000-17,000 on the H-2 -- are expected to qualify for this extension.

Vice Minister of Employment and Labor Park Hwa-jin said, "We decided to give a one-year extension to foreign workers given the situation of the COVID-19 situation and onsite labor shortages," adding, "We hope that this measure lessens the difficulties of foreign workers leaving the country and the labor shortage problem of employers."
The extension will be discussed on Dec. 28 by the ministry's Foreign Workforce Policy Committee before being finalized and implemented.

Korea.net