Many people, both past and present, have a special fondness for songs. There are countless records, both physical and oral, showing that people across the country have made songs and festivals part of their lives. Communities get together to enjoy food and drink, dancing and singing, all day long and deep into the night.
An aspect of Korean folk songs, called
gayo
(가요, 歌謠), is also deeply rooted in society here. There's a constant flow of new songs released by numerous singers, songs that the public hums as they go about their daily lives. With these songs, they sometimes cheer up in joy and pleasure or are sometimes down with sorrow and anger.
Nobody would hesitate to call Lee Mi-ja one of the most beloved and best Korean singers. Turning 73-years-old this year, Lee has been in the business for 55 years and has sung more than 2,000 pieces throughout her career. Even after a five-decade career, she remains one of the most sought-after singers.
Her most famous songs, regarded as being sung with a "god-given voice," are very difficult to sing, even for professional singers. Any singer who can master her songs must have a high level of vocal virtuosity and be able to call upon the wide range of emotions required.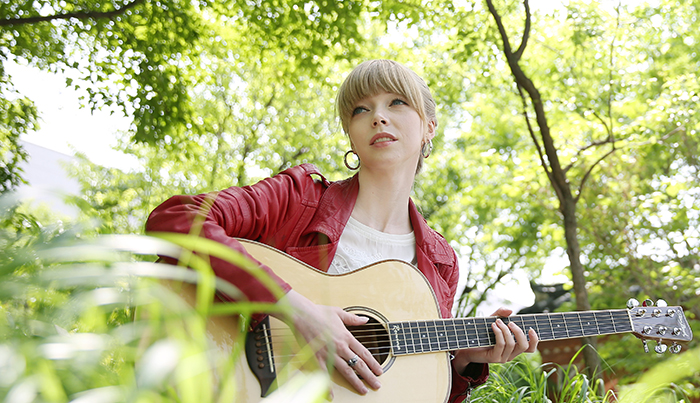 A young singer from Germany falls into that category. It is Romina Alexandra Follinus, who goes by the stage name Romina.
The 29-year-old blonde, clad in traditional hanbok attire and singing Lee's songs in Korean, leaves any listener flabbergasted and in disbelief. The young German singer has already been credited for her singing skills, enough to accompany the masterful Lee herself as a regular guest singer on her ongoing nationwide tours.
"I hope I will bring these Korean songs to the world," Romina said in fluent Korean.
Her natural, seamless Korean skills and intonations leave everyone in disbelief when he or she is told that she has been living for only five years here.
Her love of Korean songs started when she visited the house of her Korean friend, who she met while studying in Korea. It was then that she happened to hear the father of her friend listening to Lee Mi-ja's "Camellia Young Lady."
"I was instantly drawn to the sentiment and the feeling in her voice," Romina reminisced.
Born in 1986 in Hamburg, Germany, Romina majored in Oriental studies at the University of Hamburg and moved on to study in China and to learn Mandarin. There, she met a Korean student and first got to know about Korea itself.
She gradually got interested in Korean culture and history and decided to study in Korea. Qualifying as an exchange student at the Hankuk University of Foreign Studies, she started to learn Korean.
In love with Korean songs mostly thanks to the father of her friend, Romina was determined to pursue a career as a singer.
She practiced singing and playing the guitar with a teacher and a group of like-minded friends. One day, the teacher videotaped her singing Lee's "Camellia Young Lady," accompanying herself on guitar. The video clip popped up on YouTube and instantly garnered hit after hit. It seems that YouTube viewers were curious about who on earth was this blue-eyed, blonde woman singing Korean songs online.
Gayo Stage," earlier this year. (captured image from KBS)" src="http://www.korea.net/upload/content/editImage/German_Singer_Romina_MBC_Image.jpg" border="0">
On February 10, an unexpected opportunity came to Romina. She was asked to sing on the long-aired program "
Gayo
Stage," shown on the Korean Broadcasting System (KBS).
Romina sang Lee Mi-ja's "Lady." She did quite well. To be more exact, in her debut show she was showered with a welcome reception and rounds of applause from the audience.
This led her to another opportunity, a once-in-a-lifetime opportunity for her. Lee Mi-ja contacted her and invited her to be part of her ongoing nationwide tour as a guest singer.
"I never dreamed I would come this far, I mean, performing on the same stage with her, moreover, at many of her concerts," she said. "The thing that I never even imagined has now come true and I am so eager to do my best to make sure I satisfy her."
On top of that, Romina showed off her singing ability in March when she appeared on a special segment dedicated to Lee Mi-ja, part of the KBS entertainment program "Immortal Song."
Now, ready to release her debut album at the end of the month, she recently met with Korea.net to share with us her passion for Korean songs and her love for things Korean.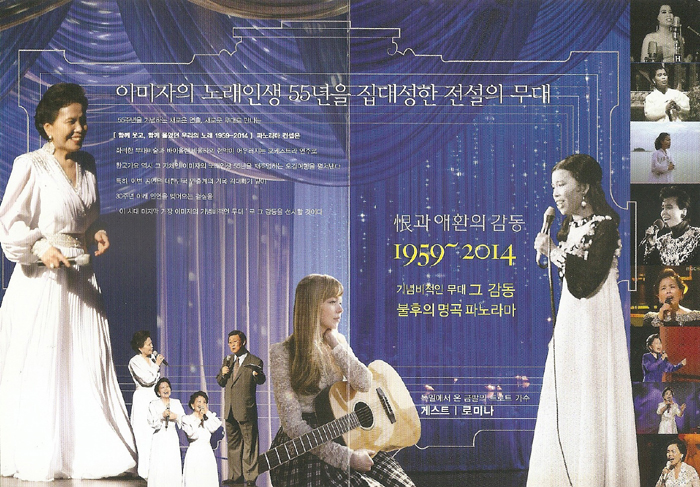 - What do you think is the biggest difference between German music and Korean music?
It's like comparing apples and oranges. Speaking of German music, you might think about classical music, such as Beethoven, whereas Korea has most of its songs rooted in folk songs. Many old traditional folk songs seem to be something that turn everyday stories into a stream of musical tunes. There are a wide range of indescribable deep emotions in them, displayed by the singers themselves.
It's all about Korean culture and I think that Korean music has very unique elements in it, not to be found in German music.
- Most people your age are usually crazy about pop music or hip-hop. Tell us how you got into songs by singers such as Lee Mi-ja.
I love it because her lyrics are very poetic. They embrace culture and deep emotions all together. Many young people usually fall for K-pop. Lyrics in K-pop songs, however, are too strong and a bit provocative, I think. Meanwhile, the life of a person, his or her life stories, are in the lyrics of these songs I love.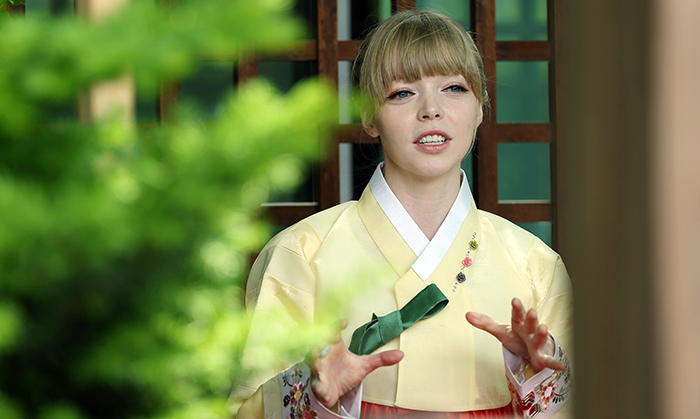 - When you told your family you were going to Korea to become a singer, how did they react?

The news left them dumbfounded. They never expected me to become a singer, since I used to be an introverted and shy young woman. They didn't even believe my decision, but my parents have always supported me and trusted me. They were like, "If you want to go, you go and give it a try. If you fail, you cut it off and come back." Fortunately, I've had a lot of good opportunities here and that makes them feel easy. If given a chance, I hope that my parents will come and see me singing on stage right before the crowd. It would be really great.
- You must especially love Lee Mi-ja's songs for a reason. What's that?
Her songs are by far the best ones that represent the emotions of the Korean people, I think. I love her voice. It's so beautiful and has a different and unique charm.
- As a special guest, you've been part of a series of concerts for Lee's nationwide tour. Tell us more about how you got there.

First, I heard that Lee had watched my YouTube clip. She found it quite interesting to see a foreign woman singing her "Camellia Young Lady," moreover, in Korean. The decisive chance came when I was invited to appear on the show "
Gayo
Stage" earlier this year.
The program's producer first called me and introduced me to Lee. I got to know the producer thanks to mutual friends with whom I had practiced. Thinking about all the people I met here in Korea, from the friend who first introduced me to Korean songs through to those friends I practiced with, and even my favorite singer Lee, all the bonds I made here are special and nothing less than "good luck."
Taking this opportunity, I'd really like to express my sincere thanks to Lee.
makgeolli and
jeon
. (photo: Jeon Han)" src="http://www.korea.net/upload/content/editImage/Romina_Folinus_Ariticle_03.jpg" border="0">
- You've been living in Korea for five years. Have you had any difficulties?
Not at all. Actually for me, living in Korea is more comfortable and more fun than in Germany. As many people around me have noticed, I've got more cheerful and outgoing since I started living here.
Most importantly, Korean food suits me quite well. I love spicy chicken stew, known as
dakdoritang
, and
jeon
, pancake-like dishes, especially the kind made of pumpkin and sweet potatoes, and also
makgeolli
, the traditional rice-based alcohol. I am a big fan of
makgeolli
. I've tried regional varieties of it, from corn-based ones to chestnut-based ones.
What keeps me staying here is the beautiful weather and the safe cities, too. Hamburg, the city where I used to live, has some really overcast days, which makes me feel gloomy, too. Here, however I enjoy warm, sunny days, and Korea is one of the safest countries in the world, where I can walk around freely, even late at night.
Also, I love Korea's "around-the-clock culture." There are night-time coffee shops that allow me to sip coffee together with my friends at anytime of the day or night.
Recently, I've been travelling a lot for Lee's concerts, as they take place in other parts of the country. Traveling across the country, I try all the regional specialties, which is one of the many perks of my job. I think I might have been Korean in a previous life. One of my best friends happens to be a Korean who emigrated to Germany, as well. I believe that I must be deeply connected to this country somehow.
- What was your original dream, before you fell in love with Korean songs?
I used to be a girl full of dreams. I was crazy about the Indiana Jones films. I wanted to be an explorer. At some point, I felt like I should be an actress. Then, I dreamed of becoming a diplomat, a job that would allow me to travel to many parts of the world and to explore their history, which I really love. What I am doing now, however, is a lot more fun. Traveling all across the nation, I get to meet new people and experience a lot of exciting things.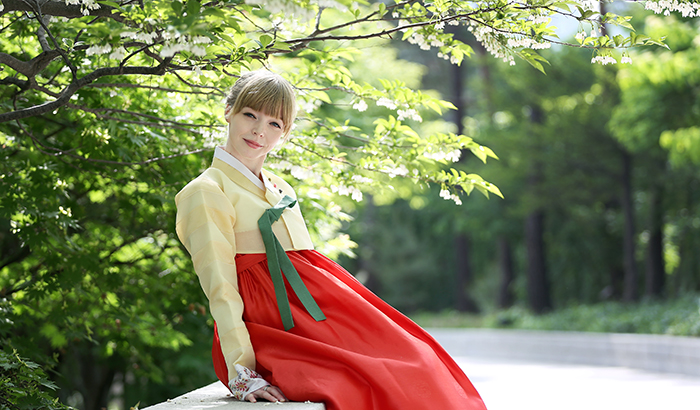 - Is there anything else you want to try here?
I'd love to act in a historical drama. I was hooked on the 2009 historical drama "Queen Seondeok," which aired on MBC. I fell in love with the male character Bidam, played by actor Kim Nam-gil. Traditional hanbok and the palaces featured in the drama are fascinating. The drama possessed an array of "best elements," representing Korean tradition. It was awesome. It would be great to be part of such a drama someday.
First and foremost, I'm committed to mastering what I am doing now. I hope that a day will soon come when I can sing in other countries, especially in North Korea. Korea has long been a divided country, like my homeland was. I hope that the two Koreas will soon be reunited, as in Germany. Then, I hope to go up north and sing songs in Pyongyang, such as my favorite, "Camellia Young Lady," and Nam In-su's "Go 38 Lines." Reunited, Korea might plunge into recession, but what's more important is its people. I hope to see the day come soon.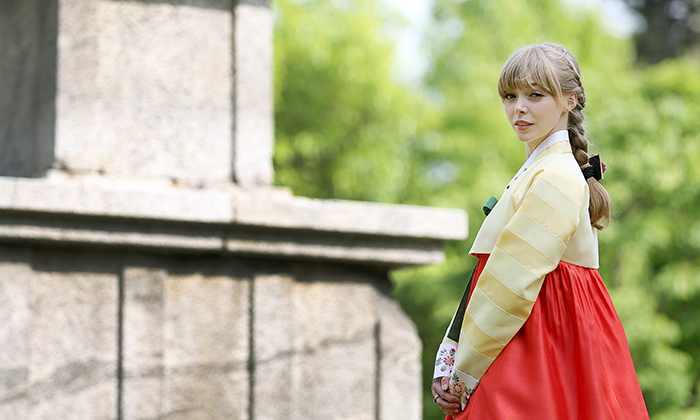 - What are your future plans?
I want to keep singing and want to live here for the rest of my life. I long for home now and then, and for my family back in Germany. However, when I'm back home to spend the holidays with my family, like during Christmas, I soon start to yearn for Korea. That's why I think I should live here.
I love everything about Korea and love its people, the most generous, warm-hearted people I've ever met. The last time my mother visited Korea, we walked down the street and got caught in a downpour. A strange woman approached us out of nowhere and handed us her umbrella. That's how Koreans are. We were moved by the unexpected kindness.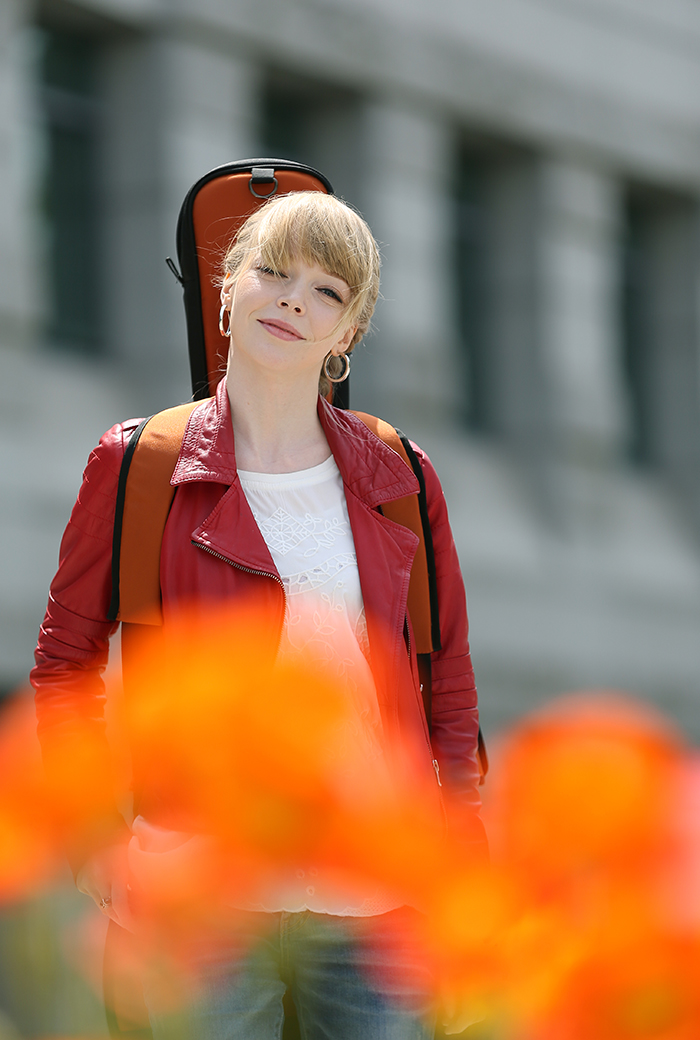 - What does "singing" mean to you?
It's my destiny. In retrospect, getting to know Korean songs as well as this country is my destiny. I have a dream of brining Korean songs to more parts of the world, the songs that embrace our life stories and give us some pause to reflect on our lives.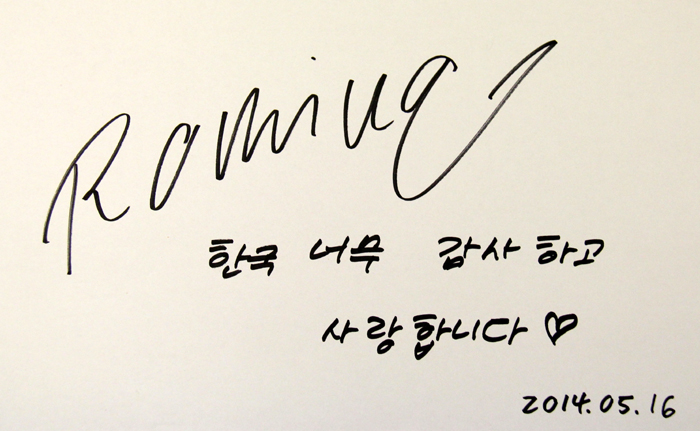 By Wi Tack-whan, Sohn JiAe
Korea.net Staff Writers
whan23@korea.kr
[Source: korea.net]