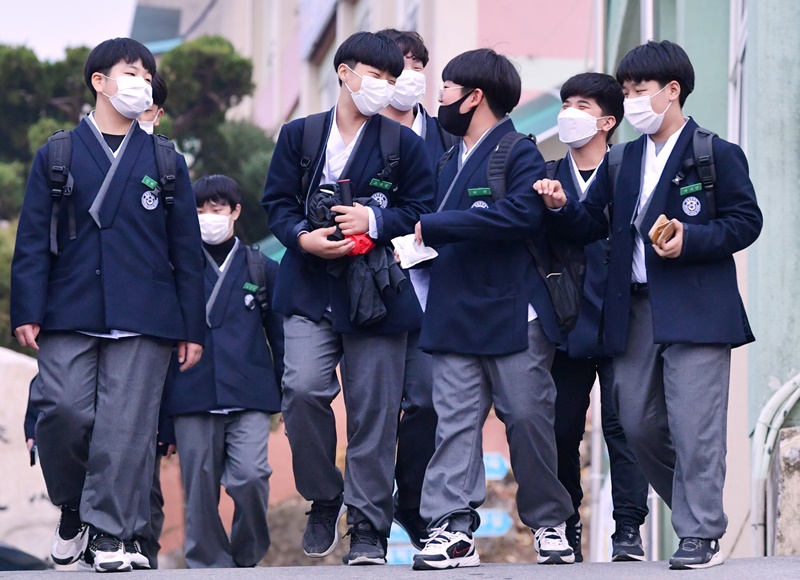 Students at Daechang Middle School in Yecheon-gun County, Gyeongsangbuk-do Province, wear Hanbok-style school uniforms.
Oyu Middle School in Paju, Gyeonggi-do Province, on March 2 held its welcoming ceremony for new students this year. The uniforms worn by students making their school entrance pledge looked different from existing ones, sporting a design featuring the details and stylishness of Hanbok (traditional attire).

Since Nov. 16 last year, students at Daechang Middle School in Yecheon-gun County, Gyeongsangbuk-do Province, have worn Hanbok-style school uniforms. First-year student Lee Yong-bin said, "I like Hanbok-style uniforms because of their pretty designs and colors," adding, "Unlike regular Hanbok pants that require tying long strings, the uniform's pants have buttons so they're comfortable. They're also wide and comfortable to move around in."

Teacher Park Kyum-eui said, "Students say the uniforms are comfortable to move in and wear them even in gym class or while playing soccer," adding, "Certain teachers like the Hanbok-style uniforms so much that they buy them on their own and wear them to school."

In May last year, the Ministry of Culture, Sports and Tourism, Ministry of Education, Korea Craft and Design Foundation and Hanbok Advancement Center launched a pilot project of supplying Hanbok-style uniforms to select schools.

As of March 16, about 1,600 students at 16 schools wore such uniforms, which balance the distinctive beauty of Hanbok with a comfortable utility.

The uniforms are also made of sturdy materials as they are worn daily and need regular washing. The functional materials readily absorb sweat and ventilate well. Both the top and bottom uniforms are wide and long enough to allow adolescents in their growth stage to move around in comfort.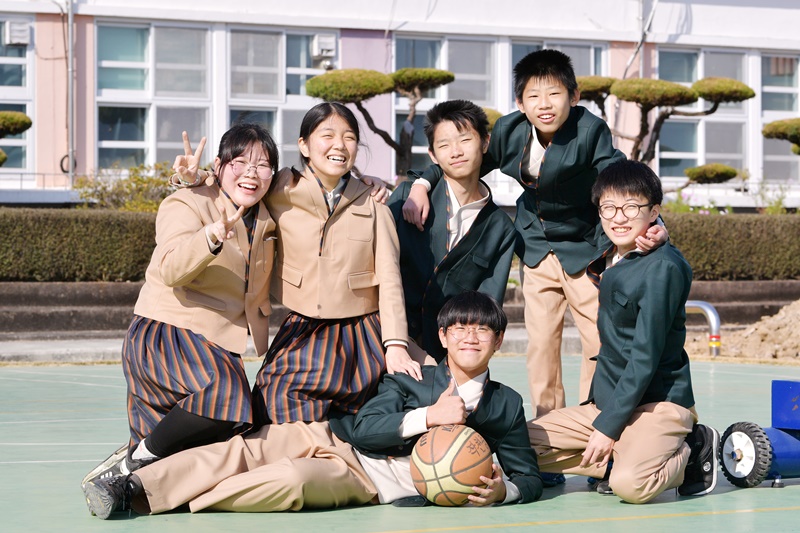 Students at Jakcheon Middle School in Gangjin-gun County, Jeollanam-do Province, gather at a basketball court wearing Hanbok-style school uniforms.
The Hanbok clothing line comprises jackets, shirts, hoodies, jumpers and T-shirts. Female students can choose from dresses, skirts, skirt pants and pants. Because former school uniforms were thought to standardize gender roles, more clothing options were added.

Kim Min-kyung, director of the Hanbok Advancement Center, said, "(The Hanbok-style uniforms) have traditional collars, designs and colors to revive Hanbok's aesthetic lines and traditional beauty," adding, "It is meaningful to give students the opportunity to wear Hanbok-style uniforms and thus make Hanbok part of everyday life and preserve Korean tradition."
Korea.net