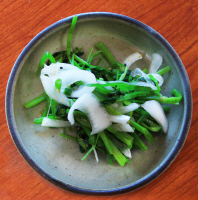 In Korea, The Cold Food Festival or Hansik (literally meaning "cold food") is a traditional Korean holiday. In the modern version of Hansik, people welcome the warm weather thawing the frozen lands. On this day, rites to worship ancestors are observed early in the morning, and the family visits their ancestors' tombs to tidy up.
It falls on the 105th day after dongzhi (April 5 by the Gregorian calendar, except in leap years). At this time of year, the sky becomes clearer and buds sprout in the field. Farmers sow various seeds and supply water to their rice paddies. The custom of eating cold food on this day is believed to originate from a Chinese legend, but recently this custom has disappeared.
Since this day coincides with Arbor Day, public cemeteries are crowded with visitors planting trees around the tombs of their ancestors.
[Source : Wikipidia]