As the winter chill slowly ends, tourists are awaiting news of the arrival of spring flowers. The Korea Metrological Administration released on March 13 a map depicting the dates on which the cherry blossoms are expected to begin blooming across the peninsula this year. According to the weather bureau, cherry blossoms will come into bloom starting in Jeju-do (Jeju Province) on March 29 and the surge will then spread northward. The pink wave will hit Busan on April 1, Yeosu on April 2, Daegu on April 5, Daejeon on April 7 and Seoul on April 11.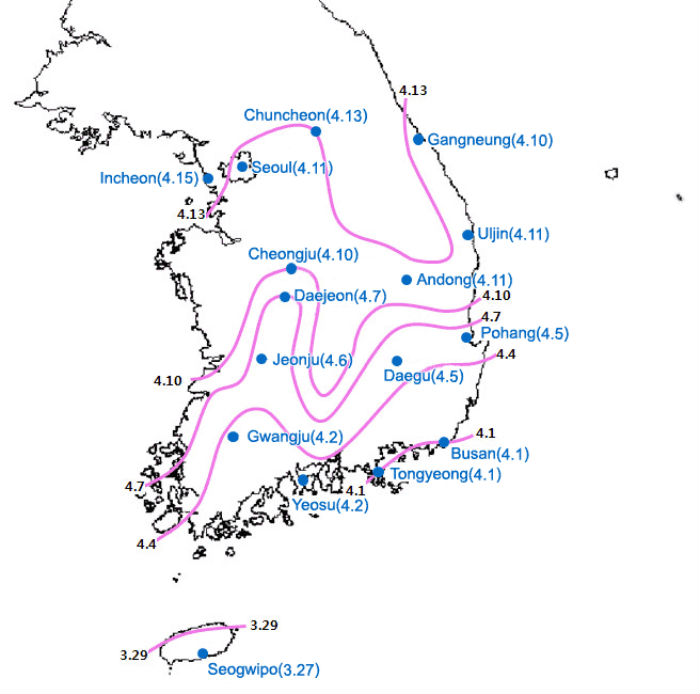 Cherry blossoms, as well as other popular spring flowers, will start blooming later this month. They include
maehwa,
also known as
ume
or apricot flowers, cornelian cherry flowers, rapeseed flowers and azaleas. Especially in the southern reaches of the peninsula, flowers are already coming into bloom, welcoming the new season.
The major flower festivals begin with the two well known Jeollanam-do (South Jeolla Province) festivals, the Gwangyang International
Maehwa
Festival and the Gurye
Sansuyu
Festival (unofficial translation). Both will take place from March 22 to 30. The Gwangyang International
Maehwa
Festival will begin with a concert by the Gwangyang Traditional Music Orchestra on March 22. During the nine-day event, Gwangywang City will be filled with
maehwa,
or apricot, flowers. There will be an array of programs on hand for visitors to enjoy. These programs include concerts, a non-verbal percussion nanta performance, a photo exhibition, a cooking contest and tasting events for local specialties. If you can't make it to the festival, you can still enjoy the beauty of
maehwa
in Yangsan, Gyeongsangnam-do (South Gyeongsang Province), where another
maehwa
festival will be held on March 22 and 23.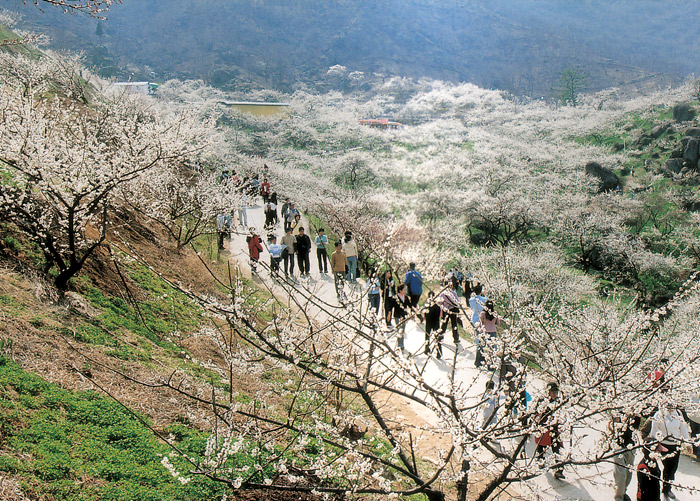 Gurye, in South Jeolla Province, will be covered with yellow cornelian cherry flowers,
sansuyu
in Korean, as the Gurye
Sansuyu
Flower Festival takes place in the hot spring complex near Jirisan Mountain. During the nine-day event, tourists will have a range of entertainment options. There will be a classical music concert, magic shows, traditional music performances, and a K-pop concert featuring Girl's Day, as well as other artists. Visitors will be able to taste local specialties, like the flower-based rice cakes and herbal teas. If you can't make it to Gurye, there will be a festive mood and even more flowers in Uiseong, Gyeongsangbuk-do (North Gyeongsang Province). The Uiseong Cornelian Cherry Flower Festival will be held from March 28 to April 6 in Uiseong County.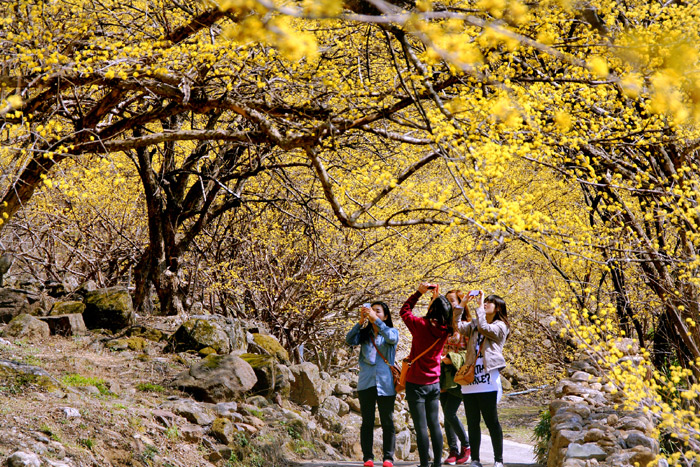 Cherry flower festivals will be held across the country starting in late March. The first will be the Hwagae Cherry Blossom Festival, in Hadong, Gyeognsangnam-do (South Gyeongsang Province), from March 29 and 30. The Jinhae Gunhang Cherry Blossom Festival, the largest cherry blossom festival in Korea, will take place from April 1 to 10 in Jinhae near Changwon City, South Gyeongsang Province. Gyeonghwa Station and the Yeojwa Stream are some of the must-see attractions there. In 2012, CNN Travel did a piece on Gyeonghwa Station, calling it one of the, "50 most beautiful places to visit in Korea." The 1.5-kilometer long Yeojwa Stream is one of the most famous photogenic spots, visible in numerous TV shows and movies. Other popular tourist attractions include the nearby Blossom Road which leads to the naval port and to the Korea Navy Academy.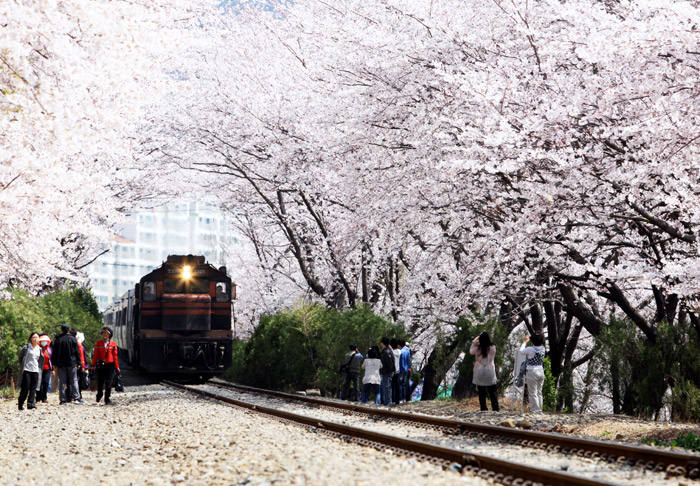 Jeju Island is another great destination to enjoy spring flower festivals. From April 4 to 6, the Jeju Cherry Blossom Festival will be held at the Jeju Sports Complex in Seogwipo City, delighting visitors with royal cherry blossoms. Unlike other cherry blossoms, royal cherry blossoms originated on Jeju Island. During the three-day festival, special walking paths, photo zones and lights will be set up for visitors during the day and night.
The island will host another flower festival, the Jeju Rapeseed Flower Festival (unofficial translation), from April 12 to 13 across the Seogwipo region. During the two-day event, visitors can enjoy both the beautiful scenery of the island decorated with rapeseed flowers and the ocean.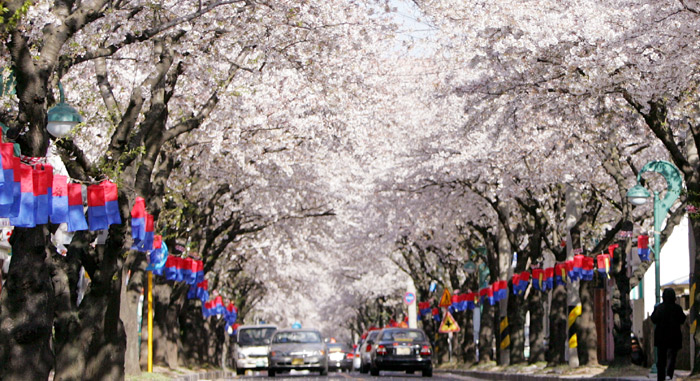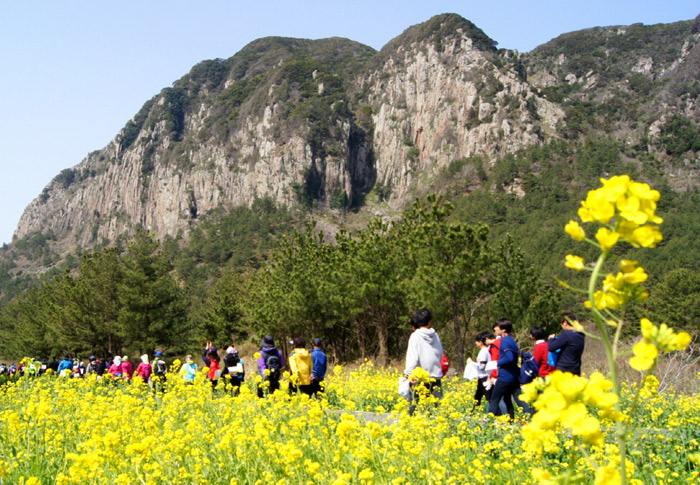 In Seoul, Yeouido is one of the most famous cherry blossom spots in the city, thanks to its annual cherry blossom festival. This year's Hangang Yeouido Spring Flower Festival will take place from April 11 to 21. People can stroll along the Yunjungno Path, located behind the National Assembly on Yeouido Island, while enjoying picturesque views of the festival venue decorated with not only standard cherry blossoms, but also Jeju royal cherry blossoms, azaleas, forsythias and the Hangang River.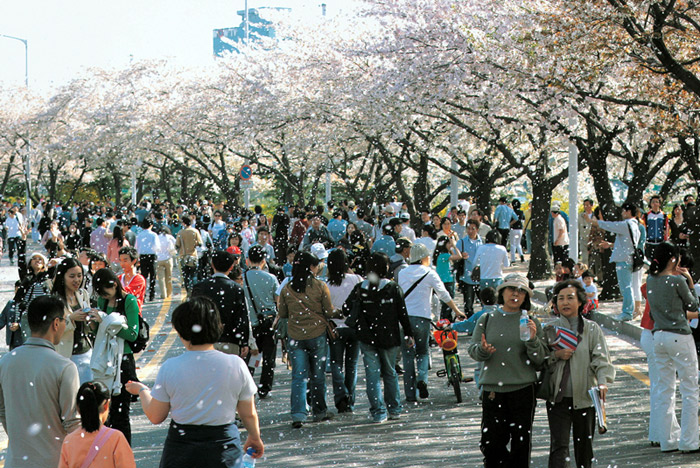 In April, azaleas will bloom, too, to nature lovers' delight. One of the most popular azalea festivals is the Yeongchwisan Azalea Festival, which will take place from April 4 to 6 at Yeongchwisan Mountain near Yeosu, South Jeolla Province. The mountain is known as one of the top three most popular spots to enjoy azaleas. In the spring, pink azaleas in full bloom cover the mountain, which is bigger than 140 soccer pitches. During the festival, there will be music concerts, traditional Korean music performances, dance contests and samples of local delicacies that use azalea as the main ingredient.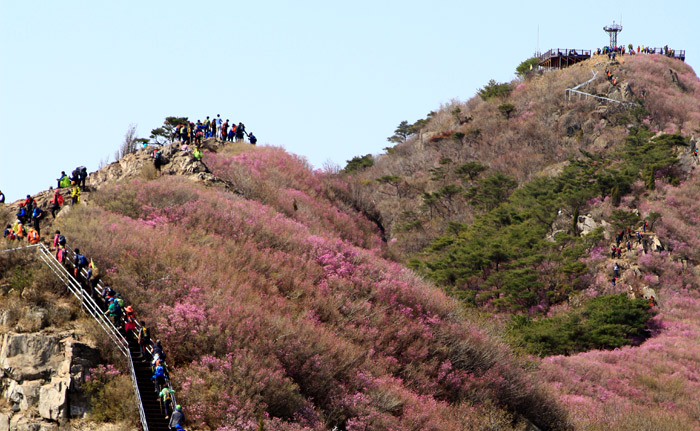 You don't have to travel a long way to see spring flowers or festivals. Try nearby parks, gardens, theme parks or forests, such as Namsan Park in Seoul or the Garden of the Morning Calm and the Korea National Arboretum in Gyeonggi-do (Gyeongg Province). For more information about spring flower festivals and famous flower viewing spots, visit www.visitkorea.or.kr or call the Korea Travel Phone (82-2-1330), which provides services 24 hours per day in Korean, English, Mandarin and Japanese.

By Yoon Sojung
Korea.net Staff Writer
arete@korea.kr
[Source: korea.net]