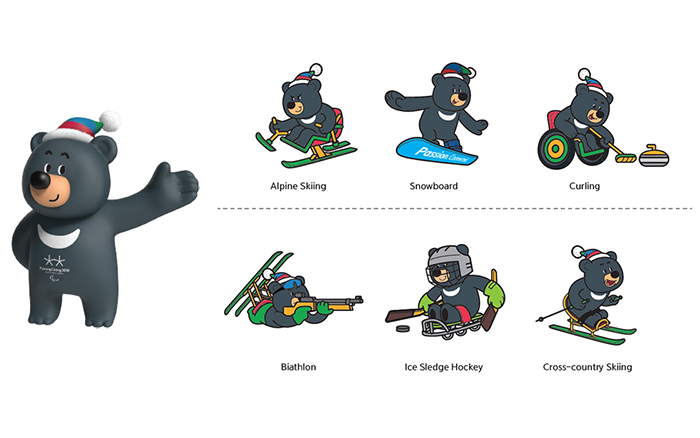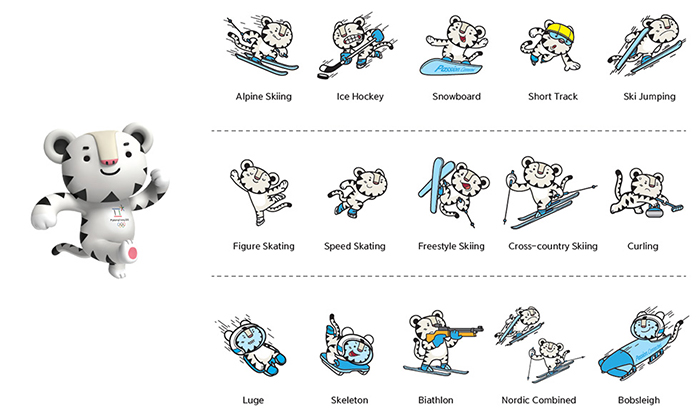 The official mascots for the PyeongChang 2018 Olympic and Paralympic Winter Games have been unveiled. (Bandabi (top) and Soohorang (down) )

Soohorang is a white tiger and Bandabi is an Asian black bear, or moon bear. It was announced on June 2 that the two animals were chosen as mascots for the games and were approved by the International Olympic Committee, the International Paralympic Committee and the PyeongChang Organizing Committee for the 2018 Olympic & Paralympic Winter Games.

Soohorang was inspired by one of Korea's most representative animals, the tiger. Tigers are traditionally viewed as guardians and can take on the duty to defend the Olympic spirit and world peace, and further protect the athletes, staff and fans who will all participate in the games. A white tiger, in particular, "makes a perfect pair with the Winter Olympic Games that will take place across white fields of snow," said the organizing committee.

Bandabi was inspired by another well-known animal from the Korean Peninsula, the Asian black bear. The committee explained that the Korean people feel particularly close to bears, as bears appear in many Korean origin myths and they traditionally represent willingness and courage.

IOC Coordination Commission Chair Gunilla Lindberg said that Soohorang is "a beautiful animal that reminds us of the relatedness of the Winter Olympic Games and the nature environment." The president of the International Paralympic Committee said that, "For all the athletes who will compete in the 2018 PyeongChang Paralympics, the PyeongChang mascot bear will be recognized as a symbol of courage and friendliness, with a strong will that can overcome the challenges it faces."

This coming August, the PyeongChang Organizing Committee for the 2018 Olympic & Paralympic Winter Games will host introductory events in Seoul and Pyeongchang, as well as overseas during the Rio 2016 Olympics and Paralympics, to promote its tiger and bear mascots.