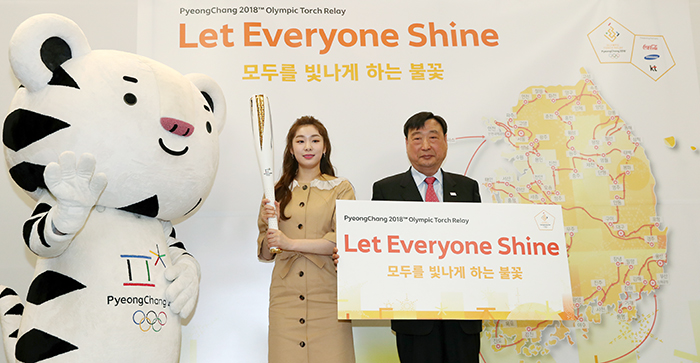 President Lee Hee-beom (right) of the organizing committee for the PyeongChang 2018 Olympic and Paralympic Winter Games and honorary ambassador Kim Yuna pose for a photo in Seoul on April 17. The signboard features the official slogan for the Olympic torch relay: 'Let Everyone Shine.'
A flame will light up a 2,018-km route across Korea before it reaches Pyeongchang in Gangwon-do Province. This is the official torch for next year's PyeongChang 2018 Olympic and Paralympic Winter Games.

The Olympic torch will illuminate the nation over 101 days leading up to the Winter Olympic Games. As the slogan -- "Let Everyone Shine" -- says, the torch will bring light to everyone's dreams, passion and future, as the Games open new horizons.

"We will choose torch bearers who will inspire us all with their dreams and passion," said President Lee Hee-beom of the PyeongChang Organizing Committee. "We will also select as places to which the bearers will carry the torch a set of sites across the nation, especially spots that embody the 5,000 years of our glorious history," the president said. "The torch relay will ignite new passion for the upcoming Winter Olympic Games among people all around the world, including Asia."

The Olympic torch will be lit in Olympia, Greece, on Oct. 24 and will then be delivered to the PyeongChang Olympics delegation at the Panathenaic Stadium in Athens on Oct. 31. On Nov. 1, exactly 100 days until the Winter Games opening ceremony, the torch will arrive at Incheon International Airport.

The 101-day torch relay will cover 17 cities and provinces in Korea, including 18 cities and counties in Gangwon-do Province, which is hosting the Games. The relay aims to embody five core themes that the Olympic Games have set for themselves: culture, the environment, peace, the economy and, lastly, information and communications technologies (ICT).


The torch will hit the Santa Village in Bonghwa-gun, Gyeongsangbuk-do Province, on Christmas Day, and will then light up the New Year's bells in Daegu on New Year's Eve. The torch's flames will greet the sun rise on the first day of 2018 at Homigot Square in Pohang, one of the best spots to view the sunrise.