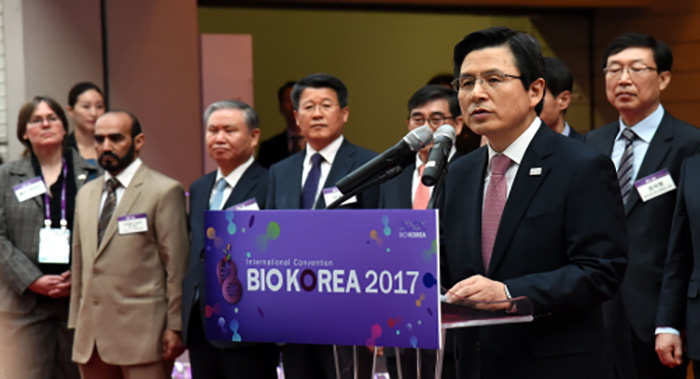 Acting President and Prime Minister Hwang Kyo-ahn (right) browses through one of the kiosks at the Bio Korea 2017 trade fair on April 12.
"We are going all out to foster the 'bio-health' industry -- that is biotech, medicine, cosmetics and medical appliances -- so that it becomes new engines for economic growth," said Acting President and Prime Minister Hwang Kyo-ahn during the opening ceremony for the Bio Korea 2017 trade fair on April 12.

The acting president said, "Our government will also work to improve global competitiveness by increasing investment in the development of advanced, new-generation medicine and vaccines, and by supporting the development of promising medicinal products."

"We will also make more effort to invest in related research and development, foster professional human resources and extend tax benefits, all in accordance with the 'Development Strategies for the Health Industry' blueprint that the government laid out last year. Any regulations that might get in the way of investment and economic growth in this industry should be investigated and gotten rid of, for sure," Hwang said.

"The healthcare industry worldwide has grown by more than five percent every year, and it's expected to reach about USD 1.1 trillion by 2020. The industry here at home, too, has been growing rapidly," Hwang said, pointing out the 19 percent rise, year-on-year, that experts in the field saw last year, equivalent to about USD 98 billion.

"The government will further contribute to developing the global healthcare industry by enhancing our capabilities in terms of information and communications, biotechnology and advanced medical systems," he said.
The Bio Korea 2017 trade fair, currently underway at the COEX convention center in southern Seoul, brings together biotech and healthcare businesses from both home and abroad, giving them a chance to share their R&D achievements and information about market trends. There are also business forums and conferences about ways to increase exports and investment across the biotech industry. The trade fair runs until April 14.