Korea's e-government systems continue to earn international acclaim in public services delivery. Korea-made Enterprise Architecture (EA) came away a winner at this year's UN Public Service Awards EA is a digital tool that controls and manages public projects of each government agency based on its own standards and criteria. It was designed to prevent an overlap of projects between ministries and subsequently improve the efficiency and quality of public services.
In fact, EA allowed 388 individual organizations to share a standardized statistical research program. The Ministry of Security and Public Administration, which adopted EA first in 2008, said that the projected budget has seen a reduction of KRW 400 billion on the back of the adoption of EA over the last five years.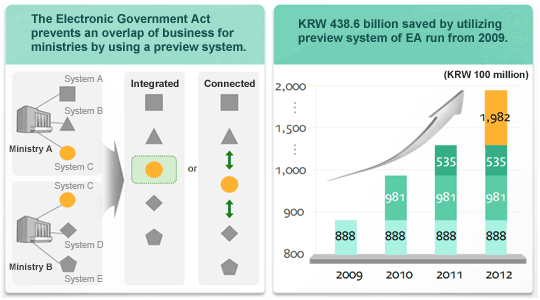 Korea's digital system started to gain recognition in 2010 when the Korean government ranked first out of 129 candidates on the United Nation's biannual E-Government Survey. The electronic service scored 100 percent on its criteria of convenience and efficiency as well as won the top honor in civil participation.
"Korea's e-government system is just unrivaled," said Ruslan Gattarov, a member of the upper house commission on the development of the information society at the Federation Council of Russia, who paid a visit to Korea last year. "It came as a surprise for me to see that the customs procedure is done in only two to three minutes that normally takes over a few months in other nations."
In the past decade, Korea's information technology has proven its excellence by winning the honor of the UN's global prizes several times. Following Korea's first award-winning edition of the Korea On-line E-Procurement System (KONEPS) in 2003 that integrates all the procurement markets and provides a single window for organizations and suppliers, Smart Entry Service (SES) won the award in 2007 in recognition for its simple and efficient immigration procedures that allow people with an electronic passport to skip the long line and easily enter Korea through an automatic immigration clearance counter. In 2011, the UN award came to the Information Network Village, designed to transform rural regions into self-sustainable communities by creating information network environments. Online system Minwon 24 that made it possible to issue all sorts of civil documents through the Internet also received the award in the same year.


The United Nations Public Service Awards are given to recognize creative achievements and contributions of public service institutions that lead to more effective and responsive public administration in countries worldwide under five different categories. Since its launch in 2003, the award ceremony takes place on June 23, the United Nations Public Service Day
[Source:Korea.net]