A recent article in the
China Youth Daily
highlighted the merits of Korean tourism. Based on his latest experiences in Korea, the journalist provided insight into what aspects of Korea fascinate a growing number of Chinese tourists.
The June 18 edition of the newspaper reported that convenient services and facilities are the most influential factors that have prompted Chinese travelers to forego guided tours and choose independent travel instead, with the percentage of Chinese travelers choosing this latter option having recently gone up to 50 percent from 30 percent five years ago.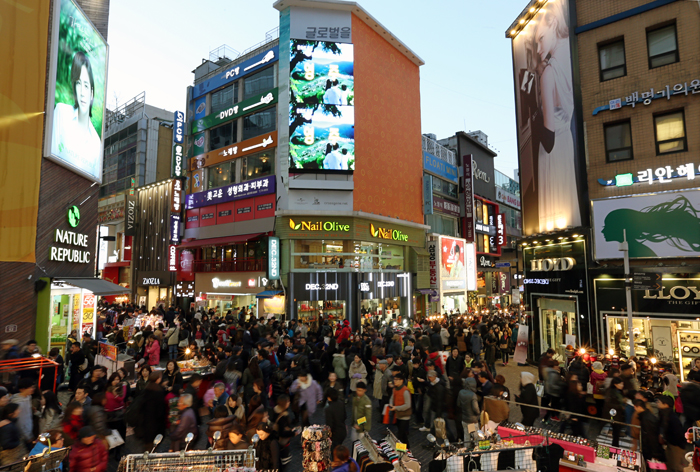 As one of the popular services, the
China Youth Daily
picked up the express train connecting Seoul Station and the International Airport, launched in December 2010. The new express line, AREX, allows travelers to clear customs and check their baggage at Seoul Station. Citing a stationmaster who mentioned that it only takes about 45 minutes from Seoul to Incheon International Airport, the daily newspaper explained that visitors now are able to enjoy last-minute shopping in the heart of Seoul before boarding an airplane.
Also, a growing number of Chinese travelers are attracted to Korea's diverse cultural offerings, reported the newspaper.
Mentioning Hongdae, a neighborhood with a high concentration of young and trendy clubs themed on various musical genres ranging from rock and jazz to hip hop and electronica, the Chinese newspaper said that the area knows no age limits or ethnic boundaries. "It is where every age group can converge on, from kids of five years old to the elderly aged 60, and almost half of them are found as foreign visitors from China and Japan."
Before concluding, the Chinese newspaper expressed hopes for further cultural exchanges between China and Korea, mentioning the Chinese Film Festival 2013 that took place in Seoul and Busan from June 16 to 20.