With the visit to Korea of King Willem-Alexander and Queen Máxima of the Netherlands, there has been a reenactment of a 17th century Dutchman meeting Joseon's King Hyojung (r. 1649-1659). Hendrick Hamel, the sailor in question, was the first Westerner to live in Joseon-era Korea. The reenactment took place near the Gyeonghoeru Pavilion at Gyeongbokgung Palace in Seoul on November 4.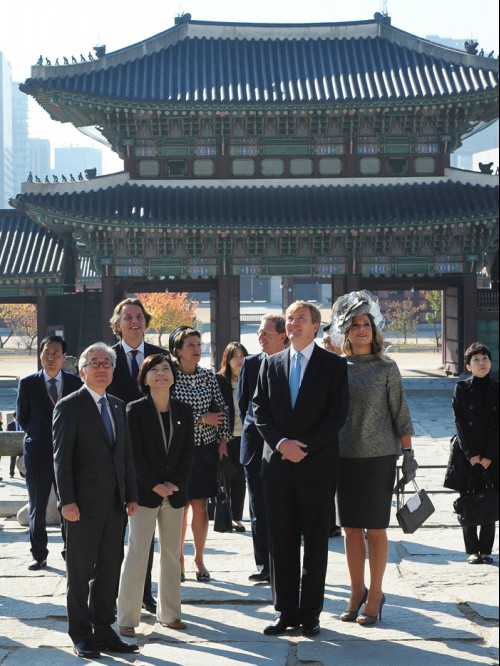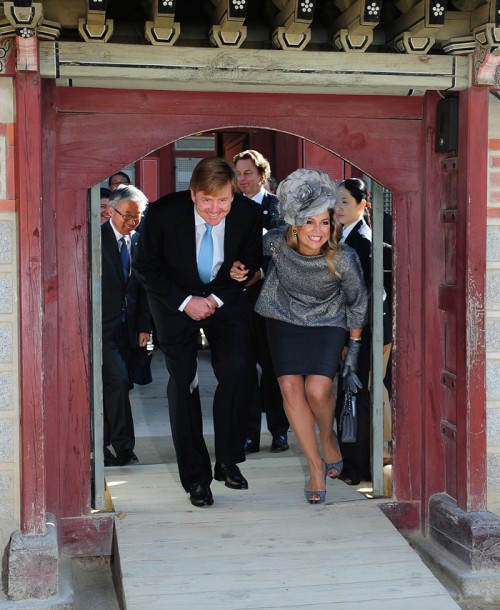 Hamel arrived on Jeju Island in 1653 after a typhoon destroyed his ship on its way to Nagasaki. After finally leaving Korea in 1666, he published a book about his experiences in Korea, "The Journal of Hendrick Hamel," in Amsterdam in 1668. The book is considered the first to introduce Korea's geography, politics, military, education and customs to Europe. The meeting between King Hyojong and Hamel was reenacted according to historical facts.
King Hyojong welcomed Hamel and other sailors, saying, "It is not the custom of Joseon to drive out foreign visitors." The king even gave them clothes and identity tags and arranged employment for them.
King Willem-Alexander and Queen Máxima looked around Gyeongbokgung Palace in the morning and then enjoyed the reenactment. The king burst into laughter as he watched the Dutch sailors sing and dance at the request of King Hyojong. He then listened carefully with a solemn expression when Hamel asked King Hyojong to allow him to leave Joseon.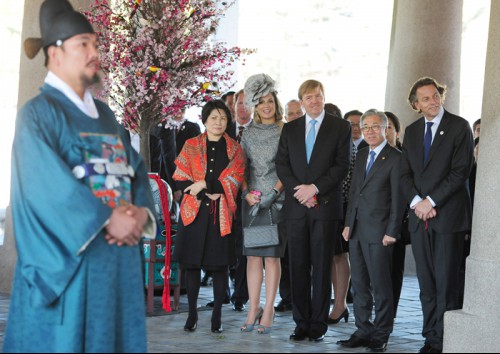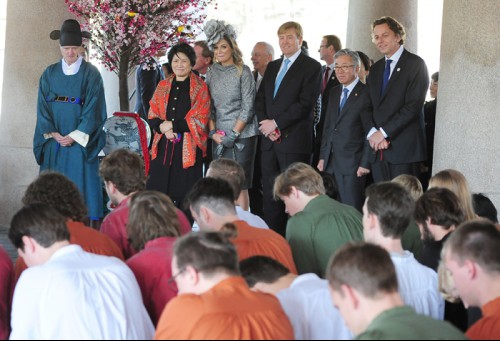 King Willem-Alexander and Queen Máxima (middle, back row) and Minister of Culture, Sports and Tourism Kim Jongdeok (second from right, back row) watch the reenactment of a scene in which Hendrick Hamel and other sailors meet with King Hyojong of Joseon in the late 17th century. "It was the first time for me to see that the Joseon court was so splendid and grand," said King Willem-Alexander.
Dho Young-shim, chairwoman of the U.N. World Tourism Organization's Sustainable Tourism for Eliminating Poverty Foundation (UNWTO ST-EP), also accompanied Minister Kim and the Dutch royals around the palace.
After looking around the throne room of the palace, the
Geunjeongjeon
, the king reportedly said, "Beautiful," and stated that the palace buildings were magnificent, but that they had different colors than those in China or Japan.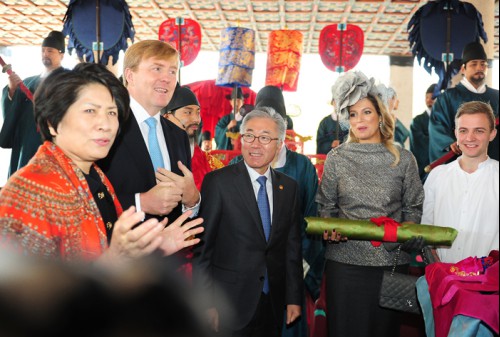 Forty Dutch residents of Korea took the roles of Hamel and the other sailors. When the Dutch embassy in Seoul recruited the casual actors, there were many more applicants than expected, showing great interest in the event.
"The reenactment was designed to introduce the splendid and grand Joseon court, showing the dynasty's colorful costumes, court music and symbols, and reproducing the historic scene with 80 actors, set in front of the Gyeonghoeru Pavilion," said a manager from the Korea Cultural Heritage Foundation, which organized the event.