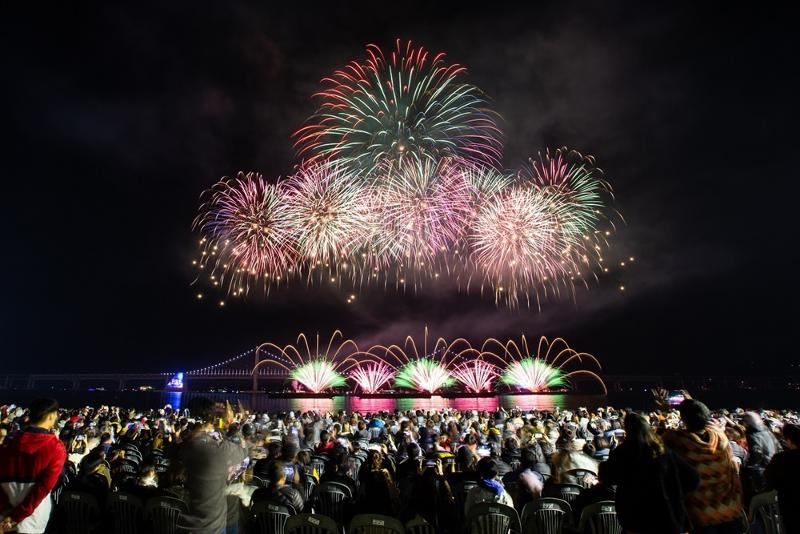 Busan, the second largest city in Korea by population, has been named an "international attraction" in a national contest for "cities specializing in night tourism." Shown is a scene from the 2019 Busan Fireworks Festival in front of the Gwangandaegyo Bridge. (Busan Metropolitan City)
Five provincial cities including Busan, Daejeon and Gangneung, Gangwon-do Province, have been named to this year's list of "cities specializing in night tourism."
The Ministry of Culture, Sports and Tourism on Feb. 28 said it designated the five cities jointly with the Korea Tourism Organization.
Busan and Daejeon were selected "international attractions" in this year's competition for the designation. Gangneung, Jeonju, the capital of Jeollabuk-do Province, and Jinju, a city in Gyeongsangnam-do Province, were also chosen as a form of support for regional development.
The international attraction designation is given to a city with the potential to develop into a global night tourism spot based on tourism infrastructure meeting international standards.
Cities of "support for regional development" are expected to attract domestic tourists and lead regional growth based on differentiated content.
Overall, seven cities were named to the list of night tourism specialists, including Tongyeong, Gyeongsangnam-do Province, and Incheon, both of which were also selected last year.
The concept of a city specializing in night tourism is "N.I.G.H.T." This term stands for "New," or new and different aspects between night and day; "Ingenious" (a region's unique or ingenious appeal); "Global" (loved beyond Korea and by people worldwide); "Helpful," meaning contributing to a region; and "Together" (harmony between the region's residents and tourists).
A policy official at the ministry said, "Night tourism is a new tourism trend that breaks away from the conventional travel model limited to daytime hours and expands the freedom of travel to evening time."
"We hope that each 'city specializing in night tourism' embedded with K-culture such as the Republic of Korea's history, lifestyle, arts and content shows its respective appeal and develops into places where people from all over the world can mingle under the nation's night sky."
Korea.net