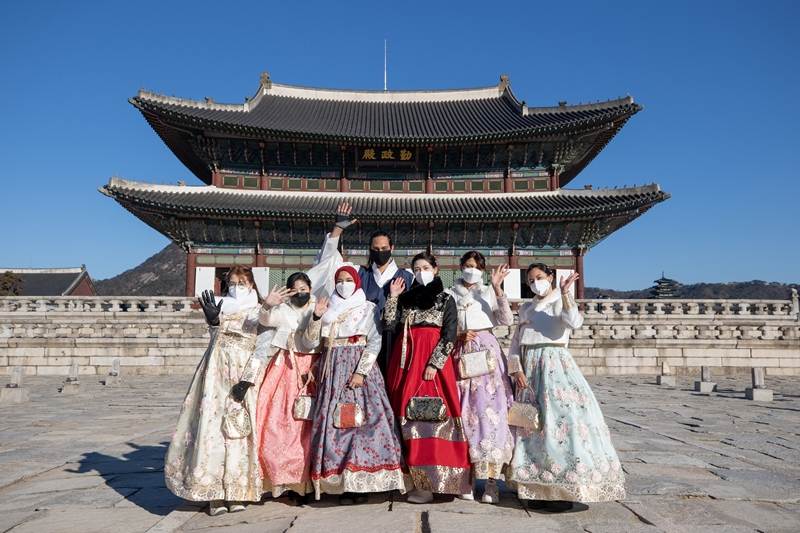 The Korean Culture and Information Service on Jan. 24 said a recent survey found that 80.5% of non-Koreans in Korea and abroad have positive views of Korea.
A survey shows that eight of ten non-Koreans in Korea and abroad have positive images of Korea.
Conducted by the Korean Culture and Information Service (KOCIS), an affiliate of the Ministry of Culture, Sports and Tourism, the online survey under the theme "National Image 2021" on Jan. 24 saw its results released. A combined 12,500 people age 16 and over were polled in 24 countries including Korea, China, Japan, the U.S. and France.
The survey found that 80.5% of the respondents had positive images of Korea, up from 78.1% in 2020, as they cited modern images of the nation such as K-pop, films and literature as the main reasons. Other aspects mentioned included Korean brands and products (13.2%), economic status (10.2%), cultural heritage (9.5%) and the Korean character (8.6%).
By country, seven nations including Vietnam (95%), Turkey (92.2%) and the Philippines (92%) had approval ratings of over 90% of Korea. In Japan, 35% of respondents also cited a positive image, a big jump up from 27.6% in 2020 and exceeding the percentage of Japanese having a negative impression (26.6%) for the first time in the survey's history.
On what about Korea they are interested in, the vast majority of respondents (83.4%) said "hope for experiencing traditional Korean culture," followed by "wish to visit Korea" (81.1%) and "befriending Koreans" (76.2%).
Unlike in the 2020 study in which many respondents selected "improvement of inter-Korean relations" as their main reason for being interested in Korea, the latest survey showed lower interest in the same category. This showed how Korea received attention as a cultural content leader rather than a divided country. Among the respondents, 23.3% cited "production of quality cultural content" as the top priority to improve the national image.
Based on the survey results, KOCIS said it will continue spreading Hallyu (Korean Wave) in cooperation with 33 Korean Cultural Centers in 28 countries by hosting events such as "Korea Content Week" and using media art in promotions.
More on the survey can be found on the Culture Ministry's website (www.mcst.go.kr) or that of KOCIS (www.kocis.go.kr).
Korea.net