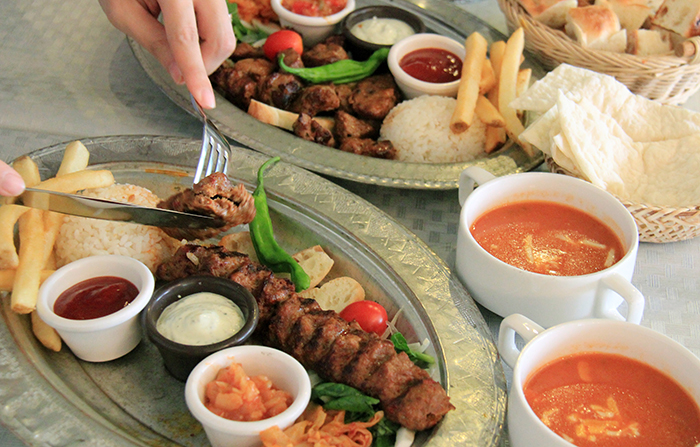 By Kim Young Deok, Xu Aiying and Yoon Sojung
Photos = Xu Aiying

July 27, 2017 | Seoul

The word halal simply means "allowed" in Arabic. For Muslims, this term applies to their overall lifestyle, one of the most important standards by which to live.

The word halal also applies to food, and most Muslim tourists who visit Korea take extra care in seeking out proper halal restaurants during their time on the Korean Peninsula.

As of May 17 this year, a total of 14 restaurants have received official halal certification from the Korea Muslim Federation (KMF).

Seven of these officially certified restaurants are in Itaewon-dong in Seoul near the Seoul Central Masjid. Other certified restaurants can be found at Namiseom Island in Gangwon-do, and in Incheon and Busan.

To receive a halal certification, a restaurant must go through a strict inspection ranging from a paper screening, field inspection, and a thorough review. Even after being certified, the restaurant has to undergo unexpected inspections from the KMF in order to maintain its halal certification.

Paik Soo-min, a staffer at the KMF in charge of the halal certification process, said, "For a Muslim, hahal means their life itself, so it's really important."

"Halal restaurant owners and workers should broaden their understanding about Islam, and not just focus on receiving a halal certification," Paik noted.

Matt Kim, general manager of the halal-certified Turkish restaurant Kervan in Itaewon, said, "Muslims don't eat anything if they're suspicious about the food. For some Muslim clients who question the food they're served, I even show them the halal certification issued by the KMF," he said.

"Some Muslims travel from really far away for halal food at our restaurant, or even sometimes move to a hotel nearby just to eat here," said Kim.

"In order to get the halal certification, which needs to be renewed every year, we've been conducting a thorough management of the restaurant," he added.
The 14 officially halal-certified restaurants include not only places that serve Turkish cuisine that is familiar to Muslims everywhere but also places that serve Korean cuisine.

Muslims can enjoy hahal Korean food at the halal-certified Korean restaurant Makan in Itaewon. Makan has been winning popularity among Muslims as the restaurant has recently introduced a halal Korean food menu, including such things as crispy crunchy chicken, known as dakgangjeong (닭강정), and blackbean noodles, or jjajangmeyon(짜장면).

AbuBakr Oh, owner of Makan, said, "Makan has received a trustworthy halal certification so Muslims living in Korea can comfortably enjoy halal food in Korea without any concerns."

"So that Muslims can enjoy various kinds of Korean food, we've been introducing new halal Korean items to the menu, such as blackbean noodles and crispy crunchy chicken," he said.

Makan received its halal certification from the KMF in January 2015.

Oh said, "We have more and more Muslims coming to the restaurant, and they find it using travel apps or websites like Trip Advisor or Google."

"I hope more Korean restaurants can receive halal certifications in the future, so that more Korean dishes can be introduced to the Islamic world," he said.