Indonesia, Peru, Uzbekistan, Georgia, Pakistan and Algeria. All these countries are cooperation partners with Korea on water resource management projects, sharing in Korea's expertise and experience. As more and more countries suffer from desertification or drought due to climate change, the importance of effective water management and water resources is only growing.
Korea first entered overseas water resource management markets through an official development assistance (ODA) program to help with the Fen River in Shanxi Province, China, in 1994, part of the Yellow River basin. Starting in 2009, Korea expanded its business to include direct investments. As of September 2015, Korea has completed a total of 60 water resource-related projects, including water management and power generation, in 24 other countries. Currently, it is carrying out 14 projects in 12 countries. At the seventh World Water Forum that took place in Daegu last April, Korea showcased some of its IT-based "smart water management" (SWM) technologies.
Today, Korea has hydropower projects in Pakistan, Georgia, the Philippines and the Solomon Islands. The country has also been constructing dams and managing water supplies and drainage channels in India, Iraq, Rwanda, Cambodia and Laos.
The Patrind hydropower plant in Pakistan is Korea's first overseas investment in the water industry. It's a "build-operate-transfer" (BOT) project under which Korea will build a 150 megawatt hydropower plant, operate and manage it for 30 years and then transfer it to the Pakistani government in September 2043. Korea and Pakistan began the project in 2009. As of September 2015, about 60 percent of the project has been constructed, and it will begin commercial operations in 2017.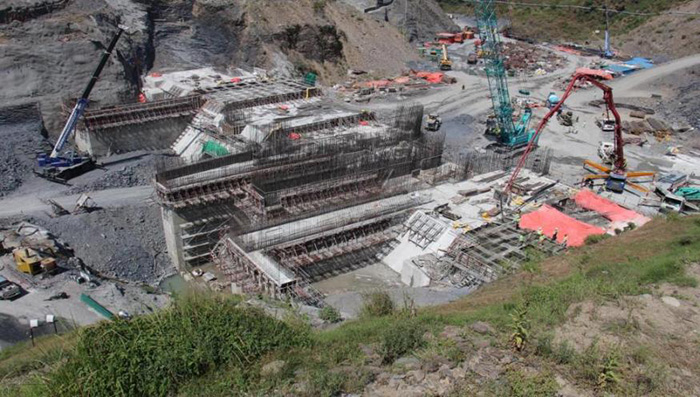 Recently, many countries have become actively engaged in Korea's smart water management projects, dubbed the "K-water program" by the Korean government. Currently, Korea cooperates with Uzbekistan, Peru, Indonesia and Algeria on comprehensive water management projects. Among those, the project in Uzbekistan holds symbolic significance as a joint response to climate change. Desertification of the Aral Sea has drastically reduced the water level there and it has become a worldwide climate change issue. Another reason for the country's serious water shortage is old irrigation canals that cause up to about 70 percent of the water in the system to leak out. In 2014, during a bilateral summit between Korea and Uzbekistan, the two governments agreed to work together to solve the water shortage in the Aral Sea. Since then, both countries have been establishing SWM projects aimed at effective water management, and the improvement of old irrigation canals. This is a three-part project and will be completed by 2019.
Korea is also cooperating on water management projects in South America, Asia and Africa. The Rimac River in Peru is an important source of energy and water for industrial use for 9 million residents of Lima. Due to water pollution and water shortages downstream, however, the need for water quality improvement and the need for effective water management has heightened. For this reason, the Korean and Peruvian governments launched the Integrated Water Resource Management (IWRM) team, aimed at restoring the river. This project involves the establishment of an integrated water resource information center, sewage reuse facilities, dams and waste water disposal facilities for industrial complexes.
On the occasion of the World Water Forum last year, Indonesia expressed its hope that it would be able to use Korea's water management systems as benchmarks. In July, Korea and Indonesia signed a basic agreement in regard to the establishment of an integrated water management system in Indonesia. Under the agreement, Korea will build an integrated water management control center and establish a real-time monitoring system. By 2016, this project will be applied to three regions near metropolitan areas. After that, it will then be applied across all of Indonesia.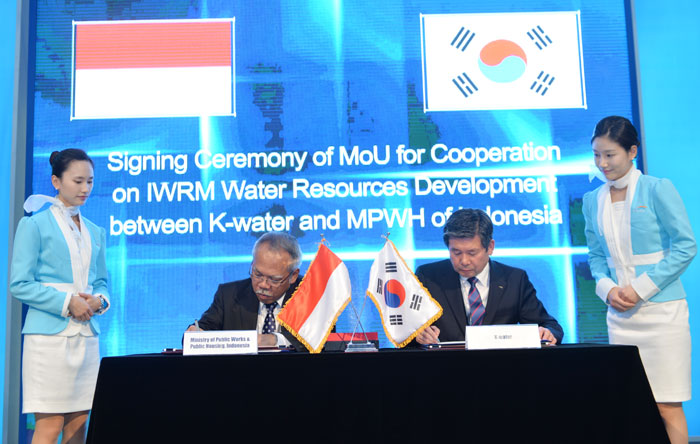 Korea has also been working on an integrated water management project in Algeria since 2012 when the Algerian government requested that Korea introduce an integrated management system for its dams. Last May, the countries held joint technical committee meetings and completed negotiations for the signing of an agreement. Under the project, Korea will establish an integrated water management system and a monitoring center for 72 dams located across Algeria. The project also involves water management technologies, management & repairs to the system, and the provision of education and training for local engineers.