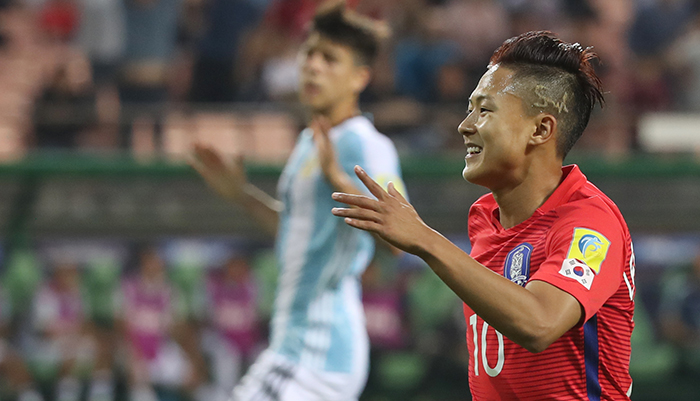 Korean footballer Lee Seung-woo celebrates after scoring the first goal in a match against Argentina in the FIFA U-20 World Cup, at the Jeonju World Cup Stadium in Jeonju, Jeollabuk-do Province, on May 23. (Yonhap News)
"Asia's Messi."
"Korea's Maradona."

That's how major Spanish-language news outlets are describing Lee Seung-woo, a Korean footballer on the under-19 team associated with the Spanish professional football club FC Barcelona Juvenil A, who has been putting on an outstanding performance in the FIFA U-20 World Cup currently underway in Korea.

Media have heaped lavish compliments on the promising midfielder as he led Team Korea to a 2-1 victory in the Round of 16 win over Argentina.

Infobae, an Argentine online news website, published a story on May 23 titled "Who is Lee Seung-woo, often dubbed as 'Asia's Messi,' who eliminated Argentina in the FIFA U-20 World Cup?"

The story said that, "The Argentine football team, led by Claudio Ubeda, tried to carry on its championship in the World Cup but ended up tasting the bitterness of being outperformed by a rising star from the FC Barcelona La Masia youth academy. He is Lee Seung-woo, a striker on the national Korean team who has often been dubbed as 'Asia's Messi' for years."

"Twenty minutes into the first half, the striker started to speed past the half line so fast that the Argentine players on defense couldn't stop him. Lee effortlessly croqueted the ball past the goalkeeper rushing out to stop him and scored a sublime goal," the article said.

The Argentine sports daily Ole nicknamed him "Korean Diego" in its May 23 article. It said, "In today's match, Lee showed off an outstanding performance just as Diego Maradona did. As a result, Korea defeated Argentina 2-1, putting it in danger of being eliminated."

Minuto 30, a Colombian online news outlet, rushed to call Lee "Maradona," too. On May 23, it had an article under the title "Korean Maradona scored superb goal in FIFA U-20 World Cup match against Argentina."

"The Korean Diego had a fantastic goal. Thanks to the Korean striker's remarkable performance, Argentina dropped out of the World Cup," it said.

By Kim Ji Hoe and Sohn JiAe