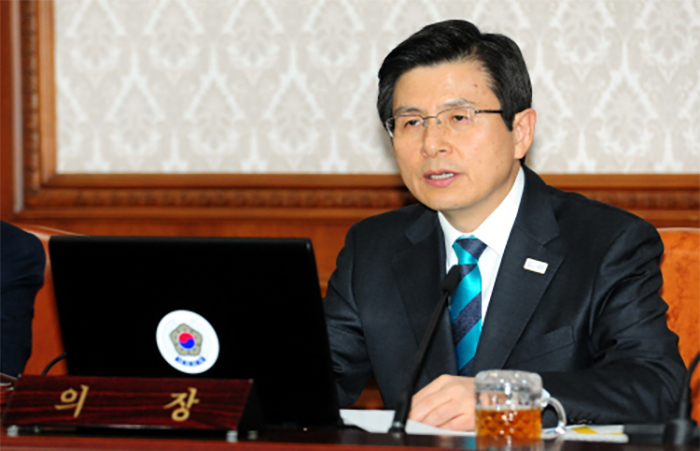 Acting President and Prime Minister Hwang Kyo-ahn delivers a speech during a cabinet meeting at Seoul's government complex on April 25. (Prime Minister's Office)

"There should be an abundance of tourist events, as well as discounts on transportation and accommodations, so that people across the country can take advantage of the holidays without placing any strain on their wallets," said Acting President and Prime Minister Hwang Kyo-ahn during a cabinet meeting on April 25.

Reminding the cabinet of the four days off interspersed across the first two weeks of May this year, the Acting President said, "It's important that we give students and office workers the option of taking off some days, to take advantage of the holiday with their family and friends."

The upcoming holidays include: Labor Day on May 1, Buddha's Birthday on May 3, Children's Day on May 5 and a special Election Day on May 9. This means people could enjoy an 11-day holiday if they take the three in-between days -- May 2, 4 and 9 -- off work.

To coincide with this golden holiday opportunity, a number of springtime festivals and discounts will also kick off in May.

In Seoul, you will be able to get into some of the major palaces, including Gyeongbokgung and Changdeokgung, as well as the Jongmyo Shrine, at half price. Some 20 or so Hanbok rental shops in the neighborhood will be renting out traditional costumes at a 10 to 50 percent discount.

In Icheon, Yeoju and Gwangju, three cities in Gyeonggi-do Province, a pottery festival will kick off, inviting visitors to try their hand at making some traditional pottery. A number of spring flower festivals will launch across the country, too, from Cheongju, Jecheon and Ulsan to Sejong.