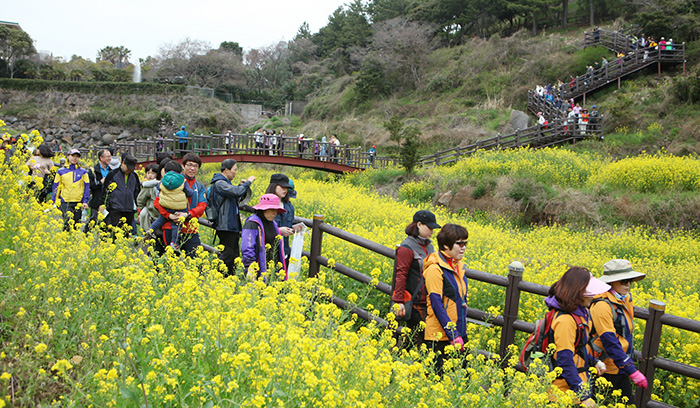 At the Seogwipo Yuchae Canola Flower International Walking Festival, held in Seogwipo-si, Jeju Island, on March 18 and 19, participants can walk on 5-km, 10-km or 15-km trails that weave through the island's blooming fields of canola flowers. The trails connect several tourist attractions along the southern Jeju coast.
The Seogwipo Yuchae Canola Flower International Walking Festival will take place on March 18 and 19, inviting tourists from around the world to walk along the trails that weave through fields of bright yellow canola flowers.

There will be three trails of different lengths: 5 km, 10 km and 15 km. Also, each day will also have its own separately designated routes.

"The trails are designed for comfort and happiness," said a Seogwipo-si City official. "Last December, officials from the International Volkssport Verband visited the city to check out our trails and they were very satisfied."

There is more than walking to the trails. The walkways lead to some of Jeju's most popular places, such as the Yeomiji Botanical Garden, the gardens at the Lotte Hotel, the Shilla Hotel and the Hyatt Regency Jeju, Daepo Harbor, Yakchunsa Temple, the Cheonjeyeon Falls, the Play K-pop Museum, the Pacific Land amusement park and the Jeju Olle Trail that loops around the island.

The Yeomiji Botanical Garden will host the exhibitions for the fourth International Electric Vehicle Expo, which will be held from March 17 to 23. Electric cars from manufacturers including Hyundai, Renault, and BYD, and other related products will be on display at the garden.

The opening ceremony will be held at the park in front of the International Convention Center Jeju on March 18. It will feature a 19-meter yuchae canola flower cake made by the Lotte Hotel Jeju, a performance from the Jeju-do Naval Base's military band, and other local performers.

Acoustic guitar performances, hands-on paper craft booths and official scenic spots will be scattered over the walking trails for tourists to enjoy during their walk.

Online applications end on March 15, but on-site applications will still be possible on March 18 and 19.

Those who pay the entrance fee of KRW 10,000 are given a T-shirt, a drink, a trail map, raffle tickets and other gifts. Free entry is also an option.

Participants that complete the trails -- there's no time limit -- will receive certificates accredited by the Korea Athletic Promotion Association.

The Seogwipo Yuchae Canola Flower International Walking Festival is part of the East Asia Flower Walking League, which comprises of three flower festivals. The other two are in Kurume, Japan, which hosts a royal azalea festival in April, and in Dalian, China, which hosts an acacia festival in May.