The number of foreign faculties and research institutes that provide Korean studies and language courses has nearly doubled in a decade, owing to the country's growing economic power, the Korean Wave and financial support, a state-financed public diplomacy organization here said Tuesday.
"The number of overseas organizations running Korean studies classes increased from 632 in 55 countries in 2007 to 1,348 in 105 nations last year," the Korea Foundation (KF) said in its 2018 White Paper on Overseas Korean Studies.
By region, Northeast Asia showed the biggest rise from 397 to 699; trailed by Southeast Asia from 29 to 132; North America from 97 to 142; Europe from 49 to 146; Central and South America from 10 to 71; Africa and the Middle East from eight to 39; Russia and Central Asia from 30 to 80 and Southwest Asia and Oceania from 12 to 39; the foundation said.
Among major nations, the number in China surged from 41 to 271, the United States from 91 to 128, and Japan rose from 335 to 371.
The number of foreign applicants for Korean language proficiency tests also shot up about 30 times from 2,692 in 1997 to 72,295 in 2016, the organization said.
"The surge is helped largely by the country's heightened status in the international community, the global popularity of Korean pop culture and KF financial assistance to overseas organizations," the foundation said.
The foundation has awarded scholarships to 6,521 foreign students since 1992 for the international spread of Korean studies.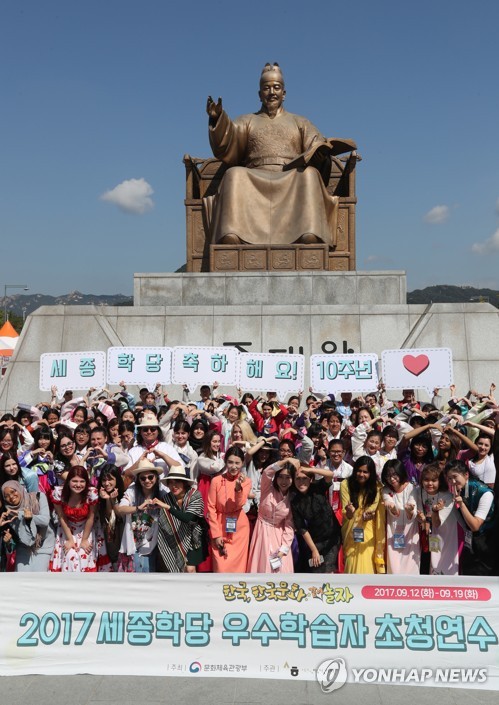 This file photo, taken on Sept. 18, 2017, shows foreign students of Korean language and culture from over 50 countries posing for a photo in downtown Seoul. The students were chosen to visit Korea for their excellent academic performances at overseas branches of the King Sejong Institute, which teaches the language and culture of Korea. Behind them is the statue of King Sejong, the inventor of the Korean alphabet called hangeul. (Yonhap News)
Korea.net