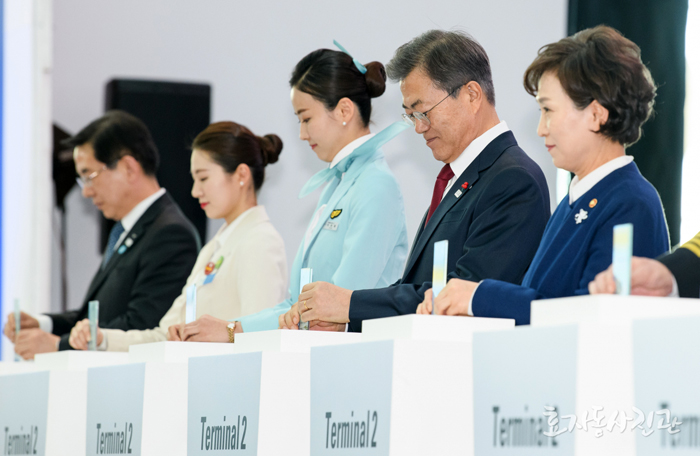 President Moon Jae-in (second from right) and Minister of Land, Infrastructure and Transport Kim Hyun-mee (right) insert tickets into machines, alongside some airline employees, to celebrate the opening of the second terminal at Incheon International Airport, in Incheon on Jan. 12. (Hyoja-dong Studio)
President Moon Jae-in attended the opening ceremony for the second passenger terminal at Incheon International Airport on Jan. 12.
He inspected the new "smart systems" at the new terminal, such as a location-based guide robot, a 3-D map, and a security scanner that rotates 360 degrees. "I could feel that the new terminal is designed for the convenience and comfort of the passengers," said the president. "A 'smart' airport that puts people first has been realized here."
"Incheon International Airport will be the first place in Korea to welcome the athletes and visitors coming for the PyeongChang Winter Games," said Moon as he urged airport authorities to pay full attention to both quarantine and anti-terrorism matters so that non-Korean visitors will be able to experience the world-class services provided at the airport.
The second passenger terminal at Incheon International Airport officially opens on Jan. 18. The new terminal is dedicated solely to the Skyteam group of airlines. Four airlines -- Korean Air, KLM Royal Dutch Airlines, Air France and Delta Air Lines -- will be using the terminal.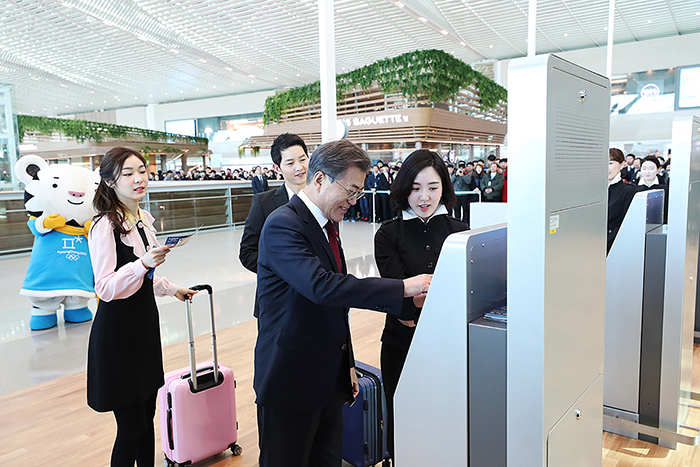 President Moon Jae-in (center) tries a self check-in kiosk in the second passenger terminal at Incheon International Airport alongside figure skater Kim Yuna, who is also a PyeongChang honorary ambassador, and actor Song Joong-ki, who serves as an honorary ambassador for Incheon Airport, on Jan. 12. (Cheong Wa Dae)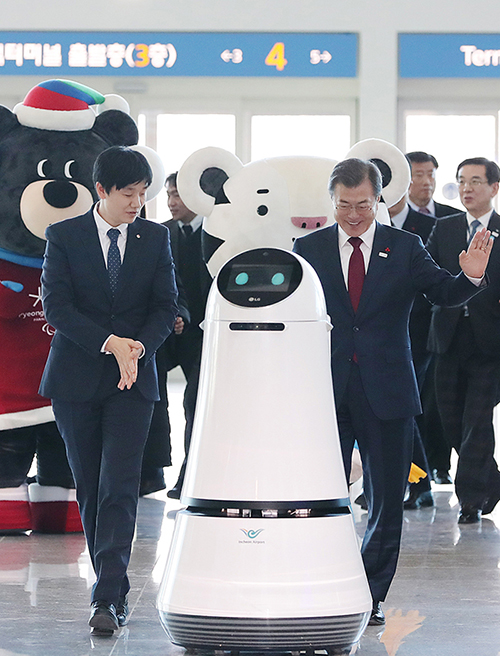 President Moon Jae-in talks with a guide robot in the second passenger terminal at Incheon Airport as he heads to the opening ceremony on Jan. 12. (Cheong Wa Dae)
Korea.net