The second passenger terminal at Incheon International Airport, slated to open on Jan. 18, 2018, was unveiled to 63 foreign correspondents in Korea on Nov. 21. A total of 33 foreign media outlets visited the new terminal, including Russian News Agency Tass, NBC from the U.S., CCTV from China and NHK from Japan.
Construction on the new passenger terminal began in June 2013 and finished at the end of September this year. It's a five-story building with two underground floors, and covers 384,000 square meters.
All departure and arrival procedures -- including check-in, security screening, customs, quarantine and boarding -- can be conducted at Terminal 2, separate from Terminal 1.
Four airlines, including Korean Air, KLM Royal Dutch Airlines, Air France and Delta Air Lines, will move in to the new passenger terminal and it will be used exclusively by the SkyTeam airline alliance.
The newly built passenger terminal has more room in the departure and arrival areas, and has expanded unmanned, automated facilities. It also has transfer facilities nearby that enable travelers to depart and arrive faster and more conveniently.
In particular, the new terminal has a transportation hub close by. This enables travelers to more conveniently use public transportation, such as buses or trains, as the hub is just 59 meters from Terminal 2. This is much closer than at Terminal 1, which is 223 meters from its transportation hub. Furthermore, new road and subway facilities that connect the first and second passenger terminals have been built, which allows movement within the terminal to be easier.
The new passenger terminal also has various "smart" technologies, such as guide robots and passenger guides that use a Flight Information Display System. The terminal is also equipped with full-body scanners and strengthened security facilities.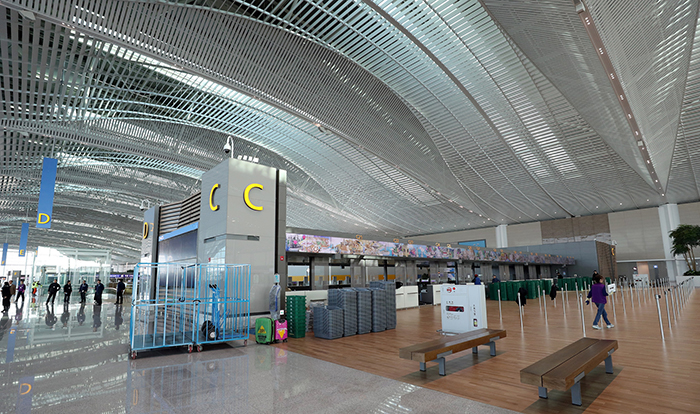 "Thanks to the opening of Terminal 2, we will be able to process as many as 18 million passengers and 5 million tons of cargo every year," said Lee Jae-hoon, deputy director of the Airport Planning Team at Incheon International Airport Corporation. "The best part of it is the environment, as this terminal is large, convenient and has a pleasant atmosphere."
"As we have built this new terminal with improvements that we learned about from the establishment and management of the previous one, we should be able to provide top-quality service," he said.